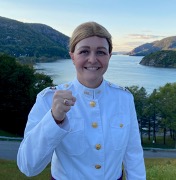 Meet CDT Allyson Snelling, the CTC Cadet of the Month for January 2021. A senior at West Point, Ally is from Las Vegas, Nevada. The daughter of Greg Snelling and Jennifer Iulo, CDT Snelling is majoring in International Affairs and pursuing a minor in Terrorism Studies. She currently serves as a platoon leader for the F2 Zoo. Ally has been a member of the women's softball team for all four years at the Academy and serves as one of the team captains. Ally enjoys adventures, cracking jokes, writing, and has recently taken a liking to listening to podcasts about physics.
Upon graduating from West Point in May, Ally will serve as an Ordnance Officer in the United States Army. Following completion of the Ordnance Basic Officer Leader Course, she hopes to be stationed overseas. Above all, Ally is excited and grateful for the opportunity to lead soldiers.
What does the Terrorism Studies Minor mean to you?
For the past two decades, our country has been at war. As someone who will soon lead America's sons and daughters in an uncertain world, I need to ensure I am as prepared as possible to take on this amazing responsibility. The Terrorism Studies minor has given me insight and experience that I could not have received elsewhere. The minor's approach to not just learning about terrorism, but also understanding the people who commit such acts has provided me with a perspective that I know will make me a better officer for our Army.
What does the CTC mean to you?
I am extremely grateful, and perhaps a tad biased, when I say that the faculty of the CTC are some of the most passionate, curious, and professional instructors I have ever had. The opportunities afforded to me by the CTC are invaluable. We have had numerous experts in the CT field come to West Point and share their knowledge with us. I always enjoyed picking their brains and learning from them. Additionally, this past summer, I earned an internship with the FBI's Counterterrorism Division in Washington, D.C. Although it was unfortunate that I could not attend due to the COVID-19 pandemic, I am extremely blessed to have had this opportunity made available to me. The little-kid version of myself would be in awe at the opportunities that I have had, and I will forever be grateful to the CTC.