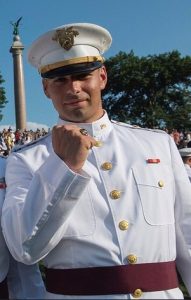 Meet Cadet Alexander Orta, the CTC Cadet of the month for January. Alexander is originally from Jacksonville, Florida, and is the son of Jesus and Yessenia Orta. Since being accepted to West Point in March 2015, Alexander has focused his academics on law and legal studies and counterterrorism. Alexander Orta is a member of company F2. He enjoys spending time being with his company mates and is currently serving as the company's Executive Officer. During his time off, Alexander enjoys traveling, snowboarding, and photography.
Since joining the Terrorism Studies minor, Alexander has had the opportunity to partake in many trip sections, including the FBI JTTF in New York City, the Pentagon, the White House, the Defense Intelligence Agency, and the FBI's Washington field office. During these trip sections, Alexander was exposed to many facets of law enforcement and interacted with senior military and political figures that play a major role in counterterrorism operations. Visiting with these officials has offered a variety of opportunities that contributed in Alexander's academic, military, and personal development.
Alexander Orta is looking forward to graduating from West Point and commissioning as a Transportation Officer. He hopes to go to Ranger School and serve as a logistician in the 75th Ranger Regiment. In the future, Alexander aims to use his knowledge from the CTC to further his career either in law enforcement, focusing on counterterrorism, or in public office to drive counterterrorism policy.