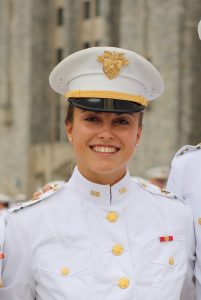 Meet CDT Alex Bayer, the CTC Cadet of the Month for October and the Co-Cadet in Charge of the CTC's minor in Terrorism Studies. Since her acceptance to USMA, Alex has focused her studies on Spanish and counterterrorism strategies, majoring in Spanish and minoring in Terrorism Studies. Alex is from Daytona Beach, Florida, and spends much of her free time enjoying the outdoors by surfing, snowboarding, and hiking. She is also the Cadet in Charge of the Ski Patrol Club at West Point and is on the Powerlifting team. In addition to her time with the CTC, she has earned membership into Phi Sigma Iota, the International Foreign Language Honor Society.
Since joining the minor, Alex has interned with the FBI's counterterrorism squad in the Chicago Field Office. While there, she was able to shadow special agents and help them in investigations concerning domestic and foreign terrorism. She has also been on trip sections with the CTC to the CIA headquarters, the JFHQ headquarters, the NSA headquarters, and the White House.
Currently, Alex is readying for graduation from USMA and plans to be an Armor Officer in the United States Army. She anticipates becoming a military intelligence officer later in her career, or perhaps becoming a special agent with the FBI. She hopes to further her professional career by drawing from her academic and military experiences to contribute to the intelligence and national security community, either in the military or civilian realm.