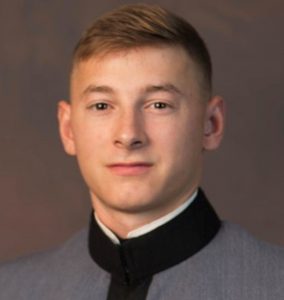 Tell us a little bit about yourself.
I am a senior at West Point. I did a year at the United States Military Academy Preparatory School (USMAPS) before coming to West Point. I am from Altoona, Pennsylvania, and am the son of Larry and Carolyn Hagg. I am a Defense and Strategic Studies major and pursuing a minor in Terrorism Studies. I am currently the Physical Development Officer for the C3 coyotes, where I am in charge of ensuring everyone in the company remains physically fit. I have been on the Sprint Football team for all four years and in the ski club. I branched Infantry. I enjoy working out and spending time outdoors. I am currently researching Special Operations Forces (SOF) in the Philippines for my senior thesis.
What does the Terrorism Studies Minor mean to you?
The Terrorism Studies Minor has allowed me to study and better understand what exactly terrorism is. I knew I wanted to be a Terrorism Minor when I was at USMAPS. One of my reasons for pursuing the Terrorism Studies minor was the opportunity to do an internship with an FBI JTTF. I remember talking to Dr. Richard Yon when I was a freshman, asking him what I needed to do to get that opportunity. I was eventually selected for an internship with the FBI JTTF in New York City. Unfortunately, I was not able to complete the internship because of COVID-19. The terrorism classes I have taken have truly challenged me to examine closely terrorism and counterterrorism and how it impacts our lives. The classes I have taken have been extremely helpful in giving me the tools to contribute to the counterterrorism community. Lastly, the Terrorism Studies classes I have taken have done an outstanding job of bringing in experts to teach class. Former Acting Secretary of Homeland Security Kevin McAleenan was a co-instructor of my Homeland Security class. Being taught by people who have expert knowledge and experience is valuable.
What does the Combating Terrorism Center mean to you?
The Combating Terrorism Center is an extremely valuable resource to cadets at West Point and the CT community. The work that comes out of the CTC aids practitioners and scholars who grapple with complex issues surrounding terrorism and CT. I have used many CTC resources for my academic work and research. The best part about the CTC is the staff and faculty. I have had Ms. Audrey Alexander, Dr. Jason Warner, and Dr. Daniel Milton as instructors for my terrorism classes, and each one of them has been extremely professional and made me want to be passionate about learning about terrorism and CT. I have been able to leverage the knowledge of people within the CTC, which has helped my own research. Overall, the CTC resources and connections have enabled me to be successful in my terrorism classes and research.
What are your career and professional goals? 
I hope to have a career in the Army as an Infantry officer and attend graduate school for terrorism studies or strategic studies. After my military career, I hope to have a career as a practitioner in the counterterrorism field.