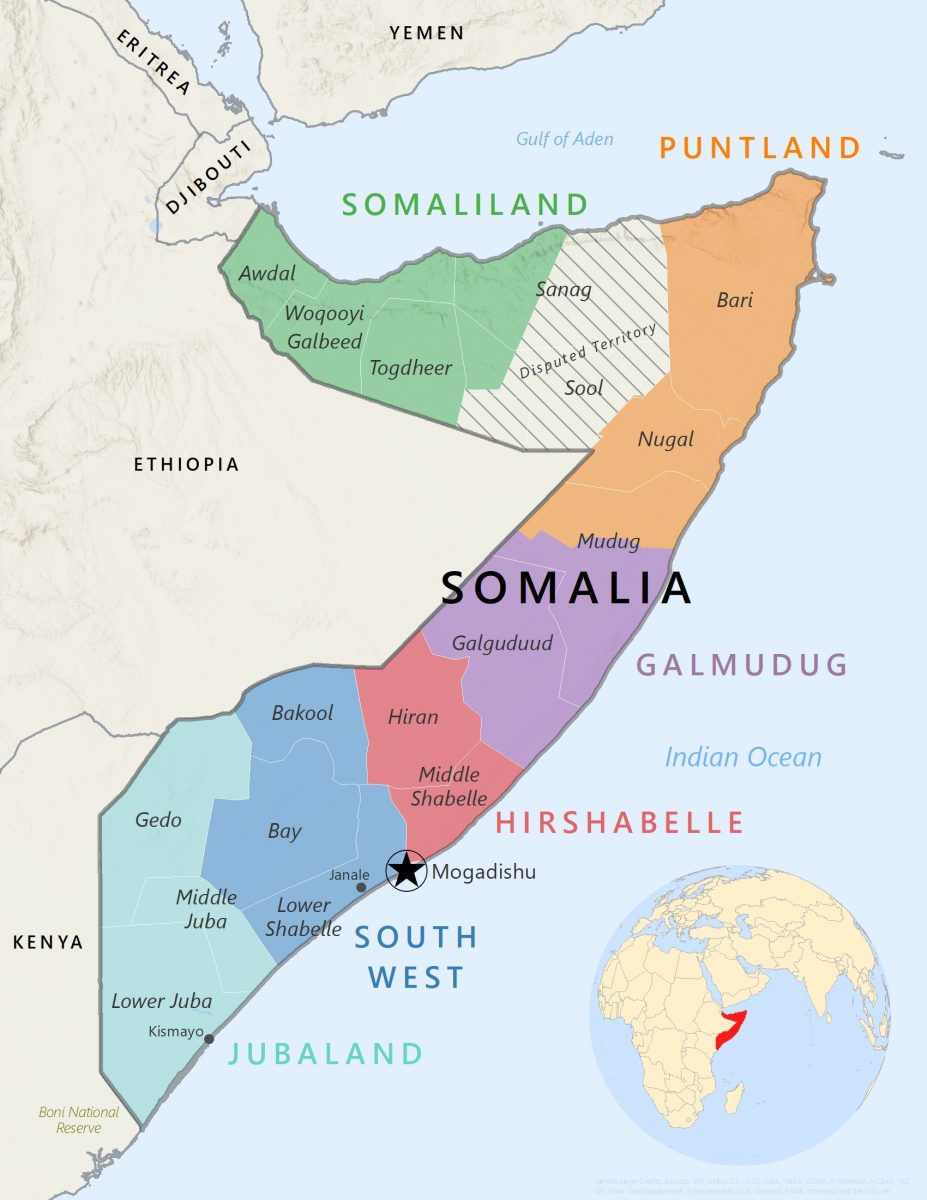 Abstract: The grassroots uprising against al-Shabaab in central Somalia that has gathered pace since June and the liberation of large areas in this region by Somali government forces in recent months have given Mogadishu a big opportunity to enduringly weaken al-Shabaab. However, the experience of the last 15-plus years of counterinsurgency suggests that the gains may only be fleeting unless Somalia takes full ownership of the fight, focuses on winning hearts and minds, receives and coordinates continued U.S. and partner support, makes significant progress in building up its military, addresses the clan rivalries that al-Shabaab has been adept in exploiting, and implements a comprehensive counterinsurgency strategy that unifies stakeholders.
The government of Somalia has been waging a major offensive against the militant group al-Shabaab in recent months, the likes of which have not been seen since 2011 when military operations by Transitional Federal Government (TFG) and African Union (A.U.) forces weakened the group, drained it of its revenue sources in Mogadishu, and compelled it to withdraw from the capital and revert to its insurgency roots.1
The gains made against al-Shabaab in 2011 and in the years that followed proved only fleeting. Despite the repeated successful U.S. decapitation strikes against its senior leadership, the loss of further territory, and infighting and succession wrangles that threatened its existence, the group reemerged stronger, more cohesive, and deadlier2 than before while remaining true to its ideological mission. Al-Shabaab adeptly transitioned from a national insurgency to a transnational violent Islamist organization, embracing its role as al-Qa`ida's East Africa affiliate.3 Throughout this period, al-Shabaab retained a significant presence across rural areas of southern and central Somalia. Despite the fact that the group has been dislodged from parts of central Somalia by government forces and clan militias in recent months, as the end of 2022 approaches, the group still controls or dominates large swathes of territory in rural areas across south-central Somalia, especially in the areas to the south of the current theater of operations.
Eleven years after the short-lived victory by A.U. and TFG forces in August 2011, Somalia today is facing another pivotal moment in its long fight against al-Shabaab. In May 2022, President Hassan Sheikh Mohamud returned for a second stint in power after defeating President Mohamed Abdullahi Farmaajo in the presidential elections. His return upended what was in effect an involuntary truce between the federal government and the jihadi group, brought about by the two-year delay in holding elections and political instability.4 Shortly after taking office, President Mohamud stated that defeating al-Shabaab was a top priority.5 After the terrorist group killed over 20 people in a brazen attack at the Hayat hotel in Mogadishu in mid-August,6 he declared a "total war against al Shabaab,"7 which he made clear the following month would encompass military, ideological, and economic means to combat the terrorist organization.8
The renewed political will to counter al-Shabaab coincided with a tribal uprising in central Somalia's Hiran region against the terrorist group. In June 2022, local clan militias dubbed "Ma'awisley" began to revolt against al-Shabaab's harsh rule and arbitrary taxation policies. Many of the fighters were farmers angered at the militant group's extortive practices as drought conditions worsened in the country.9 President Mohamud had at the time just named a prime minister, Hamze Barre, who would take another 40 days to constitute his cabinet.10 The government had begun to lay the groundwork for a new campaign against al-Shabaab when the uprising gained momentum. Nonetheless, the government rushed to aid the local forces before making adequate preparations for a sustained campaign.11
After al-Shabaab carried out a cross-border incursion into Ethiopia from the adjoining Bakool region in late July,12 the efforts in Hiran against al-Shabaab gained momentum. Joint Somali forces led by the governor of Hiran and armed locals launched coordinated attacks to drive the group out of the rural villages in the Hiran region.13 The Ethiopian military provided air support for the local offensive actions, resulting in the recovery of tens of villages.14 Before withdrawing from localities it had controlled in Hiran, al-Shabaab carried out savage reprisals, including the indiscriminate killing of civilians, the poisoning of wells, and the torching of homes and vehicles transporting humanitarian aid. However, this only served to intensify the backlash against the group.15
Since June, off-and-on, there have been large-scale offensive operations led by the Somali National Army (SNA) in Hiran, Bay, Bakool, Galgaduud, and Middle Shabelle regions.16 By late September, the Somali government stated that government forces and local clan militias (which are called Community Defense Forces by the government) had liberated much of the Hiran and Galgaduud regions in central Somalia. Somali-led offensives in early December recovered Adan Yabaal town, one of the two major towns held by al-Shabaab in Middle Shabelle that was a key prior stronghold for al-Shabaab.17 Adan Yabaal had been under the control of al-Shabaab over the past 15 years, though it was briefly taken by AMISOM and government forces in 2016 before reverting back to al-Shabaab. The group has reverted to its previous tactic of withdrawal without confrontation, a tactic they had previously only displayed when confronted by A.U. forces.18
In stark comparison to the 2011 counterinsurgent campaign against the group, A.U. forces and the United States are playing supporting rather than lead roles.a Prior to 2017, operations were led by the A.U. mission with Somali forces playing a support role. But over the past five years, the Somali national forces have incrementally taken over greater responsibility, with current offensives led and executed by Somali forces.19 The joint operations between the SNA and AMISOM dubbed Operation Badbaado in April 2019 to capture bridge-towns in Lower Shabelle prepared the ground for current Somali-led operations that serve to boost morale and provide Somali ownership.20
Notably, Turkey is also now playing an active military role in support of Somali efforts. In late September, Somali's interior minister revealed in a television interview that Turkish Bayraktar TB2 attack drones were being deployed to carry out strikes and reconnaissance in operations against al-Shabaab, with the operators of the Turkish drones being provided target coordinates by Somali commanders, according to his reported remarks. While neither Turkey nor the Somali Defense ministry has officially confirmed the Turkish drone deployment, in late November Voice of America Somali reported, citing Somali security officials, that Turkish drones were participating in the operations against al-Shabaab by conducting bombings and surveillance and that "Turkish drones were involved in airstrikes in Lower and Middle Shabelle regions in recent weeks."21
With the fight against al-Shabaab potentially at a pivotal turning point, this article examines what lessons can be learned from more than a decade and a half of counterinsurgency against the group. This article now makes a series of observations about the counterinsurgency challenges Somalia faces and the key lessons that should be learned from past failures.
The Need for Somalia to Take the Lead
For years, Somalia has been beset with the dual challenge of state-building while battling al-Shabaab. After state collapse in 1991, the country has remained mired in protracted conflict that revolves primarily around clan competition over access to power and resources. This clan competition continues to be aggravated by historical inequities against minorities and other marginalized groups. Clan identity has historically been important in Somalia's six decades-long post-colonial history. Though considered a homogenous nation, Somalis are born into one of six clans with pre-colonial Somalia governed through a highly decentralized political system, based on kinship, customary law, and traditional authorities.22 State collapse and violent polarization led to a resurgence of these clan structures and regrettably clan supremacy over the nation when it came to the loyalties of many Somalis.
The "clannization" of Somalia's conflict was evident in 1988, two years before the onset of the civil war, when adversaries encouraged social mobilization along clan lines and ultimately led to the overthrow of the military regime.23 As already noted, the aftermath of state collapse witnessed the reemergence of clannism as the dominant political currency, with political value placed on the greater numerical strength and the superior fighting prowess of clans compared to other Somali actors.24 In this new political reality, minorities and the marginalized were automatically disadvantaged given the premium placed on military capabilities that in turn were dependent on a particular group's access to funds and weapons.
It is against this backdrop that the al-Shabaab insurgency exists and thrives. Notwithstanding the recent counterinsurgency offensives in central Somalia, the group remains a potent threat to Somalia and the Horn of Africa, as illustrated by its double-car bomb attack in Mogadishu on October 29 that killed over 100 people,25 the group's cross-border raid into Ethiopia this past summer, and a string of attacks over the years in Kenya, Uganda, and Djibouti.26
For more than 15 years, Somalia has been fighting al-Shabaab through an ongoing partnership counterinsurgency (COIN) effort. The actors include the various Somali forces, A.U. forces, the United States, and other regional partners.27 Somalia's decade of COIN experience in the current fight against al-Shabaab provides important lessons and examples, chief among which is the absolute need for local legitimacy by government and allied forces if the efforts are to bear fruit. In Somalia, the partnership approach to COIN, which began in 2007 and to some degree remains ongoing despite the recent Somali-led counterinsurgency offensives, has not been effective in routing the insurgents: Notwithstanding its recent loss of significant territory, al-Shabaab remains present in large areas of south-central Somalia.
What up until recently was a mainly internationally led effort has only successfully enduringly driven the group's visible presence out of the government's strongholds and urban areas. Since the group departed Mogadishu in 2011, al-Shabaab has generally avoided large-scale battles to retake cities. The group returned to its insurgency roots, primarily conducting raids and ambushes, cutting off main supply routes, and concentrating its limited forces to create a tactical numerical advantage that has lasted over a decade.28 Despite the United States and African Union playing a smaller role in counterinsurgency than before, the Somali government still lacks a comprehensive, coherent, Somali-centric strategic and operational approach for countering al-Shabaab. Understandably, the government remains fragile and cannot defeat the insurgent groups operating in Somalia without outside assistance. This assistance comes in the form of a multitude of actors who seldom cooperate in pursuit of their security objectives in Somalia. The international nature of Somalia's conflict and the varied interests in the country complicate the feasibility of a coordinated response to the threat of al-Shabaab. With this comes an incoherent approach that maintains only the status quo via a containment strategy. Indeed, Somalia's COIN model has historically been primarily externally driven by A.U. forces, with Somali forces in a supporting role. However, there is some room for optimism given the lead role Somali government forces and the clan militias/Community Defense Forces have played in recent months in dislodging al-Shabaab from large areas of central Somalia. Somali leaders and partners now acknowledge the need for Somali leadership and ownership in any response to the group in order to defeat it.
The Need to Win Hearts and Minds
Between 2007 and 2015, A.U. forces and the SNA engaged in significant counterinsurgency efforts against al-Shabaab. These operations succeeded in routing the terrorists from the capital city and other major towns and ports, but still did not strike a decisive blow against the group. One of the key features of these campaigns was their inability to win 'hearts and minds.' This was attributable to a number of factors, but key among them was the externally led security operations. The African Union is credited for the political and security progress made by Somalia over the past 15 years. However, the mission has faced several challenges that have impacted its performance. Initially, A.U. troops operating under the African Union Mission in Somalia (AMISOM) were deployed from non-neighboring countries, such as Uganda and Burundi, to replace Ethiopian troops and avoid the challenges of neighboring states' vested interests in Somalia.29 Finding African governments willing to send troops to a high-casualty arena was challenging, and this affected the mission in its initial years. Nevertheless, there were significant military achievements in 2011, including the liberation of several strongholds in south-central Somalia from al-Shabaab's control.30 This included the capital city of Mogadishu, which created great momentum and optimism that al-Shabaab was indeed on the decline.
However, the optimism at the time was short-lived, as a resilient al-Shabaab soon reemerged. This was due in part to the intervention by Somalia's neighbors in the conflict. In October 2011, Kenyan forces unilaterally invaded southern Somalia, citing their right to self-defense against al-Shabaab.31 The "Linda Nchi" offensive operations were conducted in response to al-Shabaab kidnappings in Kenyan border towns with Somalia. Kenya would later join AMISOM, validating its presence in Somalia in February 2012, while Ethiopia redeployed 4,000 troops to join the peacekeeping mission in 2014.32
In 2014 and 2015, there were four major offensive and consolidation operations jointly conducted by SNA and AMISOM:b Operation Eagle, Operation Indian Ocean, Operation Ocean Build, and Operation Jubba Corridor.33 The goals of these operations were three-fold: freeing cities, disrupting the terrorists' supply routes, and preventing the imposition of illegal taxes on the population. In early March 2014, Operation Eagle recovered 11 districts from al-Shabaab.34 In November 2014, Operation Indian Ocean was initiated to push al-Shabaab out of critical towns and main supply routes.35 Simultaneously, from November 2014 to July 2015, AMISOM undertook Ocean Build to consolidate these gains.
Beyond the removal of al-Shabaab from many areas, SNA and AMISOM faced significant limitations in the theater. Aside from the resourcing and coordination challenges faced by AMISOM, the counterinsurgency efforts in Somalia lost valuable psychological ground by emphasizing the use of force at the start but neglecting the follow-along stabilization and rehabilitation aspects. The operations were also perceived to be externally led, denying the Somali authorities the local legitimacy needed to augment the military operations. The kinetic operations also merely displaced al-Shabaab, as the group, rather than confront the joint SNA and AMISOM forces, withdrew.36
Al-Shabaab leveraged clan politics to win local support, and it was able to melt into the population. A key source of al-Shabaab strength has been that it is an indigenous Somali movement rooted in local communities, and notwithstanding its brutality and its coercion, its provision of governance and services in areas under its control has won it support. Al-Shabaab regularly releases videos and images demonstrating its provision of health services, education, and drought relief.37 In its provision of education, the group's jihadi ideology has been emphasized, creating an ongoing recruitment pool for the group, with orphans also targeted by the group for enlistment.38
After a brief fall-off following its defeat in Mogadishu in 2011, al-Shabaab reemerged, conducting terrorist attacks against the Somali government, A.U. troops, and other international partners. In 2014, al-Shabaab started using improvised explosive devices as its primary weapon, cutting off supply routes and conducting complex attacks on AMISOM and SNA forward operating bases. 39 The most notable of these attacks were those on AMISOM bases in Janale, Leego, and El Adde between June 2015 and January 2016. In these instances, al-Shabaab exploited its mobility to focus its forces rapidly and overwhelm the AMISOM positions. During the June 26, 2015, Leego attack, al-Shabaab took complete control of an AMISOM base that was reportedly heavily fortified and well-guarded by Burundian troops, which signaled that al-Shabaab was far from the weakened force it was supposed to be. The besieged AMISOM contingent took heavy losses, losing as many as 50 soldiers.40 In its attack on AMISOM in Janale on September 15, al-Shabaab destroyed bridges, making it harder for A.U. soldiers to flee and for reinforcements to respond quickly.41 The January 2016 El Adde attack had similar characteristics; despite fierce running battles that lasted for hours, neither air support nor reinforcements came to help alleviate the beleaguered A.U. forces. As many as 141 Kenyan soldiers were killed, making it one of the bloodiest military losses for the A.U. troops.42
These deadly attacks were facilitated by an environment in which many locals bought into the al-Shabaab-driven narrative of a foreign agenda for Somalia, creating resentment and anger against foreign African forces. The presence of AMISOM forces across the country was also not accompanied by adequate stabilization efforts and governance. The reality was that the African Union hatting gave false legitimacy to what were often predatory practices in Somalia by the forces of neighboring countries.
In July 2015, AMISOM launched Operation Jubba Corridor, a new military offensive against al-Shabaab. It aimed to further degrade al-Shabaab by removing it from its strongholds in Somalia's Bay, Bakool, and Gedo regions.43 While this operation dislodged al-Shabaab from some territory, similar to previous operations, there was only a limited focus on winning 'hearts and minds,' and the operation far from achieved its aims.
The lack of a long-term strategy to win hearts and minds in Somalia was also a function of the fact that countries supplying troops for the AMISOM mission naturally prioritized their own interests above the long-term interests of Somalia.44 Ethiopia and Kenya have in different ways supported favored Somali proxies to advance their regional interests rather than focus exclusively on what is best for Somalia, risking undermining Somalia's envisioned state-building project.
The Need for Continued U.S. Military Support
The U.S. military involvement in Somalia has been based on a "tailored engagement strategy" model with a relatively light footprint.45 The strategy has entailed a high-value target (HVT) program, including drone strikes and special operations against al-Shabaab leadership, mainly under the umbrella of the United States Africa Command (AFRICOM).46 The United States also provides intelligence while building local partners' capacity.47 The U.S. drone strikes have achieved some success while also posing challenges. In some cases, these strikes have caused civilian casualties, adversely affecting public perceptions of the United States.48 On the other hand, these strikes have been effective in removing several high-value al-Shabaab leaders, including the former leader of the group Ahmed Godane (also known as Mukhtar Abu Zubair) in September 2014.49 Founder Adan Hashi Ceyrow and senior commander Qoor Gaab were killed in U.S. strikes, and most recently, Abdullahi Yare (Nadir)—who the United States was offering a $3 million reward for information on—was killed on October 1, 2022.50 The strikes constrained the group's freedom of movement and ability to gather in large formations in open terrain.51
Aside from strikes, the United States focuses on building and supporting competent African Union Transition Mission in Somalia (ATMIS) and Somali special operations units to combat al-Shabaab.52 The United States' assistance in rebuilding Somalia's military is likely its most significant contribution to Somali security, as it has allowed the Somali government to reclaim the initiative in the fight against the group. In particular, the U.S.-trained local SNA special force unit Danab (lightning) and the Alpha group for Somali Intelligence's special operations have played a very significant role in countering al-Shabaab and the Islamic State.53 Danab now conducts most counterterrorism activities in the country along with the Turkish-trained Gorgor forces. U.S. intelligence, training, and equipment has played a crucial role in facilitating local forces to prevent al-Shabaab from operating freely.54
In May 2022, the Biden administration reversed a decision to remove the majority of U.S. ground forces in Somalia made in the last days of the Trump administration by redeploying hundreds of American personnel into the nation. It was assessed that the short-duration missions conducted since January 2021— in which U.S. trainers transited in and out of Somalia—were far from optimal and were eroding the capacity and morale of the partner units.55 On December 10, The Washington Post reported that "since the return of hundreds of American troops, starting in May, U.S. special operators have been scrambling to help improve Danab's battlefield logistics and accelerate training for its staff officers."56 Continued U.S. support in building up and training Somalia armed forces will be essential if the government is to prevail in its fight against al-Shabaab.
The Need to Create a Stronger Army
It is only by creating a stronger, more effective, and more professional army that Somalia can take full ownership of the fight against al-Shabaab and prevail. Somalia's security forces are constrained by limited means and abilities, and as such, the A.U. forces' presence has been a linchpin of Somalia's security infrastructure. Progress has been made in the professionalization of Somalia's security forces, specifically with the special forces trained by the United States and Turkey.57 But while they can conduct effective mobile operations, the building up of SNA capabilities will have to progress much faster to be able to take over from A.U. forces in December 2023 when the ATMIS mission is due to end. To augment the national army, federal member state (FMS) forces will also be critical.c The sustained thorny relationship between the federal government and the FMS has not allowed for coordination and cooperation between federal and regional forces. In 2017, Somalia's leaders agreed on a national security architecture that articulated division of labor and the resourcing.58 However, the limited means of the federal government has ensured the relationship remains combative rather than collaborative.
The Need for a Comprehensive Strategy
The Somali government, because of the pace of events, has not yet put together a comprehensive strategy involving FMS leaders and other key stakeholders. Without such a strategy, there is a high risk the current effort will eventually falter. Arguably, it is only by creating community ownership of security in federal states with a significant al-Shabaab presence that lasting progress can be made. In the absence of a comprehensive strategy, the various clan militias being brought into the fight against al-Shabaab as Community Defense Forces are not participating in counterinsurgency operations in a joined-up manner. Instead of simultaneous offensives, over recent months the Ma'awisley forces have mobilized themselves to conduct operations emotively and thus have commenced operations at different times. The lack of concurrent operations is advantageous to al-Shabaab as it executes its responses against one community at a time. Anti-al-Shabaab offensives gathered force in Hiran in September, progressed to Galgaduud in November before shifting again to Middle Shabelle where the current offensives are focused.
As well as the military campaign, President Mohamud has also urged a broader national effort to counter al-Shabaab beyond simply a kinetic response.59 The Somali president chaired a special cabinet meeting in October where he directed ministries to each take a role in the anti-al-Shabaab efforts rather than rely on the military response. Thus far, the ministries of information, religious affairs, commerce, telecommunications, and justice have announced initiatives to counter the group.60
In recent months, the Somali government has successfully seized the initiative and put al-Shabaab on the backfoot. In the Hiran region, all the districts in the eastern flank have been liberated with just one district under al-Shabaab control. In Middle Shabelle, Runirgood is the only remaining stronghold for the group.61 The success is attributable to the fact that Ma'awisley militias provide local knowledge and legitimacy while granting command of the operations to the SNA and the federal government. This Somali ownership has been a game changer. The fight against al-Shabaab has for too long been perceived as an externally led one, linked to the war on terror and destructive interventions by Somalia's neighbors, but that narrative is now changing. The offensives against al-Shabaab and the terrorist group's reprisal attacks have exposed the very real and Somali nature of the conflict.
While the Ma'awisley operations have yielded several battlefield successes, the government and FMS must begin to adequately prepare the formal structures and forces to sustain and stabilize reclaimed territories. In the past, clan-led offensives delivered rapid victories on the battlefield, but Somali governments failed to implement the necessary follow-up actions to win the war. For example, in 2018, Ma'awisley forces engaged al-Shabaab fighters in similar offensives in Middle Shabelle after the group took over a village. A community elder and farmer, Hibad Ali Dasar, led the rebellion, but due to limited government support and a lack of a wider strategy, the group managed to subdue the Ma'awisley fighters and Hibad was killed in October 2018 in an al-Shabaab ambush.62
Somalia's leaders have yet to develop a nuanced, comprehensive, locale-specific strategy. The administration appears to be addressing at least the need for a locale-specific approach, albeit sluggishly. The president has called for several National Consultative Councils with the FMS leaders with the latest in October discussing the offensives and the need for cooperation between the FMS and the federal government.63 The Somali leadership has also attempted to address some of the reconciliation imperatives that are obstructing progress. Specifically in Middle Shabelle, in November, President Hassan Sheikh brokered a peace agreement between warring communities in order to shift the focus back to al-Shabaab.64
The Need to Address Clan Differences
The government must seek to address the underlying clan differences to foster better cooperation and thus facilitate broad-scale action against the group. This will need to be handled judiciously as some argue that utilizing clan forces as the pointed tip of the spear in Somalia's COIN strategy is risky and reminiscent of the clan mobilization that preceded state collapse in 1991. The tribalized society of the 1990s contributed to the emergence of al-Shabaab, and the group has since then adeptly manipulated historical grievances between clans to play them off each other in order to gain sanctuary and support. It has also exploited grievances among minorities in Somalia and the marginalized. This is demonstrated by the great numbers of minorities recruited into the terrorist group.65
Al-Shabaab has pragmatically engaged with and exploited traditional clan structures, entering peace treaties with clan elders in the territories it governs. Through these agreements, the group has administered territories by proxy, gaining local legitimacy and support. When clans have resisted their governance, as was the case with the recent and continuing uprising in Hiran, al-Shabaab has confronted them militarily and utilized rival clans to weaken them.66 This dynamic was recently evident in central Somalia as some clans in Hiran were reluctant to join the civilian uprising. For the government to overcome al-Shabaab's manipulation of the clans for its own ends, it must walk a fine line. To some degree, it will have to utilize clan structures. And it will need to reconcile or at least pacify feuding communities. But it will also need to still maintain a national approach.
Conclusion
Despite the setbacks suffered by al-Shabaab in the Hiran and Middle Shabelle regions, the group still controls vast territory in south-central Somalia's rural areas. The offensives are currently limited to the Middle Shabelle and Hiran regions, which constitute Hirshabelle FMS. South West and Jubaland FMS farther south are yet to begin operations while operations in Galmudug stalled in early November after the recapture of Wabxo town by al-Shabaab two days after its recovery due to lack of holding forces.67 Operations have peaked and ebbed in different regions for a number of reasons. One cause is the limited number of national forces available to conduct simultaneous operations in several regions. Another emerging scenario in Galgaduud region is the need for national holding forces to collocate alongside Ma'awisley forces. This has not been the case in Hiran and Middle Shabelle, as the generated Community Defense Forces have managed to hold the territories despite the withdrawal of the national mobile forces.
Al-Shabaab has also stepped up its attacks in Mogadishu and other FMS capitals. The group continues to conduct bombings, assassinations, and raids in government-dominated cities such as Mogadishu, targeting non-combatants and government officials. In one recent attack in late November, six al-Shabaab fighters besieged the Villa Rosa hotel, hundreds of meters from the Somali president's residence and the home to a number of government officials. A clan meeting was taking place at the hotel at the time. Nine people were killed with over 60 others rescued from the hotel in the 24-hour siege.68 In another brazen attack, on October 25, 2022, the group killed 11 people at the Tawakal Hotel in Kismayo. A Somalia-based security analyst told Voice of America that this demonstrated the group could still attack anywhere in the country at any time.69
Between 2007 and 2012, Somalia and its allies first concentrated on removing al-Shabaab's grip on urban areas and did so successfully. However, they have been less successful in winning the battle of hearts of minds of the population of rural areas of south and central Somalia and have lacked a strong enough army to hold territory, and this has resulted in the failure to root al-Shabaab out of these areas.
While the higher degree of Somali ownership in the recently launched counterinsurgency efforts against al-Shabaab should be welcomed, the government still faces significant challenges. Although Mogadishu has sought to capitalize on the momentum generated around the current popular uprising against al-Shabaab, the underlying conflicts and grievances between communities continue to complicate efforts to root out the terrorist group. Furthermore, utilizing clan militias (or Community Defense Forces, as the government calls them) across the board will not necessarily deliver the same results because the communities living farther south have deep grievances against other clans and the central government in Mogadishu, having experienced historical injustices and continuing to face socioeconomic inequalities. Here, it is important to note that the current successes recorded in Hirshabelle and Galmudug occur in localities where the populations have long resisted al-Shabaab rule. The communities residing in those areas are not as clan diverse, and thus al-Shabaab has had a more difficult time taking advantage of tensions or frictions between clans. The communities in Hirshabelle and Galmudug are also among the most armed in Somalia post-1991 and have had access to state resources in the years since. They are therefore better able to militarily confront al-Shabaab. The same formula cannot be applied to South West State and some parts of Jubaland.
The grassroots uprising against al-Shabaab in central Somalia and gains made by Somali forces with air support from the United States and Turkey has rocked al-Shabaab onto the backfoot, but the experience of the last 15-plus years suggests that the gains may only be fleeting unless Somalia takes full ownership of the fight, focuses on winning hearts and minds, receives and embraces continued U.S. support, makes significant further progress in building up its military, addresses the clan rivalries that al-Shabaab has been so adept in exploiting, and implements a comprehensive counterinsurgency strategy that unifies stakeholders. The challenges may be daunting, but the recent military breakthroughs against al-Shabaab have provided Somalis with an historic opportunity to now do what is necessary to bring lasting security to the country.     CTC
Samira Gaid is a Somalia-based regional and security analyst and a director of the Hiraal Institute, a policy center in Mogadishu focusing on security and counterterrorism in Somalia. Her research has focused on foreign policy, political violence, and competitive state-building in the Horn of Africa. Gaid previously served as a special advisor to the prime minister of the Federal Republic of Somalia, H.E Hassan Ali Khaire, from May 2017 to July 2020. In this capacity, she led the extensive transformation and reform efforts of the Somali security sector, one of that government's key priorities. Prior to her appointment as Principal Security Advisor to Somalia's Prime Minister in 2017, Gaid worked in a similar capacity with the African Union Mission in Somalia (AMISOM) as a Special Advisor to the Special Representative of the Chairperson of the Commission.
© 2022 Samira Gaid
Substantive Notes
[a] The African Union has, for example, provided heavy artillery for the effort. The United States has, for example, at the request of the Somali government targeted al-Shabaab fighters in the Hiran region from the air. Yousra Elbagir and Vauldi Carelse, "From farmers to fighters – how a new Somali militia has risen against al Shabaab," Sky News, October 14, 2022; "Federal Government of Somalia engages terrorists with support from U.S. forces," U.S. Africa Command, September 21, 2022.
[b] In April 2022, the African Union replaced the AMISOM mission with ATMIS—the African Union Transition Mission in Somalia—encompassing military, police, and civilian dimensions.
[c] Somalia is divided into six federal member states (FMS): Galmudug, Hirshabelle, Jubaland, Puntland, South West, and Somaliland, which is a self-declared autonomous state.
Citations
[1] Christopher Anzalone, "Al-Shabaab in Somalia: The Resilience of al-Qaeda's East African Affiliate," in Aaron Zelin ed. How Al-Qaeda Survived Drones, Uprisings, and the Islamic State: Nature of the Current Threat (Washington, D.C.: Washington Institute for Near East Policy, 2017).
[2] "Research Hub: Al Shabaab in Somalia and Kenya," ACLED, n.d.; Matt Rehbein and Omar Nor, "Death toll spikes nearly two months after Somalia truck bombings," CNN, December 3, 2017.
[3] For more on this, see Matt Bryden and Premdeep Bahra, "East Africa's Terrorist Triple Helix: The Dusit Hotel Attack and the Historical Evolution of the Jihadi Threat," CTC Sentinel 12:6 (2019).
[4] "Considering Political Engagement with Al-Shabaab in Somalia," International Crisis Group, June 21, 2022, pp. 3-5.
[5] Mary Harper, "Somalia and al-Shabab: The struggle to defeat the militants," BBC, August 24, 2022.
[6] Leo Sands and Damian Zane, "Somalia hotel siege: More than 20 die in al-Shabab attack," BBC, August 21, 2022.
[7] Yousra Elbagir and Vauldi Carelse, "From farmers to fighters – how a new Somali militia has risen against al Shabaab," Sky News, October 14, 2022.
[8] "Strengthening Somalia's Security: A Conversation with H.E. President Hassan Sheikh Mohamud," Center for Strategic & International Studies, September 16, 2022.
[9] "Africa File: Clan Uprising Bolsters anti-al Shabaab Offensive in Central Somalia," Critical Threats, September 15, 2022; Elbagir and Carelse.
[10] "Somalia's President Appoints Lawmaker Hamza Abdi Barre as PM," Africa News," June 16, 2022.
[11] Harun Maruf, "Somalia Military Rebuilding Shows Signs of Improvement," Voice of America, November 30, 2022; Harun Maruf, "'Ma'awisley' Militias in Central Somalia Mobilizing Against al-Shabab," Voice of America, October 4, 2022.
[12] Caleb Weiss and Ryan O'Farrell, "Analysis: Shabaab's multi-day incursion into Ethiopia," FDD's Long War Journal, July 25, 2022.
[13] "Hiiraan: 'Dad musaafur ah ayay Shabaabku ku gubeen gawaaridii ay saarnaayeen,'" BBC News Somali, September 3, 2022.
[14] "Somalia: Ethiopian Military Carries Out Airstrike in Central Somalia," All Africa, August 7, 2022.
[15] "Somali Government Forces Captured Several Small Villages in Hiiraan Region," Hiiraan Online, August 9, 2022; "Africa File: Clan Uprising Bolsters anti-al Shabaab Offensive in Central Somalia."
[16] Maruf, "Somalia Military Rebuilding Shows Signs of Improvement."
[17] Ahmed Mohamed, "Somali Army Dislodges Al-Shabab From Key Stronghold," Voice of America, December 6, 2022.
[18] Ibid.
[19] Maruf, "Somalia Military Rebuilding Shows Signs of Improvement."
[20] "Operation Badbaado in Lower Shabelle: Tactical Success, Strategic Failure," Sahan, May 2020, pp. 8-14; Comments by Kamal Gutale, Security Advisor to Somali PM and U.S. Ambassador Larry Andre on Twitter Spaces 11.10.2022, War on Al-Shabaab.
[21] Bashir Mohamed Caato, "Somalia: Turkey's Bayraktar TB2 drones join offensive against al-Shabab," Middle East Eye, October 1, 2022; "Turkey's drones taking part in military operations against Al-Shabaab in Somalia: minister," Somali Guardian, September 25, 2022; Maruf, "Somalia Military Rebuilding Shows Signs of Improvement."
[22] Abdi Sheik-Abdi, "Somali Nationalism: Its Origins and Future," Journal of Modern African Studies 15:4 (1977): p. 657.
[23] Jutta Bakonyi, "Moral Economies of Mass Violence: Somalia 1988–1991," Civil Wars 11:4 (2009): pp. 434-454.
[24] David D. Laitin, "The Political Economy of Military Rule in Somalia," Journal of Modern African Studies 14:3 (1976): pp. 450-455; Hussein Mohamed Adam, From Tyranny to Anarchy: The Somali Experience (Trenton, NJ: Red Sea Press, 2008), p. 9.
[25] Harun Maruf, "At Least 100 Killed in Mogadishu Bombing, President Says," Voice of America, October 30, 2022.
[26] Bryden and Bahra.
[27] Seth G. Jones, Andrew M. Liepman, and Nathan Chandler, Counterterrorism and counterinsurgency in Somalia: Assessing the campaign against Al-Shabaab (Santa Monica, CA: RAND, 2016).
[28] Ibid.
[29] Bronwyn E. Bruton, Paul D. Williams, and Joint Special Operations University, Counterinsurgency in Somalia: Lessons Learned from the African Union Mission in Somalia, 2007-2013 (2014), pp. 35-41.
[30] "Operation Badbaado in Lower Shabelle: Tactical Success, Strategic Failure," pp. 4-7.
[31] Daley J. Birkett, "The Legality of the 2011 Kenyan Invasion of Somalia and Its Implications for the Jus Ad Bellum," Journal of Conflict & Security Law 18:3 (2013): p. 449.
[32] Paul D. Williams, "Lessons for 'Partnership Peacekeeping' from the African Union Mission in Somalia," International Peace Institute, October 30, 2019.
[33] Walter Lotze and Paul D. Williams, "The Surge to Stabilize: Lessons for the U.N. from the A.U.'s Experience in Somalia," International Peace Institute, 2016.
[34] Ibid.
[35] Peter Albrecht and Cathy Haenlein, "Fragmented Peacekeeping: The African Union in Somalia," RUSI Journal 161:1 (2016): pp. 50-61.
[36] "Lessons for 'Partnership Peacekeeping' from the African Union Mission in Somalia."
[37] "Sawirro: Dufcaddii 6aad Oo Ka Qalin Jebisay Machadka Daraasaadka Qurdubah," somalimemo.net, December 10, 2020; "Sawirro: Beesha Xawaadle Oo Machad Islaami Ah Kusoo Xiratay Jubbooyinka," somalimemo.net, December 17, 2020; "Sawirro: Xoolaha Zakada Sanadda 1442 Oo Laga Qeybiyay Degmada Saakoow Ee Jubbada Dhexe," somalimemo.net, November 29, 2020.
[38] Mohamed Mubarak, "The Fighters Factory: Inside Al-Shabab's Education System," Hiraal Institute, May 15, 2018.
[39] Matt Bryden, "The Decline and Fall of Al-Shabaab? Think Again," Sahan, April 2015, p. 8.
[40] "Al-Shabaab kills dozens of African Union troops at base in Somalia," Guardian, June 26, 2015.
[41] Robyn Kriel and Briana Duggan, "Military Sources: Al-Shabaab Attack in Somalia Kills Dozens of A.U. Troops," CNN, September 3, 2015.
[42] Christopher Anzalone, "Framing Insurgency and the Rebel Proto-State: Al-Shabaab's Media and Information Operations," Journal of the Middle East and Africa 12:3 (2021): pp. 343-360.
[43] Syed Huzaifah Bin Othman Alkaff and Nur Aziemah Azman, "Somalia," Counter Terrorist Trends and Analyses 8:1 (2015): pp. 121-124.
[44] Abdeta Dribssa Beyene, "Sovereignty Preservation Attenuating it Elsewhere: The Political and Security Dimensions of Buffer Zones," Ph.D. dissertation, Northwestern University, 2017, p. 186.
[45] Paul D. Williams, "Understanding US Policy in Somalia," Chatham House Africa Programme, July 2020, p. 11.
[46] Ibid.
[47] Ibid.
[48] Amanda Sperber, "Does America Know Who Its Airstrike Victims Are?" Foreign Policy, May 7, 2019.
[49] Christopher Anzalone, "The Resilience of al-Shabaab," CTC Sentinel 9:4 (2016): p. 16.
[50] "U.S. forces conduct strike in Somalia targeting al-Shabaab leader," U.S. Africa Command, October 3, 2022; Bill Roggio and Caleb Weiss, "U.S. military kills wanted Shabaab leader in airstrike in Somalia," FDD's Long War Journal, October 3, 2022.
[51] Joanne Crouch, "Counter-Terror and the Logic of Violence in Somalia's Civil War," SaferWorld, November 2018, p. 11; Charlie Savage, Eric Schmitt, and Abdi Latif Dahir, "Somalia Asks U.S. to Step Up Drone Strikes Against Qaeda-Linked Fighters," New York Times, October 27, 2022.
[52] Mala Mustapha, "Somalia: Al-Shabaab, counterterrorism and counterinsurgency in a recovering failed state" in The Routledge Handbook of Counterterrorism and Counterinsurgency in Africa (London: Routledge, 2021), pp. 425-436.
[53] Williams, pp. 10-15.
[54] Maruf, "Somalia Military Rebuilding Shows Signs of Improvement;" author tracking of counterterrorism operations in Somalia.
[55] Charlie Savage and Eric Schmitt, "Biden Approves Plan to Redeploy Several Hundred Ground Forces Into Somalia," New York Times, May 16, 2022.
[56] Katharine Houreld, "U.S. troops are back in Somalia and scrambling to help its special forces," Washington Post, December 10, 2022.
[57] Maruf, "Somalia Military Rebuilding Shows Signs of Improvement."
[58] "Security Pact," London Conference Somalia, May 11, 2017.
[59] "Somali President chairs weekly cabinet meeting," Hiiraan Online, October 7, 2022.
[60] "'I'm a Human Being, Not a Monster': The al-Shabaab Defector Turned Government Minister," Guardian, December 2, 2022; "The 'total war' against Al-Shabaab in Somalia," Citizen, November 26, 2022.
[61] Mohamed Dhaysane, "Somali Military Liberates Key Town from Al-Shabab Militants," Voice of America, November 9, 2022.
[62] "Somalia remembers fallen clan elders killed in the fight against al Shabab," Hiiraan Online, October 22, 2022; Maruf, "'Ma'awisley' Militias in Central Somalia Mobilizing Against al-Shabab."
[63] "Somali leaders gather in Mogadishu for the third national consultative council," Hiiraan Online, October 28, 2022.
[64] Abdi, "Bayaanka Baaqa Nabadeed Ee Cadale," Goobjoog News, November 26, 2022.
[65] "Taming the Clans: Al-Shabaab's Clan Politics," Hiraal Institute, May 31, 2018.
[66] Michael Weddegjerde Skjelderup, "Jihadi Governance and Traditional Authority Structures: Al-Shabaab and Clan Elders in Southern Somalia, 2008-2012," Small Wars & Insurgencies 31:6 (2020): p. 1,175.
[67] "Somalia Troops Make Significant Gains against Al-Shabaab," Garowe Online, November 10, 2022; "DEGDEG+XOG: Alshabaab OO Dib Ulawareegay Deeganka Wabxo,Dhabarjebin Lagu Sameyay Beesha Murusade….," Aaran TV via YouTube, November 13, 2022.
[68] Abdiqani Hassan And Mukelwa Hlatshwayo, "Somali Troops Overpower Militants to End Hotel Siege," Reuters, November 28, 2022.
[69] Ahmed Mohamed, "Death Toll Climbs to 11 Following al-Shabab Hotel Attack in Somalia," Voice of America, October 25, 2022.