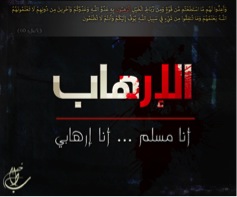 The image, which was posted to a web forum, contains the bloody caption: "al-Irhab-ana muslim…ana irhabi" ("terrorism-I am a Muslim…I am a terrorist"). The caption follows a quote from the Qur'an (Q8:60) that contains the verb "turhibuna" ("you will instill fear/ terrorize"). Invocation of the verse in conjunction with the above predication ("I am a terrorist") demonstrates an embrace of the negative Western term by infusing it with a Qur'anic context and meaning. Above the image in the post, the designer wrote that he created the image for the al-Fallujah forum before it was shut down.  It satirizes a well-known series of public service announcements against terrorism, that concluded with the tagline "al irhab la din lahu" (Terrorism has no [basis in any] religion).
Group Name
Shabakat Ansar al-Mujahidin
Group Type
Jihadist Group
Isolated Phrases / Mottoes / Slogans
1) Q 8:60 2) al-Irhab - ana muslim ... ana irhabi
Groups Region of Operation
Global
Groups Country of Operation
Iraq
Date Image Created Online
28/01/2011
Date Image Created Online Details
Posted by a user/designer who calls himself Khattab (signature at the bottom left corner).
Religious Textual References
Quranic Citations
Visual Themes
The fiery red resonates blood, passion, impulse and danger. It is fundamentally linked to the vital force, and to warlike qualities.