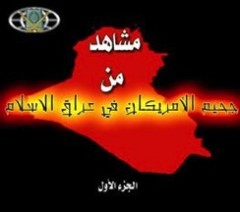 Depicting a country map without bordering countries or bodies of water emphasizes the national context and scope of that specific regional jihad. In this image, a fiery red map of Iraq is shown with a caption in its center that reads: "mashahid min jahim al-amrikan fi 'iraq al-islam" ("scenes from the Americans' hell in Islamic Iraq"). This designates Iraq as an important theater for jihad, and implies a national obligation to join the struggle in order to establish a true Islamic state. At the same time, the appearance of the Global Islamic Media Front group name in English and Arabic can evoke the notion that Iraq is an integral part of the broader, global jihad movement. The yellow and fiery red of the map invoke the fires of hell (as referenced in the image's title).
The image is likely the first slide from a clip. At the bottom, the caption reads: "al-juz' al-awwal" ("the first part"). The logo used is an older version that has subsequently been discontinued but the group continues to distribute jihadist materials.
Group Type
Jihadist Group
Group Affiliation
AQ Affiliates / Associates
Secondary Colors
Yellow, White
Isolated Phrases / Mottoes / Slogans
Mashahid min jahim al-amrikan fi `iraq al-islam
Groups Region of Operation
Global
Geopolitical Symbols
Country / Regional Map, Symbol of party, movement or company, Slogan
Geopolitical Analysis
Iraq. GIMF logo, two yellow crossed swords on a Qur'an against a black and white image of a globe.