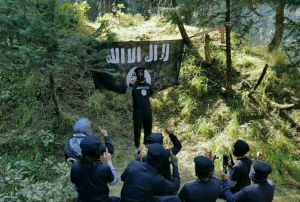 In early February 2016, the Islamic State announced its intention to expand into Kashmir as part of its broader Khorasan branch.1 One of the causes of concern associated with the spread of the Islamic State affiliate in Jammu and Kashmir (ISJK) is the existing instability within the region due to the controversial Line of Control (LoC) that divides the region into Indian and Pakistani controlled areas. The highly militarized Jammu and Kashmir (J&K) region constitutes a long-running territorial dispute between India and Pakistan, which has triggered at least three wars. The region also hosts three prominent militant groups—the Hizb-ul-Mujahideen (HM), Lashkar-e-Taiba (LeT), and Jaish-e-Mohammad (JeM)—which historically have been linked to elements of the Pakistani state and largely favor Pakistan. If successful, an Islamic State-inspired movement may have severe negative consequences in the already volatile environment of Jammu and Kashmir, such as increased rivalry amongst militant groups and sectarian violence. This would not only exacerbate Pakistan's current instability but also antagonize relations between the two nuclear-armed countries.
However, the region of J&K has long been home to numerous militant groups, with many allegedly benefiting from Pakistan's active sponsorship or passive tolerance. Historically, such groups have tended to pursue either a separatist or a pro-Pakistan agenda, and it is only more recently that transnational terrorist outfits such as the Islamic State have attempted to infuse the Kashmiri jihad with pan-Islamist ideology. While some have shrugged off such efforts as mere propaganda, the possibility of an ISJK has generated anxiety amongst others. But what exactly is ISJK? Is it simply an idea or a simmering threat? Given the limited information available on the group at this time, an assessment of the potential trajectory of ISJK requires examining the viability of the group's message to its target audience against the existing political and militant backdrop of J&K. This article takes a closer look at the nature of ISJK's message to its target audience, disseminated largely via its Telegram channel, and situates it within the specific context of J&K.
Suspected Activity and ISJK's Campaign Message 
The presence of Islamic State in J&K progressed gradually during 2017, starting with reports of Islamic State flags being waved during rallies and protests around the valley. While this claim is still pending official verification, Islamic State's Amaq news agency claimed responsibility for an attack in Srinagar on November 17, 2017, which killed an Indian policeman. The militant killed in the attack, Mugees Ahmed Mir, is suspected to have been inspired by the Islamic State's online propaganda and was found wearing an Islamic State T-shirt at the time of the attack.2 For the most part, though, signs of ISJK's existence have largely been observed in the online realm alone. Since late 2017, the pro-Islamic State J&K-focused media group Al-Qaraar has engaged in a social media campaign, directing messages tailored to inspire a Kashmiri audience. In December 2017, a pro-Islamic State video in Urdu was shared via its Telegram channel, using the hashtag "Wilayat Kashmir," in which a masked man representing "Mijahididin in Kashmir" pledges allegiance to the Islamic State and specifically invites the al-Qa`ida-affiliated group Ansar Ghazwat-ul-Hind to join the caliphate.3 In addition, numerous posters and written documents4 encourage followers to target both the Indian and Pakistani armies and "those who disbelieve, fight in the cause of Al-taghoot."5 More recently, a poster with pictures of two purported "Islamic State Soldiers," in which brother Fidoos and brother Sameer are depicted as ISJK martyrs in Kashmir, was circulated.
Although videos and pictures are a part of ISJK's online effort, more substantive materials have also been produced. The more detailed writings distributed by Al-Qaraar entitled "Realities of Jihad in Kashmir and Role of Pakistani Agencies" and "Apostasy of Syed Ali Shah Gheelani and others" provide deeper insights into the nature of the jihad that the Islamic State seeks to promote amongst Kashmiris followers. The first article argues that the struggle in Kashmir has not been guided by Islam, but rather by Pakistan and its agents.6 The primary motive here is to portray unequivocally the Pakistani state as a legitimate target. True to the Islamic State's extreme sectarian stance, the article points to the presence of Shi`a, Barelvis, and Hindus within Pakistan as evidence of Pakistan's lack of interest in implementing true sharia law. The Pakistani army is described as engaging in a "War on Islam and Muslims" and deemed a U.S. aid beneficiary that supports groups like the Taliban for selfish motives. The article concludes that Pakistan's support for the jihad in Kashmir is insincere, and although "Pakistan's agents" in Kashmir are provided with arms and funding, allowing Kashmir to be a "free land and ruled by Sharia of Allah" runs counter to Pakistan's underlying interests. "Pakistan's agents" is likely a reference to groups such as LeT, which the Islamic State has explicitly vowed to fight in earlier statements in its Dabiq magazine.7 Although ISJK's anti-Pakistan stance conflicts with the current narrative used by dominant militant groups in J&K, al-Qa`ida has made resoundingly similar arguments to instigate jihad against the Pakistani state in the previous decade.8 Al-Qa`ida made a concerted effort via a messaging campaign in the late 2000s to label Pakistan as an un-Islamic government and its jihad and proxies in Kashmir as corrupt.9 The limited results of al-Qa`ida's campaign highlight the challenges of swaying the Kashmir jihad against Pakistan and its proxies. Nevertheless, ISJK's message may be more appealing to its target audience given its reputation as a newer, younger, and perhaps a more aggressive entity as well as its skillfulness at using online platforms.
In contrast to the first piece that focuses on the general insincerity of Pakistan, the other document names and shames specific leaders such as Sayeed Ali Shah Geelani of the All Parties Hurriyat Conference (APHC). The APHC, formed in 1993, serves as a political platform for a number of diverse organizations that seek self-determination for Jammu & Kashmir.10 Although Geelani claims to engage only in non-violent protests, he has been frequently accused of having connections with Pakistan-funded armed militants.11 According to the Al-Qaraar article, Geelani is a kafir since he believes in democracy, seeks the judgment of the United Nations, a "false god," and considers Shi`a to be Muslims. Similarly, the document criticizes Yasin Malik, the chairman of the Jammu Kashmir Liberation Front (JKLF),12 one of the first secularist movements to seek independence for Kashmir. 
ISJK: A Realistic Threat?
Given the present limitations on data regarding actual ISJK followers, evaluating ISJK's online propaganda against the current ground realities in J&K suggests that the group's goals are ambitious at the very least. Given the complex political dynamics of J&K and the territory's symbolic value for both Pakistan and India, ISJK seeks to inspire its Kashmiri followers to take on a rather formidable task. Followers must not only favor pan-Islamism over nationalist goals, but also target both the Pakistani and Indian states and take a directly opposed position to APHC's leaders (groups seeking self-determination) and militant groups with connections to the Pakistani state. Is this realistic? In the past, militant groups that failed to further a pro-Pakistan agenda, such as the JKLF, were largely sidelined by Pakistan to support more radical Islamist pro-Pakistan groups such as HM and LeT.13 LeT, associated with the Mumbai attacks in 2008, is largely viewed as Pakistan's proxy to wage jihad against India.14 JeM seeks to unite the province with Pakistan under the implementation of sharia and was allegedly involved in the Indian parliament attack.15 HM, which was designated a foreign terrorist organization in 2017 and has a presence in Indian Kashmir, is also considered to be staunchly pro-Pakistan.16 Additionally, the three prominent outfits, HM, JeM, and LeT, along with some other Kashmiri groups joined forces in 1990 to form the United Jihad Council (UJC) to improve coordination of the Kashmiri insurgency.17 The UJC is widely perceived to be supported by Pakistan's Inter-Services Intelligence (ISI).18
In essence, a thriving presence of ISJK would mean swimming against the entire wave of the existing jihadi militancy in J&K and breaking down its ecosystem, which was established over decades. LeT, JeM, and HM have openly rejected both al-Qa`ida and ISJK's pan-Islamist messages. For example, Syed Salahuddin, leader of HM, has specifically advised Kashmiri youth to reject Islamic State propaganda.19 Collectively, the UJC maintains that the Kashmiri jihad does not have a global agenda, and the association of the local jihad with groups like al-Qa`ida and the Islamic State is the Indian government's attempt to delegitimize the Kashmir movement.20 While these groups frequently use Islamic rhetoric to reinforce their call for jihad, their goals have centered around channeling hostility toward India and calling for a political solution that enjoins Kashmir with Pakistan as well as a U.N. plebiscite.21 Along similar lines, Geelani, chairman of APHC, has lumped ISJK with groups like Tehrik-i-Taliban and Boko Haram, declaring them un-Islamic and even a creation of the West with the goal of dividing Muslims.22
Kashmiri Youth: An Emerging Market of Recruits?
Yet, it would be unwise to completely dismiss the threat associated with the potential popularity of ISJK's ideology. ISJK's social media campaign indicates that its goal is not to win the hearts and minds of Kashmir's hardened militants. Rather, its pan-Islamist message and extensive use of social media suggests that ISJK seeks to inspire the new generation of tech-savvy Kashmiris who may be dissatisfied with the status quo but have yet to engage in militancy. While existing J&K militant groups do recruit locally, they also include a large proportion of fighters from Pakistani provinces outside of Kashmir. For example, a study of 1,625 biographies of slain LeT and HM militants found that 89 percent of LeT militants and 33 percent of HM militants were of Pakistani but non-Kashmiri origin.23 Groups that consist of Pakistani recruits from outside of Kashmir are perhaps less likely to subscribe to the anti-Pakistan message being promoted by ISJK. Thus, it would make sense for ISJK to aim to recruit the younger generation of Kashmiris to inspire a new movement that is more indigenous, more pan-Islamist, and less pro-Pakistan. Indeed, there may be opportunities for this; reports show that increasing numbers of young Kashmiri fighters are joining armed separatists,24 which may effectively change the overall ratio of local Kashmiri jihadis to jihadis from outside of Kashmir.25 And unlike their predecessors of the 1990s, this generation is educated and highly active on social media, a powerful recruitment tool for the Islamic State.26 In addition, various Indian media sources have reported the findings of a national survey that indicate that within India, Jammu and Kashmir have one of the highest levels of internet traffic to Islamic State online propaganda.27 Indeed, efforts via social media have borne fruit before. HM commander Burhan Wani, who was killed in July 2016, gained massive popularity through his extensive use of social media, which helped increase the group's numbers.28 Wani's message also appeared to be moving toward a call for a global caliphate movement, although he did not specifically condemn Pakistan.29 His successor, Zakir Musa, however, left HM and pledged allegiance to al-Qa`ida's affiliate in J&K, making clear his intention to fight for Islam rather than for the independence of Kashmir or mergence with Pakistan.30 His message runs parallel to that of ISJK. Unfortunately, this suggests that there may be a fresh pool of recruits for ISJK to tap into to trigger a more indigenous movement, especially given the young demographic makeup of the Kashmir valley and high unemployment rates.31 Further, the 2015 electoral win of the Hindu Nationalist BJP Party in the Muslim-majority Jammu and Kashmir, a first in history, may inadvertently fuel pan-Islamist sentiments.
It currently remains to be seen if the ISJK morphs into something larger than an idea or whether it simply remains an online propaganda channel. The likelihood that ISJK inspires a sufficiently large number of young Kashmiris to stimulate an entire new wave of jihad in Jammu and Kashmir seems unlikely, at least in the short term. The real threat lies in ISJK effectively radicalizing Kashmiri youth via its social media campaign and coordinating activity through digital networks, which can give way to heightened terrorism, extreme tactics, and sectarian attacks. A sizeable presence of ISJK may also result in cooperation with other Islamic State-Khorasan affiliates within Pakistan, which would significantly contribute to the deteriorating security situation in the broader region. Thus, proactive security and governance measures are necessary to stem the paths to radicalization, especially among younger populations, in order to prevent the transformation of the ISJK idea into an indigenous movement.
Dr. Amira Jadoon is an assistant professor at the Combating Terrorism Center and the Department of Social Sciences at the U.S. Military Academy at West Point. She specializes in international security, economic statecraft, political violence, and terrorism.
The views expressed in this article are the author's and do not necessarily reflect those of the Combating Terrorism Center, U.S. Military Academy, Department of Defense, or U.S. Government. 
Substantive Notes & Citations
[1] Praveen Swami, "Islamic State threatens to Expand to Kashmir," Indian Express, February 3, 2016.
[2] "IS claims Zakura Attack," Tribune (India), November 20, 2017.
[3] "Kashmiri group pledges allegiance to Islamic State," BBC Urdu, December 26, 2017.
[4] Acquired by the CTC through the ISJK's Telegram channel.
[5] Al Taghoot refers to the worship of a god other than Allah.
[6] "The Realities of Jihad in Kashmir and Role of Pakistani Agencies," Al-Qaraar, Islamic State Jammu & Kashmir Telegram channel, January 2018.
[7] Swami.
[8] For a detailed discussion of al-Qa`ida's statements against the Pakistani state, see Don Rassler, "Al-Qaida's Pakistan Strategy," CTC Sentinel 2:6 (2009). See also Abu Yahya al-Libi, "Sharpening the Blades of Battle Against the Government and Army of Pakistan," al-Fajr Media Center, April 30, 2009.
[9] Don Rassler, "Al-Qaeda in South Asia: A Brief Assessment," in Aaron Y. Zelin ed., How Al Qaeda Survived Drones, Uprisings and the Islamic State (Washington: The Washington Institute for Near East Policy, 2017).
[10] See the All Parties Hurriyat Conference website at www.huriyatconference.com.
[11] Andrew Buncombe, "Syed Ali Shah Geelani: Why is India afraid of this 83 year-old man?" Independent, March 1, 2013.
[12] "Apostasy of Syed Ali Shah Gheelani and others," Al-Qaraar, Islamic State Jammu & Kashmir Telegram channel, January 2018.
[13] Shanthie Mariet D'Souza and Bibhu Prasad Routray, "Jihad in Jammu and Kashmir: actors, agendas and expanding benchmarks," Small Wars and Insurgencies 27:4 (2016).
[14] Stephen Tankel, Storming the World Stage: The Story of Lashkar-e-Taiba (London: Oxford University Press, 2013).
[15] See "Jaish-e-Mohammed," Mapping Militant Organizations, Stanford University, updated June 25, 2015.
[16] "Who are the Kashmiri Militants?" BBC News, August 1, 2012.
[17] "United Jihad Council," Janes World Insurgency and Terrorism Report, June 24, 2013.
[18] "Pathankot: Kashmir-based Militant Coalition Claims Attack," BBC News, January 4, 2016.
[19] "Islamic State and Kashmir," Kashmir Monitor, November 21, 2017.
[20] "Kashmir's Freedom Movement Is Indigenous, has No Global Agenda: Syed Salahuddin," Kashmir Watch, July 28, 2017.
[21] Riyaz Wani, "How Al-Qaeda Came to Kashmir," Diplomat, December 20, 2017.
[22] Peerzada Ashiq, "ISIS is an un-Islamic group, says Hurriyat chief Geelani," Hindustan Times, June 29, 2015.
[23] Don Rassler, Christine Fair, Anirban Ghosh, Arif Jamal, and Nadia Shoeb, The Fighters of Lashkar-e-Taiba: Recruitment, Training, Deployment and Death (West Point, NY: Combating Terrorism Center, 2013).
[24] Shashank Bengali and Sameer Yasir, "The Clock is Ticking," Los Angeles Times, August 28, 2017. See also "2017 saw 126 local youths joining terrorism: Mehboob Mufti," Times of India, February 6, 2017.
[25] Sudha Ramachandran, "New Generation of Militants Emerging in Kashmir," Terrorism Monitor 14:8 (2016).
[26] Ibid.
[27] For example, see "ISIS has generated a lot of interest in Assam: Police," Indian Express, December 26, 2015.
[28] "Held Kashmir on Boil after Hizb Chief Martyred," Nation, May 28, 2017.
[29] Michael Safi, "Kashmir Conflict Shifts with Top Militant Vowing Fight is for an Islamic State," Guardian, May 22, 2017.
[30] Ibid.
[31] Altaf Hussain Haji, "Labor Force Participation and Job Scenario in J&K," Greater Kashmir, January 30, 2018. See also http://labourbureaunew.gov.in/UserContent/EUS_5th_1.pdf for reference.