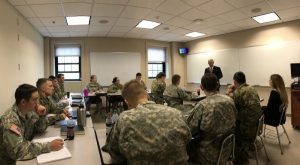 On 26 April, the Honorable Juan C. Zarate, the Combating Terrorism Center's Class of 1971 Senior Fellow, visited West Point for a series of engagements. Mr. Zarate lectured to both sections of the CTC's Combating Terrorism course. He also held a roundtable discussion with CTC members and ate lunch with cadets at the Mess Hall. Mr. Zarate is the chairman and co-founder of the Financial Integrity Network and a visiting lecturer of law at the Harvard Law School. He was the first-ever Assistant Secretary of the Treasury for Terrorist Financing and Financial Crimes.

The Honorable Juan Zarate lectures to cadets in SS466, Combating Terrorism.

Mr. Zarate dines in the Mess Hall with cadets in between his lectures.