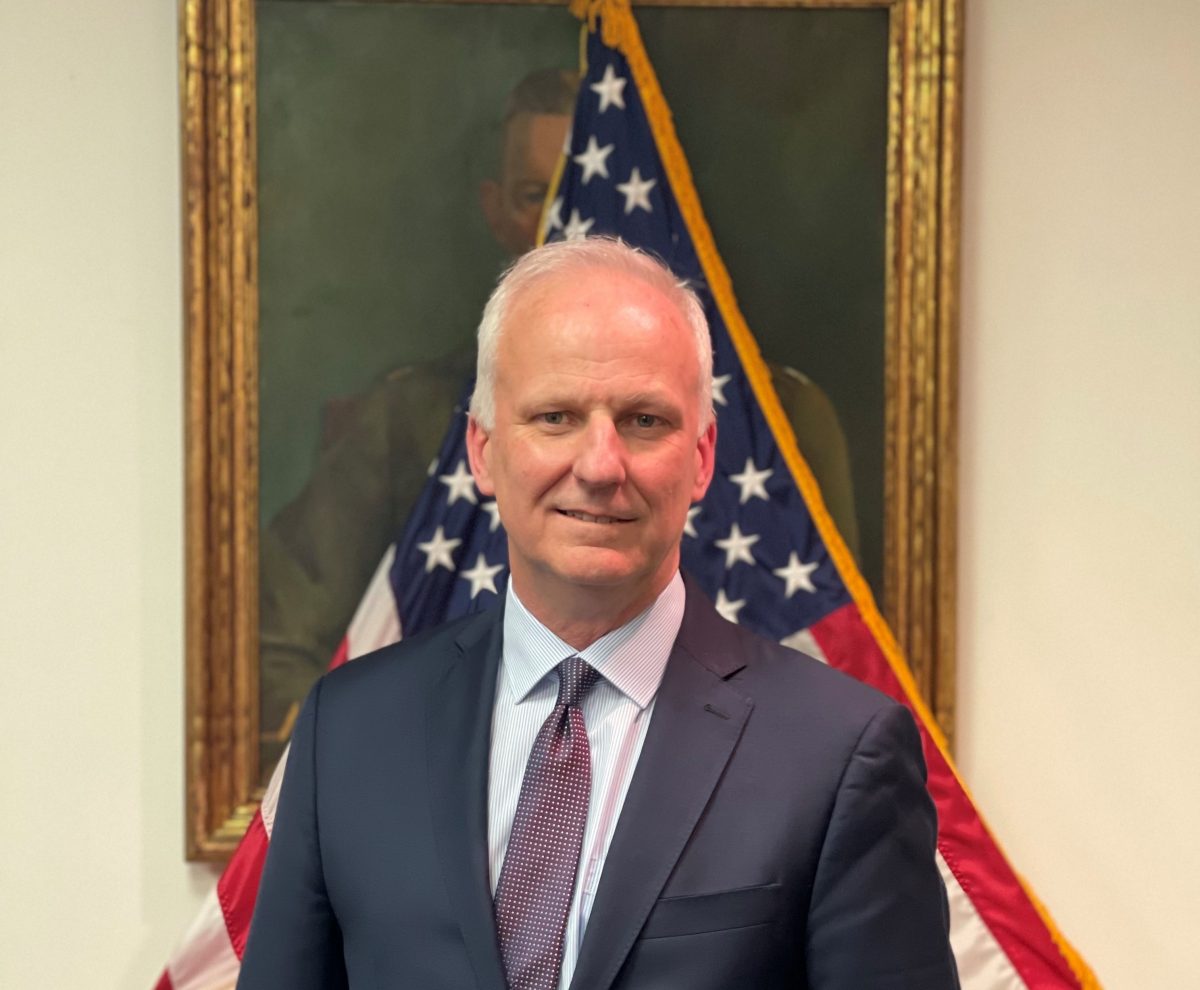 Mr. Caulfield's career in the United States Intelligence Community spanned approximately 39 years as a U.S. Navy Officer, civilian Senior Executive, and intelligence professional. Previous civilian Senior Executive positions include Chief of the DIA Forward Element Afghanistan, Chief of the DIA Liaison Office – Berlin, and Senior Defense Intelligence Expert for Strategy, Plans and Policy in DIA's Office of the Chief of Staff. Other positions involved all-source analysis, congressional testimony and speech writing, international partner engagement, human intelligence collection, targeting and battle damage assessment, operational support, and intelligence collection management. He is the recipient of numerous civilian and military awards and medals from the U.S. Navy, Defense Intelligence Agency, Office of the Director of National Intelligence, and the North Atlantic Treaty Organization. He earned a master's degree in National Security and Strategic Studies from the U.S. Naval War College and a bachelor's degree in Government and International Studies from the University of South Carolina.
CTC: You have worked in the field of intelligence for nearly four decades, including considerable time spent with the U.S. Navy and the Defense Intelligence Agency (DIA). What led you to pursue a career in public service? And what kept you in public service all this time? What accomplishment are you most proud of during that time period?
Caulfield: Why did I get into this business? That's a very good question. I was born in the late 1950s, grew up in the 1960s and 1970s; they were very formative years for myself, of course, but also very dynamic when it came to politics and international security issues. I just got wrapped up in the times and started studying a lot of history and politics. So, it was just natural for me to continue in that vein. Additionally, my father's side of the family has an extensive military history in this country dating back even before the American Revolution and in Europe. So maybe it was a little of nature and nurture that guided me to this profession.
Secondly, I just had one great job after the other, both in the Navy as well as the Defense Intelligence Agency. Growing up in New England, very close to the water, the U.S. Navy was a natural choice. My father and most of his brothers in Rhode Island had boats; it's almost a requirement to have a boat in that state. And then I made the switch in 1993 to be a DIA civilian. I've had several fantastic jobs. I've worked for great bosses and with outstanding colleagues and friends. And I've had, as one of my fellow seniors said, quite the eclectic career: working all-source analysis; human intelligence collection; operational support; strategy, plans, and policy; Congressional testimony and speech writing, foreign partner engagement and combating terrorism, which I've worked in various positions, but most intensely, the last six years as the deputy and then the chief of the Defense Combating Terrorism Center.
You asked about what I'm proud of. Three jobs in particular stand out in my mind. The first one is working as the senior involved in strategy, plans, and policy for the Defense Intelligence Agency and speech writing for Vice Admiral Lowell Jacobya and Lieutenant General Michael Maplesb at a very critical time in both defense intelligence and the U.S. intelligence community. I was responsible for preparing those two directors for their congressional hearings on the worldwide threat testimony, the annual budget testimony, the war in Iraq, and intelligence reform. It was an interesting time addressing the conclusions and recommendations from both the WMD Commission report as well as the 9/11 Commission report, getting very much involved in intelligence reform in the middle of the 2000s. That was important. I'm proud to have contributed to that effort, and I think because of all of our work in the intelligence community, the U.S. Intelligence Community is in a much stronger position now than it has ever been in the past. And I think you're seeing the benefits of that over the past decade, in addition to the intelligence successes we've had going on right now regarding the Russia-Ukraine crisis.
The second thing I'm most proud of is that I stood up the Defense Intelligence Agency Liaison office in Berlin. That really was a very rewarding job for me personally, working with German intelligence both on the civilian foreign intelligence side as well as the defense intelligence side. And also working with all of the Defense Intelligence Enterprise; and the Defense Intelligence Enterprise really is not only DIA, but the Service Intelligence Centers as well as all the Combatant Command J2s [Intelligence Directorate]. I was representing their interests with German intelligence and brokering increased information sharing and collection operations. And I tell you, it was an eye-opening experience to take a look from the German perspective at the strength of U.S. intelligence and particularly Defense Intelligence, and then developing and deepening that relationship. I was there from 2009 to 2013 where we dealt with the fallout from Wikileaks as well as the release of classified intelligence from Edward Snowden. So, I can tell you there were a lot of tense meetings with our German colleagues at the time, but I think we came through it quite well in part because we had developed such a rich and cooperative relationship with German intelligence.
And the last one, of course, has got to be my job with Defense Combating Terrorism Center (DCTC) and what we have been doing over the past six years to provide intelligence support to all of our consumers to include the President of the United States, the Secretary of Defense, the Chairman of the Joint Chiefs of Staff, all the way down to the individual special operations task forces who are going after terrorists in a number of areas around the world. To be able to work through all the declining resources in Defense Intelligence when it came to combating terrorism matters and still produce outstanding intelligence and intelligence support. During the COVID-19 pandemic, we continued intelligence operations, making sure nothing fell through the cracks. I'm very proud of that and proud of my leadership team, all the personnel in DCTC and the rest of the combating terrorism intelligence professionals in the U.S. Intelligence Community. I don't think we missed a beat through COVID, and I think that's saying a lot.
CTC: Prior to your recent retirement, you led the DCTC at DIA. Can you tell us a little bit about the history, purpose, and evolution of DCTC during your career at DIA?
Caulfield: DIA's been in counterterrorism, both collection and analysis, for quite some time. The agency has existed since the first days of the Kennedy administration, about 61 years. For the last 40 years, DIA has been very much involved in combating terrorism. Before that, really the early 1980s, I think we considered CT the realm of the security and counterintelligence entities of the Department of Defense. The all-source analytic portion and human intelligence collection of DIA was marginally involved, but not to the extent it became since then. Over the last 40 years, a series of major terrorist attacks resulted in significant changes in approach. In the wake of those attacks, blue-ribbon panels were created either by the Department or the White House to investigate what the challenges were and propose reforms, and this formed the foundation of how DIA currently does business. The first set of formative lessons learned came out of the 1983 attack on the Marine barracks in Beirut and the subsequent Long Commission report. The second came out of the 1996 Khobar Towers attack and the Downing Assessment report. The third stemmed from the 2000 attack on the USS Cole and the USS Cole Commission report. I was actually a staff member on the commission and contributed to the investigation and recommendations. The fourth came out of the 9/11 attacks and the 9/11 Commission report. I was there that day in the Pentagon, and so I can vouch for the impact that attack made on the Department and country and the resolve that we came out with that day to prevent a similar attack on our fellow citizens and allies. And then last, but not least, a formative set of lessons learned came out of the 2009 shooting at Fort Hood and the Webster Commission report on that attack.
These five reports formed the foundation of what we should be doing in intelligence, increasing resources to counterintelligence, human intelligence reporting, and all-source analysis. The Long report on the Beirut Marine Barracks attack and Downing report on the Khobar Towers attack were important in spurring us to build target packages on various groups that we thought contributed to these attacks and providing options to attack these groups to prevent future attacks. The USS Cole Commission report identified gaps in our intelligence support to DoD forces moving throughout the world. So, it was determined that we needed to have one central location within the Department of Defense to provide indications and warning reports for such an event. Our intelligence warning center in DCTC, the Warning and Fusion Center, was created to do just that. Last but not least were the lessons learned from Fort Hood, where gaps were identified in what the FBI and DoD were investigating separately or not aware of the other's investigation. So again, we developed measures to cover those gaps and do a better job of sharing information.
Our resources grew from the 1980s all the way up to about 2012. Since then, we have been decrementing resources to both intelligence collection and analysis for CT issues within the Defense Department, but there has been no cut back in the CT mission or functions that Defense Intelligence is supposed to do.
With regard to the DCTC mission today, DCTC is one [of] that few parts of DIA where the public can actually read what our mission is; if you take a look at DoD instruction 2000.12, it lists DCTC's responsibilities.
Here are some of the things we do at DCTC: One, we serve as the lead national level, all-source intelligence effort for combating terrorism for the Department of Defense. That means that DCTC represents the interests of all the Service Intelligence Centers and the Combatant Commands to the Office of Under Secretary of Defense for Intelligence and Security as well as the Director of National Intelligence. On that score, a key task has been writing CT assessments for our departmental customers and participating in the writing or coordinating on the CT assessments by the National Intelligence Committee.
Furthermore, we operate the Defense Terrorism Threat Warning System for the Department. That involves being in contact with the combatant commands, making sure that we are synced up with what they're doing in terms of their indications and warning assessments. We manage the threat warning system for the Department of Defense and work with the National Counterterrorism Center (NCTC) in the National Indications and Warning Network as well. To do that, we maintain a 24-hour intelligence and warning fusion center within DIA. Several times a day, we are in touch with the rest of the national level intelligence community—sharing information, intelligence reporting, and assessments. And again, we're doing this in concert with all the other Combatant Commands.
We also function as the DoD intelligence lead for the Intelligence Community's terrorist watchlist effort. That means all the DoD reporting—predominantly HUMINT and MASINTc reporting produced by Defense Intelligence; it doesn't refer to NSA's SIGINT or NGA's [National Geospatial-Intelligence Agency's] imagery—we take that information from the various reports (human intelligence reports, interrogation reports and so on), identify known or suspected terrorists within those reports, review that information, combine it with other information from the community, and put forward terrorist identity nominations for NCTC and its Terrorist Identities Datamart Environment (TIDE) database.d DCTC is one of the largest producers of what we call 'TINs' [Terrorist Identity Nominations] within the Intelligence Community.
We also serve as the Defense Intelligence Enterprise's primary intelligence mission manager for combating terrorism and point of contact with NCTC. For instance, anytime we have to coordinate a national technical means of collection, we do that in concert with the combatant commands to fill those requirements. Another example would be any particular question asked by NCTC on the health and well-being of the CT intelligence community; we would request that information from the rest of the Defense Intelligence Enterprise and consolidate the response for the Department.
DCTC is one of the few offices within DIA that also has a domestic mission. We get involved when it comes to collection and analysis on terrorism that occurs in the United States when the following two conditions are met as mandated by DoD instruction 2000.12. The first condition is if there is some type of DoD nexus—and by that I mean, the target (facility/unit/individual) is associated with the Department or unfortunately we have some type of DoD member—whether they are military, civilian, or even contractor—who is involved in some type of plot or execution of a terrorist attack in the United States. And the second condition is, if they are in contact or [have] some type of connection with an international terrorist group, like Fort Hood shooter Major Nidal Hasan.
For the past several years, our combating terrorism efforts within the United States have focused on reporting on trends when it comes to salafi-jihadists and their ability to encourage people to conduct terrorism here, but now we are also focusing on racially and ethnically motivated violent extremist groups and individuals with international connections in concert with U.S. law enforcement and international partners.
CTC: Today's terrorism landscape is very complex. What threats are you most concerned with and why?
Caulfield: Since 9/11, the United States and our allies have done a superb job degrading ISIS and al-Qa`ida leadership, external operations operatives, and communication specialists, as evidenced by the low numbers of directed attacks in Western countries. For readers not aware of the nomenclature, the Intelligence Community characterizes attacks based on whether they are directed, meaning individuals are recruited, vetted, trained, and sent to conduct attacks overseas; whether they're enabled, where some individual who becomes radicalized by himself reaches out to al-Qa`ida, ISIS, or other groups for assistance in planning an attack; or inspired, that they have become radicalized by reading their literature online or some other means and decide to plan, organize, and conduct an attack on their own without outside assistance.
Directed attacks, obviously, can be the most significant as we saw on 9/11. The numbers of these directed attacks, as you and your readers know, have decreased significantly over the past several years because of our country's counterterrorism efforts and because the United States, our allies, and a lot of other countries have become much more difficult to attack.
The Intelligence Community has assessed that both ISIS and al-Qa`ida are now more focused on reconstituting their base and internal capabilities and attacking the near enemy as opposed to us, the far enemy. Not that they will ever give up on that. I think all of us are very concerned that if an opportunity presents itself, they will take advantage of that opportunity and attempt a directed attack. But again, enabled and especially inspired attacks have increased over the years, and that is still very much a concern.
Racially or ethnically motivated violent extremism (RMVE) is a growing concern not only for us, but also our allies. We've been focused on RMVEs for the past, I'd say, four years. So, it actually predates January 6th by a considerable amount. We saw that threat increasing. Those groups and individuals are particularly challenging because they are far less organized and less structured than either al-Qa`ida or ISIS in their organization and communication. It appears that most of their attacks are inspired, and that individuals have become radicalized by multiple and often conflicting ideologies. Last but not least, RMVE groups in particular seem to be focused on recruiting people with a law enforcement background and military members—whether they're current, former, or retired and engage in attacks or train others to do so.
Finally, I'd like to say something about the events of January 6th. Every military and civilian member of the Department of Defense has taken an oath to "support and defend the Constitution of the United States against all enemies both foreign and domestic." I was personally appalled by the events on January 6th at the U.S. Capitol; it was terribly embarrassing for our nation. We had instances, not the people protesting outside in peaceful demonstrations, but individuals who attacked law enforcement officers, and broke into the Capitol with the intent to interfere or prevent the constitutional and peaceful transfer of power from one government to the other. I was enraged when I learned that unfortunately too many people had some type of DoD background. I trust the Justice Department has and will be prosecuting those individuals to the full extent of the law. Those DoD-affiliated individuals found guilty are an embarrassment to their Services and to the Department.
CTC: As you mentioned earlier, you stood up and served as the chief of the DIA's liaison office in Germany for several years. Over the last two decades, German authorities have disrupted several terror plots associated with salafi-jihadi networks that included U.S. and NATO military facilities and/or personnel as intended targets. For example, in April 2020 German authorities disrupted a plot linked to the Islamic State.1 What's your assessment of the threat that European-based jihadi networks pose, and how have those networks evolved?
Caulfield: I would say the threat in Europe is very much akin to what it is here in the United States: that we've seen a decrease in the level of directed attacks because of increasing combating terrorism capabilities and successful operations that we and our Western European allies have engaged in. While directed attacks went down, we saw an increase in the number of enabled and inspired terrorist attacks.
Salafi-jihadist groups appear to be more focused in enabling and inspiring disaffected Muslim youth within Europe as opposed to recruiting, training, and organizing foreign fighters to enter Europe for the purposes of directed terrorist attacks. Another concern in Europe relates to the outflow from prisons of individuals previously convicted for violent extremism related offenses and who have completed their sentences. The numbers are relatively large and may exceed the capacity of many European nations to adequately monitor their activity once they're released from prison.
I'm also concerned that as COVID restrictions ease, we may see more operatives and potential terrorists come into Europe. The opportunity for conducting attacks and moving around the continent is going to increase.
Overall though, European countries are doing a much better job of sharing information, whether it's defense, civilian foreign intelligence, domestic intelligence, law enforcement. I think a lot of the European countries have addressed the same problems we had in the 1990s and earlier—that a lot of those organizations within their countries were stove-piped, not sharing information or cooperating in their investigations or other operations.
CTC: Turning to Afghanistan, the United States' departure from the country and the Taliban's takeover dramatically altered the status quo. The change is likely to create opportunities for armed non-state groups in the region and complicate the ability of the U.S. and its partners to monitor and disrupt terrorist networks there. As a result, two key questions have surfaced. First, how long will it take al-Qa`ida to reconstitute its external operations capabilities, and two, how effective will over-the-horizon CT capabilities be in practice?
Caulfield: I'm not going to differ from a whole bunch of experts out there, including a number you [have] interviewed. The timeline for al-Qa`ida to return to the level they were before 9/11 in Afghanistan could take anywhere from one to two years after they make the decision to do so. However, that begs the question, "Do they need to do so?" What is the strategic significance of Afghanistan now? And for that, I would say, Afghanistan is not as strategically relevant for salafi jihadists as it was in the 1990s and the early 2000s. Unfortunately, they have incorporated other terrorist organizations as affiliates or branches, increasing the number of operatives in both ISIS and al-Qa`ida, as well as the number of locations or countries they operate. They really don't need to return to Afghanistan to be able to organize, plan, and execute a terrorist attack on the West as they did in the past.
I'd also say that the world is very different today than it was back in late 1990s. It is a much smaller place. Transportation is far easier; it's far easier to move around the world. Given the advances in communication and the ability to access the internet almost globally now, they can communicate from numerous areas for different purposes—for intelligence collection, for command and control. It is also easier [to] transfer money around the world. So again, the strategic importance of having a base in Afghanistan is not as significant as it was back then.
I'd also like to say that from my personal experience, I was the chief of the DIA Forward Element in Afghanistan for about 10 months in the 2014-2015 timeframe. One thing that concerned me was that Afghanistan was absorbing a lot of the CT resources for both intelligence collection and analysis. If we were still in Afghanistan, we might have had that country adequately covered, but given the declining trend in CT intelligences resources, I'd be concerned that this would have monopolized a lot of the intelligence resources we would need for organizations like AQAP, al-Shabaab in the Horn of Africa, JNIM, CT developments in Syria and Iraq and other areas, opening up potential gaps for ISIS and al-Qa`ida to exploit and attack us from areas outside of Afghanistan.
In response to the second part of your question, whether over-the-horizon is going to be effective, my answer is that it is going to be very challenging. Counterterrorism today is all about going after the individuals. So, to get to the level of intelligence needed to receive authorization from the National Command Authority to conduct an operation, we need to acquire what we consider exquisite intelligence, finely detailed intelligence and then combine that with precision-guided munitions to achieve a very high probability of success and a very low probability of collateral damage. I'm not sure we can get to that type of targeting without either working with host intelligence services or having some type of intelligence assets in the immediate vicinity to monitor these organizations, identify the key individuals, to know exactly where they are located before we are given the go-ahead to launch a strike. Otherwise, you're going to have increased risk of mission failure and increased risk of collateral damage. So, it's going to be very difficult. By the way, both the intelligence and policy communities are moving away from the term "over the horizon" because of the challenge.
CTC: Data and technology have been central to the evolution of U.S. counterterrorism during the post-9/11 era and will remain key drivers of what counterterrorism and counterterrorism capabilities look like in the future. You've led a key DIA intelligence unit focused on CT and have also led transformation projects for the U.S. government. When you look forward, what types of teams need to be built to ensure that we're leaning forward in making innovative use of data, and what do those teams look like and how can they be built and integrated across the enterprise?
Caulfield: Artificial intelligence, machine learning, increases in data, it affects not just CT, but every intelligence issue we have in Defense Intelligence and the greater USIC. It is a horribly complicated subject, especially for a predominately all-source intelligence agency. It is difficult but less complicated for some of our national collection agencies—for instance, NSA, NGA [National Geospatial-Intelligence Agency], they have a slightly easier job of it because they know the data injects they're going over. At least that is my perspective coming from an all-source intelligence agency. All-source agencies like DIA, the Combatant Commands, Service Intelligence Centers, CIA, and even State INR [Bureau of Intelligence and Research] have got to deal with all of the information collected, so it's a lot more complicated for them.
We have different datasets, types of databases; networks, some of which do a good job talking with each other, some which do not. So, that is a problem or complication. So too is the need to combine some of the most highly classified data with some unclassified information. How you go about moving one set of data to another higher classified system is a challenge, not only from a technical perspective but also a policy and security perspective.
It's been well documented [that] the amount of data out there is growing exponentially. It is a challenge for us, but it's a good problem to have—the problem of overabundance. It's not a question of having absolutes within the U.S. Intelligence Community; we just have to be better at exploiting that data compared to our adversaries. So, you need to think about it in that context. Obviously, you need to have collectors involved, you need to have analysts involved, you need to have IT experts, you need to have data scientists. I will tell you data scientists are few in number and horribly expensive; the private sector pays true data scientists much more than we can in government. So that is a particular challenge.
You need to have security, budget, and acquisition professionals on your teams, too. And these teams don't have to be permanent. They can be ad hoc, but those are the type of individuals you need in your teams to be successful. And what you need is a lot of computing power, and unfortunately, you need a lot of money. We talk about reforming the acquisition process and the budget process; I will tell you that whatever we're doing right now, it's not working fast enough. So again, we're falling further and further behind in our ability to exploit the increasing amounts of data.
And also we should not exaggerate the gains that have so far been made when we talk about artificial intelligence, machine learning. Those are systems that can take a set of data, they have a defined mission, the systems can on their own improve their effectiveness and efficiency. I have not seen those systems being used within the CT community in the USIC—at least not in analysis. Instead, the progress that has been made is in automation, and I can say we have made great strides in automation. So, it's not the old days when you're plotting information and personally reviewing individual intelligence reports for relevant information; that is done automatically and presented to the analyst. Analysts then need to confirm the importance or relevance of that information and place it in context for their overall assessments. The human for the analytic portion is still key and will be so for the foreseeable future.
CTC: The 2018 National Defense Strategy (NDS) identified interstate strategic competition as the United States' primary national security concern. That same document also recognized that terrorism remains a persistent condition. Since the release of the 2018 NDS, the United States government has been trying to navigate and figure out how counterterrorism as an enduring priority should be pursued given the understandable strategic rebalance to interstate competition and what that looks like in practice. In your view, how should we think about how these two priorities intersect and how the U.S. can conduct and be effective at both at the same time?
Caulfield: That's an excellent question. Very timely with what's going on with Ukraine right now. I think the NDS does an excellent job of providing us a framework to focus on the five most critical issues: China, Russia, Iran, North Korea, and violent extremist organizations. Clearly, those are not equal. Russia and China, because their strategic nuclear forces are an existential threat to United States, are in a category of their own. The threat from North Korea and Iran are more regional in nature, while terrorism and violent extremist organizations is a global challenge for us. And also given the success, unfortunately, that al-Qa`ida has had, we know the capabilities or the worst-case situations if these groups go unchecked; it can have dramatic effects on U.S. foreign policy and other security issues. So those are basically the five key issues. There are a large number of other issues around the world [about which] we need to maintain situational awareness, but that's where the Intelligence Community should focus most of its efforts. Additionally, it's not a question of doing one or the other; we have to do all at the same time. We don't get to pick and choose what threats we are facing. Our adversaries get a vote. Unfortunately, we have previously ignored or underappreciated security threats to ourselves and our allies to our detriment.
Additionally, efforts to counter violent extremist organizations can be supportive of our initiatives to address great power competition when we work with foreign partners. In addition to furthering our efforts on addressing counterterrorism, we are developing relations with host nations' military, intelligence, and law enforcement personnel, building trust and goodwill that can be leveraged for other purposes such as great power competition. Russia and China recognize this. They are also reaching out to many of our foreign partners to offer combating terrorism assistance. We're in competition with them, not just because Russia and China believe that there is a significant benefit solely in CT, but because there can be secondary gains with these countries on other issues.
CTC: The shift to interstate strategic competition has led to a right-sizing, or what some would characterize as a downsizing, of the resources devoted to the counterterrorism mission set within the U.S. Given the resource constraints or trade-offs agencies with CT missions face, what strategies can those organizations employ to ensure their missions are maintained so they can effectively respond and prevent current and future terrorist threats? How do we get the shift and balance right?
Caulfield: That is the big question and key challenge. As a member of the Counterterrorism Advisory Board, all the seniors at the national level in the USIC-CT community, we get together on a quarterly basis and discuss a number of these issues such as where our budgets are going. In my 39 years in this business, I haven't seen where we've got it just right. In my humble opinion, we did not have enough resources dedicated to Russia and China in the 1990s and 2000s. That changed in the 2010s with China. I'd say [with] Russia, up until a short time ago, we didn't have the right resources there either.
We did the typical American thing after the attack on the World Trade Center and Pentagon in 2001: We threw a whole bunch of money, personnel, collection systems, and overinvested in CT. We have been making the shift, at least within Defense Intelligence, from CT to great power competition for the past 10 years. The actual number of resources dedicated to CT in Defense Intelligence is a fraction of what it used to be. We are probably just where we need to be when it comes to CT.
CTC: Have we hit bottom in terms of the cuts, or do you think that there might be more cuts on the horizon?
Caulfield: I don't know whether we have hit bottom. I retired before we began serious discussions on the next fiscal year's budget. I am concerned that if we go any lower, we will significantly increase the risk of a successful major terrorist attack in the coming years. Unfortunately, this is not something that can be quickly reversed once the cuts have been made, collection assets have been reallocated, and CT analysts have moved on to other problems sets. Our budget and allocation processes are quite lengthy. They can take multiple years to formulate and execute. And you and your readers know how quickly ISIS and al-Qa`ida and even RMVE groups can change direction, develop capabilities, and come at us. So there comes a point, if we continue to cut our CT resources that we will not have the collection, we will not have the analysis to accurately provide policymakers and warfighters with what they need to do to deter, defend against, and react to significant changes in ISIS, al-Qa`ida, and RMVE groups.
CTC: When you look out across the horizon to terrorism threats and challenges that we might face in the next five to 10 years, what actors and threats come to mind for you?
Caulfield: Five to 10 years is an awfully long time for the terrorism problem set. A lot can change. It's not like countries or militaries that can take typically numerous years or even decades to produce new capabilities or military technologies. When it comes to terrorist groups, the entry bar is very low; the groups are very small, the technology is not terribly sophisticated, there are no shortages of ungoverned or poorly governed areas of the world to set up shop, and most importantly, there is no shortage of political, social, or economic strife around the world to propel these groups. So a lot can happen over a five- or 10-year period. I look back at where we were in 2016, 2017; looking at ISIS Libya and Libya as a potential new base for ISIS senior leadership, including Baghdadi. If they were tossed out of Iraq and Syria, Libya could have served as a potential base of operations and [to] establish a new caliphate. Where is ISIS Libya today? ISIS Libya is a minor concern for most of us here in the United States and Western Europe. So, a lot can change.
If I'm going to look at the next five to 10 years pessimistically, I'm concerned that ISIS and al-Qa`ida may be able to reconstitute and expand their bases. Racially and ethnically motivated violent extremists may continue to grow in strength over the next years. In terms of technology, again, I am surprised we have not seen cyber-attacks by terrorist groups, given the availability of cyber tools on the dark web. There are always new types of explosive devices being created. Renewed interest in chemical and biological weapons, that is a potential area of concern for us in the next five to 10 years. Continued advances in UAV technology and operational employment are another concern over the next five to 10 years.
We may see the reintroduction of state-sponsored terrorism on a significant scale, especially if we are entering a new Cold War with authoritarian regimes such as Russia. State-sponsored terrorism would be intended to foment or increase political instability in democratic societies around the world.
The targets of terrorist attacks may be different. In addition to what we've seen in the past, I would be concerned about an increase in assassinations of political and government officials. I'd also be concerned about environmental terrorism. I'm not talking about environmental groups using terrorism, but environmental terrorism in and of itself. We're seeing climate changes in different parts of the world. Many continents or parts of continents are becoming drier [and] more prone to forest fires. I can easily see terrorist groups start fires to cause hundreds of millions, if not billions, [of dollars] worth of damage to property. Terrorist groups, including those which are state-sponsored, could target critical infrastructure in our countries, such as transportation, electric power grids, petroleum or gas pipelines, finance, and so on.
CTC: Is there anything else you'd like to emphasize that we haven't touched on?
Caulfield: Your questions have been superb, allowing me to make just about all the major points I'd hope to make when I agreed to this interview. I have read your monthly publication, the Sentinel, and previous "A View from the CT Foxhole" interviews for years. It is an honor for me to be associated with many of those CT and security professionals. Thank you all for the opportunity to talk with you today.
And thank you for your partnership with the Defense Intelligence Agency and the Defense Combating Terrorism Center. The Combating Terrorism Center has been an outstanding source of counterterrorism academic expertise that the Defense Combating Terrorism Center, the Department of Defense, and other government agencies have relied upon for an outside-government perspective on the challenges the United States and our allies face from numerous terrorist groups and movements. It is comforting for me to know that there remains a cadre of terrorist experts both inside the government and out dedicated to the study of terrorism and able to help national policymakers and warfighters warn of and combat terrorism. Please keep up your great work.     CTC
Substantive Notes
[a] Editor's Note: Vice Admiral Lowell E. Jacoby served as the 14th director of the Defense Intelligence Agency (October 2002-November 2005).
[b] Editor's Note: Lieutenant General Michael D. Maples served as the 15th director of the Defense Intelligence Agency (November 2005-March 2009).
[c] Editor's Note: "Measurement and Signature Intelligence (MASINT) is technically derived intelligence data other than imagery and SIGINT. The data results in intelligence that locates, identifies, or describes distinctive characteristics of targets. It employs a broad group of disciplines including nuclear, optical, radio frequency, acoustics, seismic, and materials sciences." U.S. Naval War College website.
[d] Editor's Note: "Federal agencies nominate individuals for inclusion in TIDE based on evaluations of intelligence and law enforcement terrorism information. Each day analysts create and enhance TIDE records based on their review of nominations received. Every evening, NCTC exports a sensitive but unclassified subset of the data containing the terrorist identifiers to the Terrorist Screening Center (TSC) for use in the USG's consolidated watchlist. This consolidated watchlist, which is a critical tool for homeland security, supports screening processes to detect and interdict known and suspected terrorists at home and abroad." "Fact Sheet on the Terrorist Identities Datamart Environment (TIDE)," DNI website.
Citations
[1] See Nodirbek Soliev, "The April 2020 Islamic State Terror Plot Against U.S. and NATO Military Bases in Germany: The Tajik Connection," CTC Sentinel 14:1 (2021).