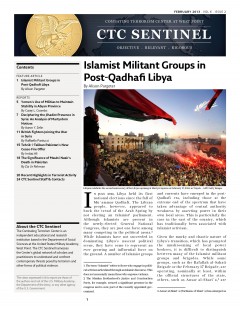 In 2011, militants from al-Qa`ida in the Arabian Peninsula (AQAP) and Ansar al-Shari`a secured control of Abyan Province in southern Yemen.[1] In 2012, Yemen's military reclaimed much of Abyan after launching Operation Golden Swords in May and June, clearing AQAP and Ansar al-Shari`a fighters out of the territory's main population centers.[2] Since then, a patchwork of state-backed local militias, or Popular Committees, in Abyan has emerged as the frontline security force against the insurgent al-Qa`ida affiliates that governed the area for more than a year.
The Popular Committees' ability to hold Abyan has proven crucial to interim Yemeni President Abd Rabu Mansur Hadi, who is leading the country through a volatile political transition following Yemen's 2011 Arab Spring uprisings that unseated President Ali Abdullah Salih.[3] If Hadi can preserve this alliance until early 2014, when parliamentary and presidential elections are scheduled to mark the conclusion of the transition period, Abyan's militias could translate into valuable political influence in the southern province. If they are pulled into local conflicts or are co-opted by political rivals, however, Abyan's Popular Committees could present a new set of challenges for the embattled president.
This article examines the double-edged role of Abyan's Popular Committees in Hadi's efforts to prepare Yemen's divided populace for democratic elections in 2014, while fighting al-Qa`ida insurgents around the country. After profiling Abyan's disparate network of Popular Committees and outlining the events that led to their proliferation, this article highlights the economic insecurity that fosters shifting loyalties in Abyan. That reality, combined with the potential for Popular Committees to spark new conflicts in Abyan unrelated to al-Qa`ida, underlines the need to secure the loyalty of the militias to guard against their co-optation by rival political factions and to ensure that the militias limit the use of force to Ansar al-Shari`a and AQAP.
Abyan's Patchwork Militias
In April 2012, about two months after Hadi won office in a single-candidate election and a month before he launched Operation Golden Swords, local tribal militias and government troops in Abyan's north-central town of Lawdar defeated Ansar al-Shari`a insurgents in a bloody, week-long battle for control of the city.[4] Hadi and Defense Minister Mohammed Nasser Ahmed Ali—both Abyan natives—immediately stepped up the provision of arms and other resources to Lawdar's Popular Committees and intensified the lobbying of tribal and religious leaders around Abyan to organize similar militias.[5] By early July, Popular Committees patrolled checkpoints in and around most of Abyan's main cities, from Mudiya east of Lawdar southward to the coastal town of Shuqra and west to the provincial capital Zinjibar and neighboring Jaar.[6]
The diverse composition of Abyan's Popular Committees reflects political and tribal relations that have evolved since the 1994 civil war in which longtime strongman Ali Abdullah Salih's Yemen Arab Republic (YAR) in Sana`a defeated the Aden-based People's Democratic Republic of Yemen (PDRY) to form the Republic of Yemen.[7] According to a Popular Committee commander in Lawdar, "the committees do not belong to any particular party. They are composed of all political factions, including Hiraak, Islahis, Salafis and Sunnis."[8] A local journalist from Abyan described the militias in similar terms: "Some of the Popular Committees are affiliated with the Islah Party, others are pure GPC or Socialist (YSP) and others are members of Hiraak."[9] Mohammed Ali Ahmed, a leading Hiraak figure who returned to Yemen last year after 18 years in exile, has backed Popular Committee forces in his native Lawdar as part of a political arrangement with Hadi.
The motivations for joining Abyan's Popular Committees vary widely. Enlisted Yemeni military and security forces struck a deal with the Ministry of Defense to return to their hometowns in Abyan with their salaries to fight for the Popular Committees.[10] Other militiamen in Abyan claimed they were duty-bound to take up arms in the security void left in the wake of Operation Golden Swords, as most state forces deployed elsewhere and some lingering units revolted against Hadi's military reforms. "We have never demanded anything from the government; we are fighting for the sake of Allah," a Popular Committee member from Lawdar said. "Our support comes from the people of Lawdar and our aim is to maintain security and stability in Lawdar."[11]
Many attribute the rapid propagation of Popular Committees in Abyan to the monthly stipends, government jobs and other perks offered by Yemen's Ministry of Defense in the poverty-stricken province.[12] A government official in Abyan argued that dismal economic conditions in the province enabled Ansar al-Shari`a's populist promises to take root, despite the group's affiliation with al-Qa`ida. "They need to eat, so where can they go?" he said. "Ansar had them in a corner."[13]
That desperation, according to an Abyani tribal shaykh, fuels unpredictability in the province. He distrusts the Popular Committees because many of them were allied with Ansar al-Shari`a less than a year ago. "They joined [Popular Committees] for the salaries and only when it was clear Ansar al-Shari`a would be driven from the province," he said.[14] Perhaps the most high-profile defector from Ansar al-Shari`a is Abdul Latif al-Sayed, a leading Popular Committee commander based in Batis village north of Jaar. He has survived at least five assassination attempts since his defection from Ansar al-Shari`a in 2011.[15]
A journalist who regularly reports from Abyan argued that this survivalist mentality will lead to problems for the government. "It is true that the Popular Committees had a big role in shrinking Ansar al-Shari`a and AQAP, but they do not want al-Qa`ida to disappear from the scene," he said. "The Popular Committees do not want to end the existence of al-Qa`ida because they know that will end the investment in fighting them. There are huge amounts of money being paid for the Popular Committees and other parties in the name of fighting al-Qa`ida."[16]
From the leadership down through the rank-and-file, Abyan's Popular Committees are keenly aware of their value to Hadi and international powers backing Yemen's political transition. According to one Yemeni scholar, the Popular Committees "want to extract as much as possible from this situation, and the threat from Ansar al-Shari`a and AQAP will ensure that Hadi relies on them for a longer period of time."[17]
Tribal Disputes
Complex tribal tensions in Abyan complicate the role of Popular Committees. One political analyst in Sana`a warned that the armed militias may commit violent acts against their enemies under the pretense of fighting al-Qa`ida.[18]
A recent conflict between Popular Committee forces and Shaykh Tariq al-Fadhli, the leader of a powerful tribe in Abyan, highlighted the potential for the autonomous militias to commit violence against enemies using the justification of fighting Islamist militants. In November 2012, militiamen from Zinjibar encircled al-Fadhli's home days after he returned from a long absence. Militiamen accused the shaykh of spreading rumors that Popular Committees were "mercenaries" and said that al-Fadhli maintained ties to al-Qa`ida.[19] The subsequent two-day siege, in which two of the shaykh's guards were killed and several injured, ended only after Hadi, who belongs to a sub-tribe of al-Fadhli's, intervened on his behalf and arranged safe haven for him and his family in Aden "on the government's dime."[20] Al-Fadhli said he enjoyed the support of the popular forces in Jaar, but the Zinjibar militias were against him.[21]
In the same month, Popular Committee forces from Jaar shot dead a suspected al-Qa`ida member who belonged to the Yafa` tribe.[22] According to a Yemeni journalist who reported from Jaar during this period, Popular Committee commander Abdul Latif al-Sayed attempted to deescalate the situation by offering blood money, or diyya, for the murder. The Yafa` leadership instead opted for revenge, or tha`r, he said.[23]
Conclusion
In the absence of a monopoly on the legitimate use of violence in the country, the Yemeni state has raised local militias on numerous occasions to defend against external threats or to extend political influence into peripheral regions.[24] Saudi Arabia, which shares a 900-mile border with Yemen as well as the fallout from instability there, also has a long history of co-opting Yemeni tribes as a tool of statecraft.[25]
Yemen's "militiatary"[26] strategy is not without risks. The Salih regime's co-optation of tribal militias during a string of wars from 2004 to 2010 against the Zaydi Shi`a Huthi movement in northern Sa`da Province led to the eclipsing of tribal revenge over mediation and arbitration as a means of conflict resolution.[27] In the absence of government oversight of the ad hoc forces, corruption has become endemic to the practice. Militia fighters in the Sa`da wars reportedly accepted stipends from both sides of the conflict, while leaders embezzled large sums of government cash through the creation of "ghost soldiers."[28] In Yemen's experience, the long-term consequence of arming and funding local militias to do the bidding of the state is that they amass enough power to challenge the state, as evidenced by frequent tribal road blockades and the persistent sabotage of electricity, oil and gas infrastructure since 2010.[29]
Despite the potential risks, President Hadi's best option is likely to continue funding and arming Abyan's militias until the volatile transition period concludes. Indeed, if he can manage to secure the loyalty of Abyan's Popular Committees through the transition, while ensuring that their anti-al-Qa`ida mission does not spill over into broader tribal conflicts and create new problems, Hadi could benefit greatly from political influence in the highly contested southern province. Yet incessant delays to the start of the National Dialogue Conference, along with steady calls for southern independence among Hiraak factions and fresh U.S.-Yemeni accusations of subversive Iranian-Huthi plots, have stalled the transition and cast further doubt on when conditions might improve.[30] According to a prominent political analyst in Aden, "These armed militias will engage in armed confrontations, and they might turn into a hard stick in the hands of any armed faction capable of funding them. The Popular Committees will turn into an internal problem for the government."[31]
Casey L. Coombs is a freelance journalist based in Sana`a, Yemen. In March 2012, he reported from Ansar al-Shari`s then de facto capital Jaar, which the group had renamed Waqar. He has covered Yemen for the BBC, Foreign Policy, The Jamestown Foundation, TIME World and Wired's blog Danger Room.
[1] The U.S. State Department considers Ansar al-Shari`a an alias of al-Qa`ida in the Arabian Peninsula. For more information on the origins of Ansar al-Shari`a and its relation to AQAP, see Fernando Carvajal, "Deepening Crises Breed Local Support for Ansar al-Sharia: Part 1," Fair Observer, July 3, 2012.
[2] Personal interview, Yemeni intelligence official, Abyan, Yemen, July 2, 2012.
[3] The Gulf Cooperation Council-negotiated political transition initiative is backed by the United States and the United Nations Security Council (UNSC). See Security Council Report, Yemen, available at www.securitycouncilreport.org/yemen/. For an unofficial English translation of the GCC agreement, see "Next Steps in Yemen's Transition," International Foundation for Electoral Systems Briefing Paper, March 2012. Hadi's two greatest challenges at present are enforcing military reforms and commencing the National Dialogue Conference (NDC). Despite three rounds of military restructuring decrees, the most powerful branches of Yemen's fractured armed forces remain under the command of feuding elites. Meanwhile, ongoing delays to the start of the NDC, a crucial stage in the transition at which the country's numerous rival factions are expected to agree on the structure of a new government, have fueled political insecurity.
[4] "Ansar al Sharia Shells Lawder with Artillery and Tanks," Mareb Press, April 11, 2012.
[5] Personal interview, Popular Committee commander from Lawdar in Abyan Province, Sana`a, Yemen, November 5, 2012.
[6] The scope of this article is limited to Abyan's Popular Committees. Although anti-al-Qa`ida militias patrol surrounding provinces—particularly Lahj to the west, northern Bayda and Shabwa along Abyan's northeastern border—they are most prevalent in Abyan. Furthermore, as a local analyst pointed out: "Abyan is a strategic area for AQAP and Ansar al-Shari`a since it was mentioned in the hadith of the Prophet Muhammad, which said, 'Out of Aden-Abyan will come 12,000, giving victory to the [religion of] Allah and His Messenger. They are the best between me and them.' Geographically, the area is also very strategic as it is located in the middle of southern and northern Yemeni governorates. It is also open on the Arabian Sea." See personal interview, Yemeni political analyst, Sana`a, Yemen, August 7, 2012.
[7] Abyan was part of the PDRY. For a detailed discussion of escalating tensions between north and south Yemen since the 1994 civil war, and their impact on today's political transition, see "Breaking Point? Yemen's Southern Question," International Crisis Group, October 20, 2011. According to that report, "the war laid to rest the notion of unity and ushered in a period of Northern occupation of the South…According to this account, Southerners became second-class citizens at best and, at worst—and in its proponents' words—slaves of the Northern elites."
[8] Personal interview, Popular Committee commander from Lawdar in Abyan Province, Sana`a, Yemen, November 5, 2012. Hiraak, or the Southern Movement, is a broad coalition of disaffected southerners from the former PDRY. Hiraak's interests range from the promotion of equal rights among northern and southern populations, to the redress of past grievances to full secession from Yemen's Sana`a-based government. Islah is Yemen's main opposition party, composed of tribesmen, businessmen, Yemen's version of the Muslim Brotherhood and Salafists.
[9] Personal interview, Yemeni journalist from Abyan, Sana`a, Yemen, February 7, 2013. The GPC is Yemen's ruling political party.
[10] Personal interview, Yemeni journalist from Abyan, Sana`a, Yemen, February 7, 2013.
[11] Personal interview, Popular Committee soldier, Sana`a, Yemen, November 5, 2012.
[12] Personal interview, National Security Bureau official, Sana`a, Yemen, December 17, 2012; personal interview, Popular Committee commander from Lawdar, Sana`a, Yemen, July 2, 2012; personal interview, humanitarian worker from Lahj Province, Sana`a, Yemen, January 15, 2013; personal interview, Yemeni journalist from Abyan, Sana`a, Yemen, February 7, 2013; personal interview, Yemeni scholar, Sana`a, Yemen, January 20, 2013. Locals in Abyan claimed that "youth" (low-level Popular Committee fighters) receive about 15,000 to 20,000 Yemeni rials (approximately $70 to $100) per month, plus food, water and khat, the leafy stimulant chewed by a majority of Yemeni men.
[13] Personal interview, Abyani government official, Abyan Province, Yemen, July 2, 2012.
[14] Personal interview, tribal shaykh from Abyan Province, Aden, Yemen, December 17, 2012.
[15] Sudarsan Raghavan, "In Yemen, Tribal Militias in a Fierce Battle with al-Qaeda Wing," Washington Post, September 10, 2012.
[16] Personal interview, journalist from Abyan, Sana`a, Yemen, February 7, 2013.
[17] Personal interview, Yemeni scholar, Sana`a, Yemen, January 15, 2013.
[18] Personal interview, Yemeni political analyst, Sana`a, Yemen, August 7, 2012.
[19] Personal interview, tribal shaykh from Abyan, Aden, Yemen, December 17, 2012; "Commander of Popular Committees in Lawder: The Return of Fadhli to Zinjibar Will Cause Civil War Unless the Government Intervenes to Stop It," al-Masdar Online, November 5, 2012.
[20] Personal interview, tribal shaykh from Abyan, Aden, Yemen, December 17, 2012.
[21] "Commander of Popular Committees in Lawder."
[22] "Boy Killed in Siraar Yafa'a by Popular Committees Gunfire," Barakish.net, November 2, 2012.
[23] Personal interview, Yemeni journalist, Sana`a, Yemen, February 11, 2013.
[24] Sarah Phillips, "Developmental Dysfunction and Division in a Crisis State," Developmental Leadership Program, 2011, p. 17. "Popular" militias fought in the 1960s battles against a northern Zaydi Imamate and southern British colonial rule, which gave rise to the first Yemeni states. See Paul Dresch, A History of Modern Yemen (New York: Cambridge University Press, 2000), pp. 114-117.
[25] Ellen Knickmeyer, "Trouble Down South: For Saudi Arabia, Yemen's Implosion is a Nightmare," Foreign Policy, July 5, 2011.
[26] As explained in Martin van Vliet, "The Challenges of Retaking Northern Mali," CTC Sentinel 5:11-12 (2012), a "militiatary" strategy is when a "state partly outsources its primary mandate of security provision to local militias. While often temporarily integrated into the military chain of command, these armed non-state actors mostly operate outside formal state structures."
[27] See Barak A. Salmoni, Bryce Loidolt, and Madeleine Wells, "Regime and Periphery in Northern Yemen – The Huthi Phenomenon," RAND Corporation, 2010, p. 259; "Defusing the Saada Time Bomb," International Crisis Group, May 27, 2009, pp. 14-16. A minister of parliament from Yafa` further claimed: "More than 20 soldiers from my own district have died since the beginning of the war. Neither army soldiers nor volunteers fighting alongside the army have received proper treatment. The families of those who were injured or killed did not receive any compensation and often were informed very late of what had happened. This inevitably created new tensions."
[28] "Defusing the Saada Time Bomb." For more information on "ghost soldiers" in Yemen's military, see Yemen Corruption Assessment (Burlington, VT: USAID, 2006), p. 4.
[29] Hasan al-Zaidi, "Interior Ministry Orders Lifting Tribal Road Blockade; Diesel Still Unavailable in Some Gas Stations," Yemen Post, July 21, 2008; Gabriel Koehler-Derrick ed., A False Foundation? AQAP, Tribes, and Ungoverned Spaces in Yemen (West Point, NY: Combating Terrorism Center, 2011), pp. 107-108.
[30] "Yemen Requests Int'l Investigation in Iranian Arms Shipment," Yemen News Agency (SABA), February 8, 2013.
[31] Personal interview, Aden-based political analyst, Sana`a, Yemen, January 14, 2013.