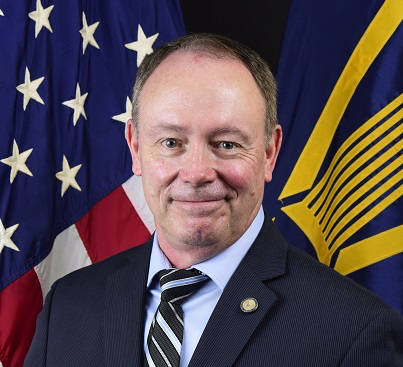 Vayl S. Oxford is the Director of the Defense Threat Reduction Agency. Before being named DTRA Director, he was the National Security Executive Policy Advisor at the Department of Energy's Pacific Northwest National Laboratory (PNNL). Before joining PNNL, Mr. Oxford spent a short time in private industry after 35 years of public service that combined time in the military and as a government civilian employee, almost all of it focused on countering weapons of mass destruction (WMD).
He served in multiple positions in the Department of Homeland Security (DHS) from 2003 to 2009. Appointed by President George W. Bush and reporting to the DHS Secretary, he led the development of the National Strategy to Combat Nuclear Terrorism. Prior to his appointment to DHS, Mr. Oxford served as the Director for Counterproliferation at the National Security Council (NSC), where he supported the development of the President's National Strategy to Combat WMD, the policy and strategy for WMD interdiction, and represented the NSC in the development of the National Biodefense Strategy. He chaired the interagency working group for Operation Iraqi Freedom to develop policies for combating WMD in Iraq, to include developing the initial concept for WMD exploitation and elimination and the plan for foreign consequence management to protect civilian populations from potential Iraqi use of WMD. From 1987 to 2002, he held several positions with DTRA and its legacy organizations (Defense Special Weapons Agency and Defense Nuclear Agency).
Mr. Oxford received his Bachelor of Science in General Engineering from the U.S. Military Academy at West Point and his Master of Science in Aeronautical Engineering from the Air Force Institute of Technology at Wright-Patterson Air Force Base, Ohio.
CTC: DTRA's mission is quite expansive, covering a lot of ground in the WMD and CT realms. Can you summarize the organization's evolution and objectives?
Oxford: The Defense Threat Reduction Agency (DTRA) was established as a Combat Support Agency (CSA) in 1996 but our legacy traces back to over 70 years ago with the Manhattan Project. Early on in [our] history, DTRA was involved in the original development of nuclear weapons. We were responsible for underground and above-ground testing of those weapons. Though DTRA no longer does nuclear testing, we are the core organization that understands nuclear-weapons effects.
Over the course of time, and as the geopolitical environment changed, our institution evolved through mergers of our legacy organizations, adding those missions and losing efforts that were no longer required. The most recent change to our organizational structure is the addition of the Joint Improvised Threat Defeat Organization (JIDO), an organization that worked for 13 years on countering the improvised explosive device threat. With the addition of JIDO, we have expanded our mission beyond just WMD to countering improvised threats.
All of these missions are directly correlated to working with the Combatant Commanders in the field and with the Services to make sure our products can transition to the warfighter. We have around 2,300 federal and military staff along with about the same number of support contractors that work with us every day. We have roughly 400 people forward deployed with the Combatant Commands, operational task forces, and embassies. In 2018, we conducted around 3,200 international engagements across 111 countries. Our global footprint continues to grow with the change in the National Defense Strategy and the emergence of great power competition that we now face.
CTC: The recent move of the CWMD mission from U.S. Strategic Command (USSTRATCOM) to U.S. Special Operations Command (USSOCOM)—was that a seamless transition for DTRA?
Oxford: The Unified Command Plan transitioned from U.S. Strategic Command to U.S. Special Operations Command to act as the coordinating authority to [globally] CWMD was fairly straightforward for DTRA. When the CWMD mission was with USSTRATCOM, they stood up the USSTRATCOM Center for CWMD (SCC). That organization itself was eliminated along with the HQ Joint Force Elimination that fell under USSTRATCOM when they had the mission. The DTRA Director at the time was dual-hatted as the DTRA Director and the SCC. Those were the biggest changes for DTRA during the transition.
This Agency has been doing business with USSOCOM in great depth since the mid-1990s. One of the first things I did, as Director, was sit down with the USSOCOM Commander to talk about what the relationship would look like and how we would work together since we have about 120 USSOCOM staff embedded with us here in the National Capital Region. With USSOCOM picking up the coordination authority, taking on a new mission, and figuring out how to work with us—in the end, the transition was very seamless.
CTC: Some tend to think of DTRA as purely a science and technology agency, focused on big projects, on research and development. But in fact, DTRA does a tremendous amount to directly support the warfighter. Can you talk a little bit about this aspect of the Agency's work?
Oxford: I have never viewed DTRA as a science and technology agency and I had the fortune of being here when it was the Defense Nuclear Agency and then the Defense Special Weapons Agency before it transitioned to DTRA. Then I left and went to the White House and then to the Department of Homeland Security and the Department of Energy prior to coming back to DTRA. The entire time there has been a strong linkage between what the DTRA Research and Development (R&D)-element does to support the warfighter. This is a unique organization; when you look at a lot of other CSAs, they have the operational piece but they do not have the linkage back to R&D. And then you have an Agency like DARPA who has a huge R&D portfolio but no operations.
We go across the spectrum from R&D to full-fledged deployment of capability in direct support of the warfighter. When I returned to DTRA, one of the first things I did was sit down with the Combatant Commanders. Now we have Combatant Commander Requirement letters that identify their operational needs in the CWMD and improvised threat space. We have documents that tell us what they need and that informs the R&D process as well as our operational support process. Again, it is a continuum—from requirements back to our research and operational support.
CTC: When you look across the landscape at the threats facing the nation, how do you go about prioritizing DTRA's efforts?
Oxford: With the National Defense Strategy, Secretary of Defense James Mattis made it clear how we would prioritize the Agency's efforts. When I returned to DTRA I said, "This is the most complex geopolitical threat environment we have ever faced as a nation." We brief people on the fact that during the Cold War we spent 90 percent of our effort in the Department focused on the Soviet Union. When the Berlin Wall came down, we had the emergence of some of the rogue states—Iran, Iraq, North Korea—as well as India and Pakistan having become nuclear weapon states. We dealt with that for a period of time. When the Soviet Era was winding down, we had about 20,000 intelligence analysts focused on the Soviet Union that did not know the rest of the world. Ramping up intelligence support for some of these other nations was difficult. I would say it took almost 20 years to get there.
Then 9/11 happened. We still focused some on the rogue states, but we had to figure out how to fight in the counterterrorism domain at a scale we had not faced before. This is something we, as a Department, had not contended with, except in very small scale. We have been engaged with this fight for 18 years, and we finally have the system down. With the emergence of great power competition, we now have all three of these threat vectors at the same time, and this is the first time we have ever faced that combination simultaneously. It is a challenge. However, the National Defense Strategy gives us some left and right boundaries to help prioritize our efforts. We have not had a National Defense Strategy for 15 years. When [then] Secretary Mattis issued the National Defense Strategy, it gave us the direction that we should follow, which helps us with how we should shift resources and re-prioritize our efforts to counter WMD and improvised threats.
The distinction now is recognizing that this is a globally connected world. It is not just Russia, China, North Korea, and Iran; it is all their surrogates, their proxies, and their connections around the world. We cannot look at this problem as geographically bounded areas of responsibility; these threats are more interconnected now than ever and at a global scale. Our mission has even changed from when I first arrived at DTRA and it was along the lines of "we do counter-WMD, counter-improvised threats, and nuclear deterrence." Our mission now reflects how "we enable the DoD, the U.S. government, and international partners to counter and deter WMD and improvised threat networks." It is a mission focused on the entire network—finding ways to counter them and deterring their effectiveness. My number-two priority I outlined to my workforce was to ensure we strengthen and expand our international and interagency partnerships via a whole-of-government approach. We have increased our relationships overseas and most importantly, with some of the interagency partners (DHS, Commerce, Treasury, etc.), and they have authorities we can leverage to enable them through some of our analytical capabilities.
CTC: Has it been challenging to get interagency cooperation?
Oxford: It is interesting how easy building and maintaining those relationships has been, and I have noticed there is an appetite for these relationships to continue to grow and expand. We have found natural partners with Treasury, FBI, Commerce, and DHS. Our partners appreciate the fact that in many cases, they are protecting the homeland through activities that we can help identify.
CTC: You mentioned partners overseas. Are you able to talk about which countries have proven to be strong partners with DTRA's mission? Governments where you wish there were greater cooperation?
Oxford: I have found over time, some of our international programs had drifted into what I consider 'opportunity space' as opposed to 'mission space.' For instance, we would go somewhere because we could rather than where we needed to operate. In my discussions with the Combatant Commanders, specifically USCENTCOM Commander General Votel and USEUCOM Commander General Scaparrotti (who know their areas of responsibilities better than we do), I noticed an increase in their demand signal for our support and expertise in their mission space(s). We have now reached out to all of the combatant commands, and we have helped them refine their CWMD and improvised threat requirements.
One of the key things we worry about in the terrorist fight is the proliferation of materials out of places like Syria. Due to this threat, we have worked very closely over the last five to seven years in Jordan and Lebanon to secure those borders. By working with our allies, we have secured roughly 85 percent of the border between Lebanon and Syria, which will help prevent and deter the proliferation of materials. The Chiefs of Defense in those countries have stated that their number-one priority is what we contributed to their national security projects.
Another example is Kazakhstan. After 25 years of cooperation, and even with the Russian influence in the area, Kazakhstan agreed to re-sign our agreement to work non-proliferation initiatives. There are also the Philippines and Vietnam who have been very proactive in the Pacific Region. We are now engaging the Australians to develop a strategic plan to determine how we can work together in that region to counter their national defense priority—China. We have also been actively engaged with U.S. Indo-Pacific Command (USINDOPACOM) and U.S. Forces Korea (USFK) to identify the most appropriate countries to work with in that region to give us the leverage we need to counter China's influence. I look at some of our international initiatives not as programs but as strategic lever(s) where we can build a strong personal relationship with some of those countries and the authorities therein. These relationships are a longer-term benefit for both the Department and our allies.
CTC: In most of those partner countries, is there a DTRA equivalent?
Oxford: Almost never. For example, we had the Australian Embassy visit recently, and they offered to host us in Australia within the next few months to develop an Asian Regional Partnership Strategy that we believe will help identify mutual points of interest for both the U.S. and Australia. The Australians noted during their visit that if we want to work regional initiatives within the Asian Region, they will need to identify which parts of the Australian government we will need to work with to be successful.
CTC: You mentioned Jordan and the Border Operation Center that DTRA has there. How is DTRA specifically supporting Jordan in securing its border? Are you able to talk about any interdictions that have happened?
Oxford: We do not do interdiction, but we do enable the Jordanians to take such actions through a combination of fencing and sensors tied into command centers where they have Jordanian military manning the post. We secured 400-plus kilometers of the border, and though it is an expansive region, it all ties back to those command centers where they have a layered defense to react to any kind of incursion. Through this process, we have been able to help them manage and monitor the ISIS strongholds that are close to the Jordanian border and the humanitarian aid camps that hold Syrian refugees.
CTC: How long has that specific work being going on?
Oxford: It has been over five years working with the Jordanians and allies to build this border.
CTC: When people think about groups like the Islamic State, they think perhaps chemical weapons, biological even, but there seems to be a sense that even at its zenith and despite its large financial reserves, it would have been difficult for the group to get its hands on nuclear material or develop a nuclear weapon. Would you tend to agree?
Oxford: I spent six years at DHS constantly worrying about your question. No one can ever predict what is going to happen—even if safety and security precautions are adequate and proliferated material has been interdicted. However, a lot of this is awareness and ensuring we continue to monitor these networks and rely on our intelligence community and their sources of information. For instance, the chemical/biological threats were slightly more prevalent due to the type of materials, such as chlorine, that are more readily available and they could be used as a terrorist weapon. Though the nuclear threat was always a concern if lost or stolen, but not as an indigenous nuclear weapons program.
For example, seeing what happened in Syria with the chlorine use,a we worry now that the norms for chemical use are lower. It will be more 'acceptable' because if we are going to use casualties as a recourse [and those casualty numbers are not high], sometimes we may not act. But if you saw what happened with the airstrikes in Syria, it was the result of the chemical use. In support of USCENTCOM, we provided the expertise and helped determine how to target the chemical facilities.
This targeting expertise goes back to our history when we were targeting Soviet facilities. This provided us with the knowledge to develop nuclear weapons effects. When the Berlin Wall fell, we essentially transitioned that to conventional weapons targeting. This illuminated how to do target interaction on the conventional side to better understand how to damage the right facilities while minimizing any collateral damage to the populations.
CTC: We live in a world of fast technological change, and there is always worry that in the wrong hands, this advancing knowledge could be used for nefarious purposes. What concerns you about this?
Oxford: The use of new technology like additive manufacturing and synthetic biology is worrisome, both legitimately and illegitimately. The questions I pose—what do we want to tackle in synthetic biology and how do we find the nefarious actions versus the legitimate actions? We do have a chemical/biological office that is investing in synthetic biology research so we can monitor where that could become more of a threat vector than just the chemical/biological legitimate use.
Another threat that we are facing is fentanyl. This is a purely legal substance but used in the wrong way, they can be very dangerous. We have seen on the news that based on improper handling they can be extremely dangerous. However, fentanyl is not classified as WMD because it is not considered a weapon. It is important for us to focus more analytics effort on fentanyl, but until it is declared as a weapon or an improvised threat, we will be waiting on the Department for guidance. Congress is adamant about what we define as an improvised threat, so it is important we spend our resources and time on specific threats that are within our mission space.
CTC: Another technology that could be misappropriated is drones, which of course the Islamic State deployed in Syria and Iraq, taking commercially available units and weaponizing them.1 What were the lessons learned that DTRA is now thinking about when it looks at those activities?
Oxford: We have JIDO, which is now our Joint Improvised-Threat Defeat Directorate (JD), that has been instrumental in taking drones off the battlefield. We have forward-embedded people in the Middle East with the USCENTCOM and USSOCOM forces, as well as our reach-back support within our operations center in Reston, Virginia. This enables us to identify threat actors employing tools, tactics, and procedures for nefarious purposes. We have also watched the evolution of their tactics of small drones—at a very fast pace—and we are able to find ways to disrupt the system. The reason there has not been recent reporting of small drone attacks is mostly due to the efforts that we took to support the USCENTCOM and USSOCOM forces on the battlefield. What we are seeing now is an evolution of that threat in the UAE and Saudi Arabia with different tactics employed. This threat is evolving every three to six months—it is just that adaptive. We have had some recent successes overseas in that regard as well. This is going to be a continuing challenge due to the adaptive nature of the problem of being able to use small drones in so many different ways and you cannot rely on one technique to respond to them.
CTC: With sarin gas use in Syria;2 Novichok deployed by suspected Russian operatives in Salisbury, England;3 and the thwarted Islamic State-linked ricin attack in Germany,4 are you concerned that non-state actors or terrorist groups are learning from these attacks and also from government responses to the attacks or lack thereof?
Oxford: This gets back to my comment about the chlorine in Syria. Are we lowering the bar for adversaries to use chemical weapons? This is really a risk calculus issue: if an adversary takes an action, do they assess the risk correctly that nobody is going to respond, because it had two people in the Novichok case or they were using sarin to clear areas in Syria tactically? Was it worth our response or not? Ultimately, the Syrians found out that it was worth our response—and we did respond. It is a give-and-take in terms of what actions people are willing to take and what did they think the consequences would be. One of the hardest things to do in any of these cases is to figure out attribution. Who actually gave the order? Was it an individual, or was it tied to a government source? This is always difficult.
CTC: Is there any one particular scenario that keeps you up at night?
Oxford: I think we have a pretty good handle on things. However, with this expansion of the geopolitical environment, I am worried about tactical, strategic, and technological surprise. If we do not continue to be vigilant and look at where technology is going and stay out in front of that, then we are likely to have a technological and strategic surprise that we cannot anticipate. My discussion with the staff here is, "come to work every day and when you go home at night, ask yourself, 'have I done everything I could to make this country safer?'" As long as we do that, we should all sleep better at night. We cannot rest on our laurels; we have to earn our reputation every day. That is what I tell everybody—we have been designated a Combat Support Agency, but you earn it every day.
As we adjust to this new environment that puts a lot more emphasis on analytics, understanding the networks, identifying the nodes in the networks, determining how to scale those analytics and methodologies to nation-states, I understand the difficulty and pressure it puts on our Agency and the Department. We continue to hear 'buzz words' like artificial intelligence and machine learning that also need to be put into application. Some of our analytic cells that we have in the Agency will allow us to scale to larger datasets because there is a lot of information we are not digesting because we, unfortunately, do not have necessary analytics at this time.
There are some in this country, and the Department, that are unsure of artificial intelligence and machine learning because they think we are going to replace people. However, that is not the case, and what we are trying to do is better supply those people with the right information to make decisions. Machines are not going to make the decisions. Instead, artificial intelligence and machine learning are going to enable better analytics so we can make decisions faster, but it will still require the human to be a part of that process.
CTC: Conversely then, what keeps you hopeful in the midst of the array of threats facing the nation?
Oxford: The collection of the community that we have now become part of and the Combatant Commanders and the interagency understands this. As we continue to branch out with our international partners, they are starting to understand the influence within their regions of the threats that are outlined in the National Defense Strategy. Oftentimes, there are people focused solely on their niche problem-set, but now, we understand that there is a set of problems that we need to work collectively. I am excited to see that type of forward momentum.
CTC: What's remarkable about an organization like DTRA is you have to be simultaneously creative in thinking about future threats and yet still meet the immediate. And then add to that the layer you talked about—the reemergence of the great powers and the challenges therein. It's not just non-state actors to consider.
Oxford: That is right. In many cases, they are all connected. Nation-states using proxies and surrogates and influences that you have to figure out. That is why the network analysis that we are doing, along with others, is really important to determine how everything is connected and where you put pressure on that system. That is why we have the people sitting in the staffs at the Combatant Commands—so they understand what they are going through every day. And we get that feedback through our operation center here every day as well. Do not get me wrong, this is not easy and we have an impending budget battle this year. We would all love to see another year where appropriations come out on time, but Congress always gets a vote. So far, we have been well received on the Hill because of the jobs we have, and there are not a lot of people that do what we do.     CTC
Substantive Notes
[a] Editor's note: Both the Assad government and the Islamic State have been accused of using chlorine in attacks inside Syria. See Courtney Kube and Ken Dilanian, "U.S. officials: Blood samples show nerve agent, chlorine in Syria gas attack," NBC News, April 12, 2018, and Columb Strack, "The Evolution of the Islamic State's Chemical Weapons Efforts," CTC Sentinel 10:9 (2017), respectively.
Citations
[1] See Don Rassler, The Islamic State and Drones: Supply, Scale, and Future Threats (West Point, NY: Combating Terrorism Center, 2018).
[2] Craig Whitlock and Ed O'Keefe, "Sarin gas used in Syria attack, Kerry says," Washington Post, September 1, 2013; "Syria chemical attack: What we know," BBC, September 24, 2013.
[3] "Statement from the United States, France, Germany, and the United Kingdom on the Attack in Salisbury," White House, March 15, 2018.
[4] "Suspect in German ricin case was in touch with radical Islamists: prosecutor," Reuters, June 20, 2018; Florian Flade, "The June 2018 Cologne Ricin Plot: A New Threshold in Jihadi Bio Terror," CTC Sentinel 11:7 (2018).