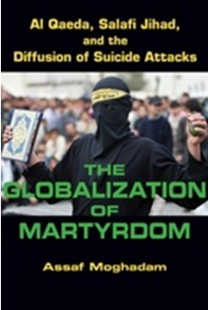 This groundbreaking volume examines the rise and spread of suicide attacks over the past decade. Sorting through 1,270 terror strikes between 1981 and 2007, Assaf Moghadam attributes their recent proliferation to the mutually related ascendance of al Qaeda and its guiding ideology, Salafi Jihad, an extreme interpretation of Islam that rejects national boundaries and seeks to create a global Muslim community.
In exploring the roots of the extreme radicalization represented by Salafism, Moghadam finds many causes, including Western dominance in the Arab world, the physical diffusion of Salafi institutions and actors, and the element of opportunity created by the Soviet invasion of Afghanistan. He uses individual examples from the Middle East, Southwest Asia, and Europe to show how the elite leaders of al Qaeda and affiliated groups and their foot soldiers interact with one another and how they garner support — and a growing number of converts and attackers — from the Muslim community. Based on over a decade of empirical research and a critical examination of existing thought on suicide attacks, Moghadam distinguishes the key characteristics separating globalized suicide strikes from the traditional, localized pattern that previously prevailed.
This unflinching analysis provides new information about the relationship between ideology and suicide attacks and recommends policies focused on containing Salafi Jihadism.