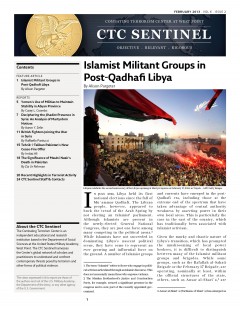 In January 2013, Tehrik-i-Taliban Pakistan (TTP) released multiple statements offering a cease-fire to Pakistan's government. Islamabad has not yet decided how to respond to the peace offer, which comes as the country enters a critical political phase of general elections in the coming months. The cease-fire offer led to intense discussion in Pakistani media outlets as well as in the corridors of power regarding how to respond to the TTP.[1] Indeed, in the past year, Pakistan's military claims to have cleared many of the TTP's strongholds in the Federally Administered Tribal Areas (FATA).[2] The number of TTP suicide attacks decreased in 2012, leading some to suggest that it is a result of Pakistan's military operations combined with persistent U.S. drone strikes in the FATA region.[3]
On the other hand, the TTP reportedly increased targeted attacks on security forces, government installations and high-profile figures in 2012, suggesting this decline was instead due to a change in tactics.[4]
This article first explores the strength and changing tactics of the TTP. It then reviews the TTP's cease-fire offer, as well as how Pakistan's government might respond. It finds that while the TTP's offer of peace talks has dominated the country's headlines, its strategy of targeting security forces and progressive political parties suggests that it has no intention of entering into meaningful political engagement with the government of Pakistan.
A Formidable Force
Today, the TTP is not only operational in the FATA region, but has active cells across the country, particularly in Punjab Province as well as in the port city of Karachi. While the TTP established a strong network in the sprawling city of Karachi years ago,[5] it recently also warned bus drivers in the eastern city of Lahore against showing vulgar movies or playing explicit songs during road trips.[6]
According to Pakistani officials, the TTP has also relied upon new bases for its fighters in neighboring Afghanistan, where they are able to hide during Pakistani military operations in FATA. These officials allege that many of the TTP's top commanders, as well as hundreds of fighters, are exploiting positions in Afghanistan's Nuristan and Kunar provinces for cross-border attacks in Pakistan.[7] The TTP has acknowledged this claim,[8] and the significant arrest of TTP commander Maulvi Faqir in Nangarhar Province in Afghanistan on February 18, 2013, reinforced these reports.[9]
Although the frequency of TTP suicide attacks has decreased, the militant group continues to execute a number of high-profile operations. In June 2012, more than 200 armed TTP militants in a convoy of 40 to 50 vehicles stormed a jail in Bannu city, setting free more than 350 inmates including the high-profile operative Adnan Rashid, who was convicted for trying to assassinate former President Pervez Musharraf.[10] Just two months later, TTP militants attacked one of the country's most critical air force bases in the city of Kamra, the PAF Minhas Airbase. That gun battle, which lasted for five hours, left 10 people dead, including nine militants, and destroyed one aircraft in the base.[11] The militants managed to breach the highly secure facility.[12]
In mid-December 2012, the TTP brazenly carried out an attack on Peshawar International Airport that was made possible by its close coordination with foreign militants, most likely from the Islamic Movement of Uzbekistan.[13] A week later, the TTP killed Bashir Bilour, a senior minister in the Khyber Pakhtunkhwa government. Bilour was a leader of the ruling Awami National Party (ANP), the progressive Pashtun nationalist party.[14]
At the end of December, in a sheer show of force, TTP militants kidnapped 23 soldiers from two checkpoints near Peshawar. Two days later, authorities found the bullet-ridden bodies of 21 of the kidnapped soldiers in a nearby town.[15] In January 2013, the TTP took responsibility for killing Manzar Imam—a member of the Sindh Provincial Assembly who belonged to the Muttahida Qaumi Movement (MQM)—in Karachi.[16] The anti-Shi`a sectarian group Lashkar-i-Jhangvi (LJ) reportedly assisted the TTP in the attack, once again underscoring the links between the TTP and the LJ.[17]
Moreover, contrary to reports of internal differences, the TTP has remained organizationally strong. For years, there have been frequent reports of infighting, especially between top commander Hakimullah Mehsud and his deputy, Waliur Rahman.[18] Yet these reports have proved consistently false. Hakimullah Mehsud still enjoys support of his top commanders and the TTP's shura, a committee of top TTP commanders who oversee and coordinate the group's activities.[19] His source of strength derives not only from his battlefield experience, but also his strong relations with Kashmiri and sectarian militant groups, as well as from Afghan Taliban factions such as the Quetta shura and the Haqqani network.[20]
The TTP might also now benefit from the killing of Maulvi Nazir, the leader of an anti-TTP Taliban faction who died in a U.S. drone strike on January 2, 2013.[21] Nazir's Taliban faction and Hakimullah's TTP were rivals, and they occasionally attacked each other in South Waziristan Agency. Nazir shared a non-aggression pact with the Pakistani state, and Pakistan supported him in his fight against the TTP.[22] His death could weaken Pakistan's influence in South Waziristan Agency and allow the TTP to regroup and strengthen its position in this strategic FATA territory.
The TTP's Cease-Fire Offer
Despite the TTP's continued strength, in December 2012 Hakimullah Mehsud released a detailed video message offering a cease-fire and peace talks. Although refusing to disarm, the TTP leadership presented two conditions to the Pakistani government before peace talks could begin: 1) Pakistan should change its foreign policy by disassociating with the United States, and design its foreign policy in conformity with Islamic laws; 2) Pakistan's constitution should be based on Shari`a.[23] The TTP nominated three politicians as guarantors for peace talks with the military. They include former Prime Minister Nawaz Sharif, Maulana Fazul Rahman of Jamiat-i-Ulama-i-Islam, and Munawar Hasan of Jamaat-i-Islami—all of these figures favor negotiations with the TTP.[24]
It is not clear what led the TTP leadership to offer a cease-fire, and there are different theories about the TTP's intentions. Some analysts link the TTP's fresh offer of peace talks with developments on the other side of the border in Afghanistan. According to this reasoning, just as the Afghan Taliban is offering to negotiate with the government of Afghanistan, the TTP also wants to negotiate with the government of Pakistan.[25] This effort may be the TTP's attempt to grab headlines and concessions in a rapidly changing situation in the Pakistan-Afghanistan region.
Others argue that the TTP has lost much support due to its recent actions, such as the attack on schoolgirl Malala Yousafzai, the teenager who stood up to the Taliban in her hometown of the Swat Valley.[26] In October 2012, TTP gunmen shot the 15-year-old Yousafzai in the head while she was on a school bus in Mingora.[27] The TTP was also criticized for the assassination of ANP leader Bashir Bilour. Although the TTP has killed more than 600 workers of the ANP, mostly in targeted attacks,[28] Bilour was one of the boldest figures among Pakistani politicians who have taken a clear stand against militancy, and he was the highest ranking ANP leader to die at the hands of the TTP. His assassination was widely condemned across the country.[29]
Nevertheless, the TTP has not worried about public outrage in the past, which leads many to speculate that the TTP's cease-fire offer could be a tactical move given its timing and impossible peace conditions. If past peace deals between the government and the TTP are any indication, then the TTP may be pursuing its previous strategy of buying time to regroup, before retaliating with more violence than before. Indeed, some argue that the TTP became stronger and more violent after similar agreements in the past.[30]
Pakistan's Divided Response
Overall, Pakistan's response to the TTP threat, as well as the cease-fire offer, has been divided. On the military front, last month Pakistan announced for the first time that its "military doctrine" now considers internal threats the biggest national security priority.[31] This statement served as a major break from its decades-old India-centric security policy. Although it is not clear whether the latest paradigm shift in Pakistan's military doctrine is because of a warming of relations with India or if it is the realization that there is an existential threat to the state posed by militant groups, the announcement nonetheless has been received with a mixed response. There are some who have welcomed the new military doctrine, saying it is not too late to properly confront the internal threat.[32] Others, however, argue that this change in doctrine is not genuine, and that Pakistan will continue to pursue a weak strategy of countering homegrown militancy, precisely because the country's military and intelligence services allegedly collaborate with friendly Taliban factions as well as sectarian extremist groups.[33]
On the political front, the Pakistan Peoples Party government and almost all mainstream political and religious parties have now shown a willingness to talk to the TTP.[34] Although in the wake of ANP leader Bashir Bilour's assassination the ANP called the All Parties Conference to devise a joint strategy against the Taliban and terrorism, today the ANP favors negotiations with the TTP.[35] Pakistan's religious parties have always preferred an approach of appeasement when dealing with the Taliban, while the other mainstream parties have only gone so far as to condemn acts of violence, but not the perpetrators. After the cease-fire offer, many of the political and religious parties agreed to talk to the TTP, but none of them have a clear strategy of how to proceed. The TTP has refused to lay down arms and has called the Pakistani system of governance "un-Islamic."[36]
As Pakistan enters election season after the dissolution of the present legislature in the middle of March, it seems unlikely that the military will launch a major operation against the TTP in the near future. The military may well choose to leave the decision to the next civilian government. For Pakistan to move forward on confronting the Pakistani Taliban, its military and political leadership need to develop a consensus on how to face the threat.[37] The TTP has so far cleverly exploited divisions within the country's political and military leadership. To achieve any progress, Pakistan will have to develop a coordinated policy toward the Pakistani Taliban before the group consolidates more power and increasingly challenges the state.
Imtiaz Ali is a writer and consultant focusing on political, development, media and security issues in Pakistan. He is from Khyber Pakhtunkhwa Province. Earlier in his career as a journalist, he worked as a field reporter for prestigious local and foreign media organizations and has extensively reported on Pakistani politics, society, security and militancy in the border region between Afghanistan and Pakistan. Currently, he is a fellow at the Institute for Social Policy and Understanding (ISPU) in Washington D.C.
[1] Pervez Hoodbhoy, "Negotiate With the TTP?" Express Tribune, January 11, 2013.
[2] "Pakistan Says Militant Bases Broken Up Near Afghan Border," Reuters, January 30, 2013.
[3] Yasir Rahman, "Pakistani Terrorist Attacks in 2012 Dropped, Report Says," Central Asia Online, January 29, 2013.
[4] Mahvish Ahmad, "Taliban Attack on Pakistani Airport Highlights Changed Tactics," Christian Science Monitor, December 12, 2012.
[5] Salis bin Perwaiz, "Taliban in City Gaining Strength in Numbers," The News International,  November 3, 2012.
[6] Asad Kharal, "TTP Warns Drivers Not to Play Obscene Music, Films," Express Tribune, February 6, 2013.
[7] Syed Irfan Ashraf, "TTP's Pakistan Strategy," Dawn, October 24, 2011.
[8] Tahir Khan, "TTP Admits Having Safe Havens in Afghanistan," Express Tribune, June 26, 2012.
[9] "Top TTP Commander Maulvi Faqir Captured in Afghanistan: Officials," Dawn, February 19, 2013.
[10] "Prison Break: Taliban Attack Bannu Jail, Nearly 400 Inmates Escape," Express Tribune, April 15, 2012.
[11] "Taliban Claim Attack on Minhas Base; Nine Militants Killed," Dawn, August 16, 2012.
[12]   Ibid.
[13] "Peshawar in Shock After Airport Attack," Dawn, December 17, 2012; "Uzbek Militants Behind Peshawar Airport Attack," The Nation, December 17, 2012.
[14] Amir Mir, "TTP Killed Bilour to Avenge JUI-S Leader's Death," The News International, December 24, 2012.
[15] "Taliban Execute 21 Abducted Soldiers," The Nation, December 30, 2012.
[16]  Shabbir H. Kazmi, "Pakistan: TTP Claims Responsibility for Killing MQM Legislator," Euro Asia News and Analysis, January 18, 2013.
[17] "TTP, LeJ Claim Killing of Manzar Imam," Central Asia Online, January 18, 2013.
[18] "Exclusive: Pakistan Taliban Commanders at Each Other's Throats," Reuters,  January 3, 2012; "FATA Annual Security Report 2012," FATA Research Center, Islamabad, Pakistan, January 21, 2013.
[19] "FATA Annual Security Report 2012"; Zahir Shah, "Hakimullah Mehsud Not to be Replaced: TTP," Dawn, December 10, 2012.
[20] Syed Zahir Shah, "TTP: Hakeemullah a Fiercely Ambitious Militant," World Analysis Net, August 27, 2009.
[21] Nazir's death is a significant success for the United States since his fighters used their sanctuaries in South Waziristan Agency to conduct attacks in neighboring Afghanistan.
[22]  Rustam Shah Mohmand, "Mullah Nazir Death Will Change Nothing," The News International, January 10, 2013.
[23]  Salim Safi, "Taliban Set Terms to Ceasefire," The News International, December 27, 2012.
[24]  "Talking to the Taliban," Express Tribune, February 5, 2013.
[25]  "Pakistan Taliban 'Holding Peace Talks with Government,'" Daily Telegraph, November 21, 2011.
[26]  Amir Rana, "Signs of Frustration," Dawn, October 21, 2012.
[27]  Ibid.
[28] "ANP Lost 750 Activists in War Against Terror: Spokesman," The News International, April 9, 2012.
[29]  "Bashir Bilour's Assassination Widely Condemned," The News International, December 24, 2012.
[30]  Daud Khattak, "Reviewing Pakistan's Peace Deals With the Taliban," CTC Sentinel 5:9 (2012).
[31]  "Pakistan Army Sees 'Internal Threats' as Greatest Security Risk," Dawn, January 3, 2013.
[32] "Changing Paradigm," Express Tribune, January 4, 2013.
[33] Mohammad Taqi, "Anti-Terrorism Doctrine: Too Little, Too Late?" Daily Times, January 24, 2013.
[34] "Malik Welcomes TTP Talks Offer," The Nation, February 4, 2013.
[35] "ANP Sponsor Moot: Two Dozen Parties Endorse Peace Talks with Taliban," Express Tribune, February 15, 2013.
[36] Ivan Watson, "Taliban: Pakistani Legal System Un-Islamic," CNN, April 22, 2009; "Pakistan Taliban Chief Hakimullah Mehsud Says Democracy is 'Un-Islamic,'" Australian, December 19, 2012.
[37]  Khadim Hussain, "Consensus on Terrorism," Dawn, January 28, 2013.