Back to Team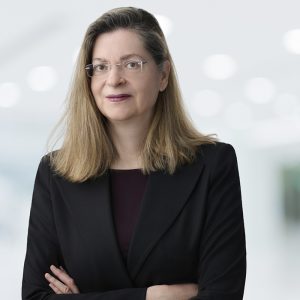 Elizabeth Kimber joined Two Six Technologies ("Two Six") in May 2022 as the Vice President of Intelligence Community Strategy. Two Six, which was formed by The Carlyle Group in February 2021, is a high-growth, technology company dedicated to providing products and expertise in support of national security missions.
Before joining Two Six, Kimber served more than 37 years in the Central Intelligence Agency (CIA), including as Deputy Director of CIA for Operations (DDO). As DDO, Kimber was responsible for overseeing the CIA's worldwide human intelligence operations and networks, as well as CIA's foreign intelligence collection and covert action missions.
Kimber joined the CIA in 1985 as a trainee in the Directorate of Operations and was promoted into the Senior Intelligence Service in 2002 when she started her tenure as Chief of the Special Operations Department in CIA's Counterterrorism Center. She served 18 years of her career in field operational positions, including as Chief of Station and DNI Representative. She also served as Acting Deputy Director of the CIA (Acting DDCIA), the first Assistant Director of CIA for Europe and Eurasia, Deputy Director of the National Clandestine Service, and Chief National Resources Division.
Over her career, Kimber led complex organizations with multicultural workforces in the thousands in a business with high-risk stakes. She led important transformational and organizational change efforts from modernization/restructurings to digital transformation, while focusing on key priorities and developed/executed strategies at all levels to address complex issues ranging from intelligence collection and covert action programs to tradecraft evolution, technological innovation, talent / resources, strategic partnerships and diversity and inclusion.
She has worked with international and domestic leaders in governments and the private sector to advance US national security priorities, including on counterterrorism. She represented CIA at US government policy meetings on national security issues, has worked extensively with the Intel Community and has been a named witness at Congressional hearings for CIA. She has operated in foreign environments in ambiguous situations and is a proven crisis manager. She has addressed large audiences on issues ranging from espionage issues to leadership development.
She received a Bachelor of Arts in History and French from Hamilton College in 1984. She is a Harvard Business School (HBS) alumna and is a February 2022 graduate of the HBS Advanced Management Program. She speaks French at a professional level. She is the recipient of the Presidential Rank Award and numerous CIA and Intelligence Community awards. Ms. Kimber is a member of AFCEA International's Intelligence Committee and WashingtonExec's Intel Council.