Back to Team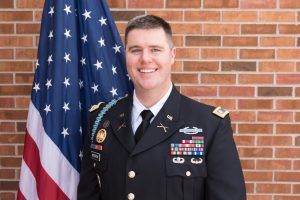 Sean Morrow is a native of Naperville, Illinois. He was commissioned as an Infantry Officer after graduating from West Point in 2001. Sean led a rifle platoon in 3rd Infantry Division during the invasion of Iraq in 2003, and commanded an infantry company in Baghdad during the Surge of 2007-2008. He was an assistant professor at the United States Military Academy in the Department of English and Philosophy from 2010-2012. Sean joined the 10th Mountain Division in 2013 and served as a Battalion Operations officer and a Brigade Executive Officer in southeastern Afghanistan. Sean most recently commanded the United Nations Command Security Battalion in Panmunjom, Korea. He served on the Tri-Lateral Commission representing the United Nations Command in talks with the Republic of Korea and the Democratic People's Republic of Korea. LTC Morrow was involved in over 40 direct engagements with the North Korean military, and hosted the U.S., ROK, and DPRK leaders for a historic meeting in 2019.
Sean is a PhD candidate at the University of Chicago, where he also earned an MA in Political Science. He holds an MA in Irish Studies from Boston College, where he studied narratives of political violence. Sean serves as the President of the West Point Class of 2001.
Sean resides in West Point, NY, with his wife Meghan and their three sons, Paddy, Cormac, and Declan.