Back to Downing Scholars Program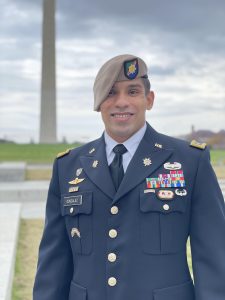 Major Luis Gonzalez was born in Mayaguez, Puerto Rico. He graduated from the University of Florida in 2009 with a Bachelor of Science in Family, Youth, and Community Sciences and commissioned from Officer Candidate School in 2010 as a Military Intelligence officer. While attending the Military Intelligence Basic Officer Leader Course, Luis was selected by the 75th Ranger Regiment for their Junior Officer Military Intelligence Pipeline.
Luis has served as a Signals Intelligence Platoon Leader at the 2nd Infantry Division in Korea, as an Assistant S2 (Intelligence Officer) at the 2nd Ranger Battalion, Battalion S2 at 82d Airborne Division, and S2 at the 1st Ranger Battalion. Most recently, Luis served as the 75th Ranger Regiment's Intelligence and Interagency Liaison to key intelligence partners in Washington, DC.
Luis' military education includes the Military Intelligence Basic Officer Leader Course, Ranger School, Airborne School, Air Assault School, and the Military Intelligence Captain's Career Course. Luis has deployed four times in support of Operations Enduring Freedom and Freedom's Sentinel. He is pursuing a Master of Arts in Security Studies at Georgetown University's Walsh School of Foreign Service.