Back to Downing Scholars Program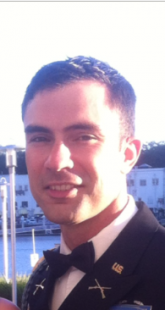 Major Dave Ahern graduated from Wheaton College in 2005 and received a commission as a 2nd Lieutenant in the Infantry. Major Ahern's first assignment was to Fort Campbell, Kentucky where he served as a Platoon Leader and Executive Officer in 2/327th IN, 1st Brigade Combat Team, 101st Airborne Division. Following a deployment to Samarra, Iraq in Agust of 2007 and the completion of the Maneuver Captain's Career Course, Major Ahern was assigned to 1-66th AR, 1st Brigade Combat Team 4th Infantry Division. He took command of Alpha Company in January 2010 and deployed in support of surge operations to Kandahar, Afghanistan in June 2010 for 12 months.
In December 2011, Major Ahern reported to 1st Battalion, 75th Ranger Regiment where he served as the Battalion Training Officer and the Headquarters and Headquarters Company Commander. He has deployed four times with 1st Ranger Battalion as an Assistant Operations Officer and Special Operations Team Commander.
Major Ahern's awards include the Bronze Star Medal with oak leaf cluster, the Meritorious Service Medal with oak leaf cluster, the Army Commendation Medal with three oak leaf clusters, Army Achievement Medal with oak leaf cluster, Ranger Tab, Combat Infantryman's Badge, Expert Infantryman's Badge, Senior Parachutist Badge, Air Assault Badge, and Pathfinder Badge.
Major Ahern is married to the former Erin Kelley of Rockford, Illinois.