Back to Downing Scholars Program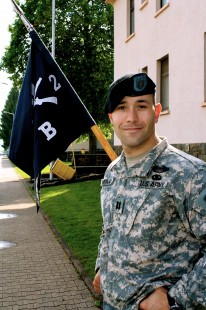 Major Christopher Mercado is a distinguished military graduate of the University of South Dakota where he earned a Bachelor of Science degree in Criminal Justice and Civic Leadership Studies. Upon his graduation in 2004, Chris commissioned through the Reserve Officer Training Corps' Green-to-Gold Program.
After completing the Infantry Officer Basic Course and Ranger School at Fort Benning, Georgia, Chris served as an Anti-Armor Platoon Leader and Mortar Platoon Leader with the 2nd Battalion, 12th Infantry Regiment at Fort Carson, Colorado.
In 2006 Major Mercado deployed to Baghdad as a combat advisor on Military Transition Team 0652. There Captain Mercado advised and armed the 2nd Battalion, 5th Brigade, 6th Iraqi Army Division as they secured Mansoor and Yarmouk neighborhoods of central Baghdad. Upon redeployment from Iraq, Chris volunteered to deploy to Afghanistan to serve as an operations officer on a Provincial Reconstruction Team in Panjshir Province. On the Provincial Reconstruction Team Chris supervised reconstruction, development, and security force assistance operations throughout Panjshir Province.
After completing the Maneuver Captain's Career Course, Chris was stationed at Smith Barracks, Baumholder, Germany where he commanded B Company and Headquarters and Headquarters Company, 2nd Battalion, 18th Infantry Regiment. Chris commanded both companies in Afghanistan where he led counterinsurgency operations in Imam Sahib and Dast-e Archi districts of Kunduz Province.
Upon redeployment, Chris commanded D Company, 2nd Battalion, 11th Infantry Regiment at the Infantry Basic Officer Leader Course at Fort Benning, Georgia. Chris later served as the Infantry Basic Officer Leader Course Operations Officer (S3).
In the summer of 2014 Chris deployed to Jerusalem, Israel where he served as an advisor to the Palestinian Authority Security Forces where he worked to establish the Palestinian Officer Academy in the West Bank city of Jericho.
Chris is currently attending Georgetown University's Edmund A. Walsh School of Foreign Service where he studies Terrorism & Substate Violence in the Security Studies Program.
Chris' military training and education includes the Infantry Officer Basic Course, the Maneuver Captain's Career Course, the Advanced Military Transition Team Course, and the Command and General Staff Officer's Course. Chris has also completed Ranger School and Airborne School. His awards and decorations include three Bronze Star Medals, the Meritorious Service Medal, the Army Commendation Medal, the Joint Service Achievement Medal, ten Army Achievement Medals, and the NATO Medal.