Back to Downing Scholars Program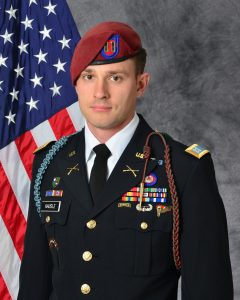 Major Brian Hausle graduated from Georgetown University in 2009 with a degree in international politics and ROTC commission as an Infantry officer. In his first assignment at the 101st Airborne Division he served as a Rifle Platoon Leader and Weapons Platoon Leader. Brian then served as a Platoon Leader and Executive Officer in the 1st Ranger Battalion.
As a captain, Brian was assigned to the 82nd Airborne Division where he served as a Brigade Air Officer and Company Commander before returning to 1st Ranger Battalion to command Delta Company. Brian has deployed seven times to Afghanistan in support of Operations Enduring Freedom and Freedom's Sentinel.
His military education includes the Infantry Officer Basic Course, Ranger School, Airborne School, Pathfinder School, Jumpmaster School, Mountain Warfare School, and the Maneuver Captain's Career Course. Brian received the General Douglas MacArthur Leadership Award in 2017.
Brian is pursuing a Master in Public Policy from the Harvard Kennedy School. He is married to Sara Nichols of Rome, Georgia; they have two daughters.