Back to Downing Scholars Program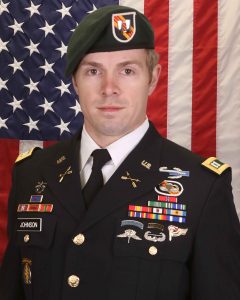 Major Ben Johnson commissioned as an Infantry officer from the United States Military Academy in 2011. As a lieutenant, he served as a Platoon Leader and Company Executive Officer in the 101st Airborne Division at Fort Campbell, KY.
As a Captain, Ben served as a Detachment Commander, Company Executive Officer, and Group Assistant Operations Officer in the 5th Special Forces Group. Ben has deployed once to Afghanistan and two times to Syria in both conventional and special operations capacities.
His military education includes the Infantry Basic Officer Leader Course, Special Operations Forces Captains Career Course, Special Forces Qualification Course, SERE School, Ranger School, Airborne School, Air Assault School, Pathfinder School and the Military Freefall Course. His awards include the Combat Infantryman Badge and three Bronze Star Medals.
Ben is pursuing a Master of Science in Foreign Service at Georgetown University's Walsh School of Foreign Service. He is married to Amelia Janoski of Saint Louis, MO.