Back to Downing Scholars Program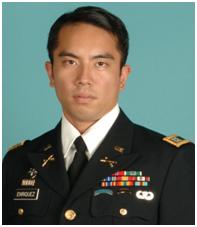 LTC Vince Enriquez hails from Illinois and is a first-generation American of Filipino descent. He graduated from the United States Military Academy in 2003 and was commissioned as an Army Engineer Officer. His first assignment was to the 173d Airborne Brigade in Vicenza, Italy, where he served as a Sapper Platoon Leader and deployed to Afghanistan. When the unit returned, he helped to relocate the unit to Bamberg, Germany.
In 2008, he completed the Special Forces Qualification Course and was assigned as a Special Forces Operational Detachment – Alpha Team Leader in Okinawa, Japan. He performed several missions throughout the Indo-Pacific theater and then commanded the Headquarters Support Company, 1st Battalion, 1st Special Forces Group.
He was selected as a General Wayne Downing Scholar and completed a Master in Public Administration at the Harvard Kennedy School of Government and a Master of International Relations at the Tufts Fletcher School of Law and Diplomacy.
Following graduate school, he returned to 1st Special Forces Group as a Special Forces Company Commander and served as a battalion operations officer and deployed with the battalion headquarters in support of Operation Inherent Resolve (OIR).
After returning from OIR, he was reassigned to the 1st Special Forces Command on Ft. Bragg as the Secretary of the General Staff and then served in the Commander's Initiatives Group.
In 2019, he moved to Washington, D.C., and served as the Army Military Aide to the Vice President of the United States.
He is absolutely humbled and excited to serve as the 3rd Battalion, 1st Special Forces Group (Airborne) Commander and has enjoyed working with and getting to know the Soldiers and Families of the battalion.
LTC Enriquez is married to former U.S. Army Captain and current Presidential Innovation Fellow Alex Glade of Lyons, Colorado. Together, they have a daughter, Ava (5) and son Max (2).