Back to Downing Scholars Program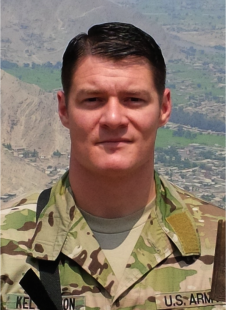 Lieutenant Colonel Michael R. Kelvington was born in Akron, Ohio. He graduated from the United States Military Academy at West Point in 2005 with a Bachelor's Degree in American History and was commissioned as a 2nd Lieutenant in the Infantry. Upon completion of the Infantry Officer Basic Course, Ranger School, and Airborne School, he was assigned to the 501st Battalion (Airborne), 4th Brigade Combat Team, 25th Infantry Division at Fort Richardson, Alaska, where he served as an Airborne Rifle Platoon Leader. In 2008, Mike was assigned to 1st Ranger Battalion at Hunter Army Airfield, GA where he served as a Ranger Platoon Leader and Ranger Company Executive Officer. At the completion of the Maneuver Captains Career Course at Fort Benning, Georgia, in 2011, he was assigned to the 1st Battalion, 508th Parachute Infantry Regiment, 4th Brigade Combat Team, 82nd Airborne Division at Fort Bragg, North Carolina, where he assumed command of Battle Company in August 2011. In January 2013, he relinquished command and was assigned to 2nd Ranger Battalion at Joint Base Lewis-McChord where he served first as the Battalion Assistant Liaison Officer and then later as the Battalion Logistics Officer. In April 2014, he was hand-selected to become the aide-de-camp of the Deputy Commanding General of Joint Special Operations Command and returned to Fort Bragg. In September 2014, LTC Kelvington was selected for the General Wayne A. Downing Scholarship.
Upon completion of his two-year Downing experience at Princeton University, where he received his MPA, Mike returned to the 75th Ranger Regiment. Over four years, from 2017-2021, he served as the Operations Officer and Executive Officer for the Regimental Special Troops Battalion, and then later as the Deputy Operations Officer for the 75th Ranger Regiment Headquarters. Overseas, he served as both a JTF Commander and J3.
In the summer of 2021, Mike and his family moved to Columbus, Ohio, where he currently serves as the Department Chair and Professor of Military Science & Leadership responsible for the Army ROTC at The Ohio State University.
LTC Kelvington is a graduate of the Infantry Officer Basic Course, Ranger School, Airborne School, Air Assault School, Jumpmaster School, and Maneuver Captains Career Course. He has deployed seven times in support of Operation Iraqi Freedom and Operation Enduring Freedom. His awards and decorations include the Presidential Unit Citation (w/ OLC), Valorous Unit Citation (w/OLC), Joint Meritorious Unit Award, Bronze Star Medal (w/ "V" Device and 4 OLC), Meritorious Service Medal (w/ OLC), Purple Heart (w/ OLC), Joint Commendation Service Medal (w/ OLC and "C" Device), Army Commendation Medal (w/ "V" Device, "C" Device, and 3 OLC), Joint Service Achievement Medal (w/ "C" Device and 2 OLC), Army Achievement Medal (w/ "C" Device and 2 OLC), National Defense Service Medal, Global War on Terrorism Service Medal, Iraq Campaign Medal (w/ 2 Campaign Stars), Afghanistan Campaign Medal (w/ 4 Campaign Stars), NATO/ISAF Medal, Overseas Service Ribbon, Military Outstanding Volunteer Service Medal, Humanitarian Service Medal, Army Service Ribbon, Combat Infantryman's Badge, Expert Infantryman's Badge, Ranger Tab, Master Parachutist Badge, Air Assault Badge, British, Australian, and Honduran Jump Wings, and German Proficiency Badge (Gold). He is a 2013 recipient of the General Douglas MacArthur Leadership Award and the 2016 Lieutenant General Samuel V. Wilson Award for writing, and has three masters degrees from Princeton (MPA), Liberty (MACM), and Regent University (MAOL). Mike deployed 14 times in support of overseas contingency operations, most notably in Iraq and Afghanistan.
He is married to Mrs. Meg Kelvington, who served eight years of service in the Army as a Blackhawk and RC-12 pilot. They have four children, including daughters McKinley (11), Madison (9), and Moriah (4), and son, Mac (6).