Back to Downing Scholars Program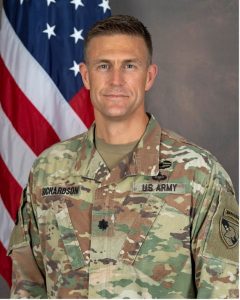 Lieutenant Colonel Josh Richardson currently leads the First Regiment, United States Corps of Cadets as Regiment Tactical Officer. Previously, he served as an Instructor of International Affairs and Executive Officer for the Department of Social Sciences, United States Military Academy, West Point, New York.
He was commissioned a Second Lieutenant in the United States Army Field Artillery upon graduation from West Point in May, 2000. His operational assignments include the 75th Ranger Regiment, the 82nd Airborne Division, and the NATO Allied Rapid Reaction Corps. His combat deployments include two tours each to Iraq (OPERATION IRAQI FREEDOM) and Afghanistan (OPERATION ENDURING FREEDOM).
Lieutenant Colonel Richardson earned a Master of Arts in International Relations and International Economics from The Johns Hopkins University School of Advanced International Studies (SAIS) in 2012 by way of the General Wayne A. Downing Scholarship Program. In addition to work at SAIS, his Downing experiences included a course at the War Studies Department, King's College, London; an internship working democracy initiatives with the National Democratic Institute for International Affairs (NDI) in Lomé, Togo; participation in seminar studies on Horn of Africa issues in Lamu, Kenya; and a course with the FBI's Joint Terrorism Task Force.
Lieutenant Colonel Richardson is originally from Madison, North Carolina and currently resides on West Point with his four daughters: Genny, Leah, Abbey, and Madeline.