Back to Downing Scholars Program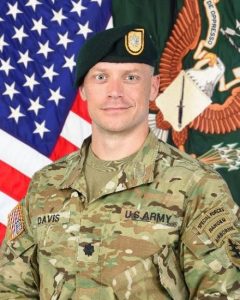 Lieutenant Colonel Erik Davis entered the United States Army on May 3, 2003 after graduating from Michigan State University on an ROTC scholarship. His first assignment was in Camp Hovey, Korea where he served as a Mechanized Platoon Leader, in the 1st of the 9th Infantry Battalion, 2nd Infantry Division. After deploying from Korea to Ar Ramadi, Iraq, Davis was assigned as the Executive Officer of C Troop, 3rd (RSTA) Battalion, 61st Cavalry Regiment in Fort Carson, Colorado. Following the Infantry Captain's Career Course, he graduated from the Special Forces Qualification Course.
All his tactical Special Forces assignments were in 1st Special Forces Group (Airborne) where he has served as an AOB Executive Officer, SFODA Commander, Group AS3, AOB Commander, Battalion Executive Officer, and GRP S3. While in 1st SFG (A), he deployed to Iraq and Afghanistan, as well as multiple deployments throughout PACOM. Later he served as the SF major's assignment officer at HRC, Fort Knox, Kentucky. Most recently he served as the Chief of Operations (CHOPS) for the Special Operations Joint Task Force – Operation Inherent Resolve.
Lieutenant Colonel Davis' military schooling includes the Airborne School, Military Freefall School, and Ranger School. His awards and decorations include the Afghanistan Campaign Medal, Iraq Campaign Medal, Operation Inherent Resolve campaign medal, Korean Defense Service Medal, Naval Unit Citation, and the Combat Infantryman's Badge. He is a Downing Scholar with master's degrees in Terrorism from King's College London and Diplomacy and International Strategy from the London School of Economics.
He married his wife Kathryn in 2011 and they have a son Killean, born in 2013, and a daughter Koraline, born in 2015.