Back to Downing Scholars Program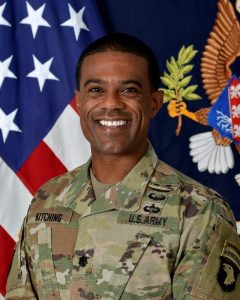 Lieutenant Colonel Brian Kitching is the commander of 2nd Battalion, 327th Infantry Regiment at the 101st Airborne Division at Fort Campbell, Kentucky. In 2000, he enlisted as a Private and in 2002, received an ROTC Green to Gold Scholarship, and was commissioned as an Infantry Officer in 2005. 
LTC Kitching has served in key roles within Special Operations and Infantry units, including assignments to the 75th Ranger Regiment, 101st and 82nd Airborne Divisions, and 3rd Infantry Division. His military awards over more than 50 months in combat include the Silver Star and two Bronze Stars for Valor. His experience in the Middle East includes numerous kinetic combat operations, as well as economic development and social assistance missions over nearly 20 years. 
Brian served as a General Wayne Downing Scholar at the Combating Terrorism Center at West Point and as a military fellow at the International Centre for the Study of Radicalisation at King's College in London. His recent assignments include serving as a Special Assistant to the 40th Chief of Staff of the Army and as a White House Fellow. 
Brian earned a Bachelor of Science in Economics from Alabama A&M University, a Master of Public Administration from the Harvard Kennedy School of Government, and Master of Arts in International Affairs from the Fletcher School of Law and Diplomacy at Tufts University. Brian is a term member in the Council on Foreign Relations. 
He is married to the former Shanna Harrison of Queens, NY. They have two children, Brian Jr. (BJ) and Nuri.