Back to Downing Scholars Program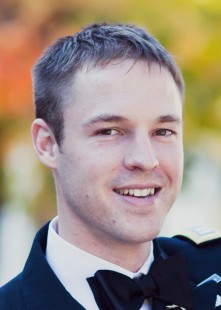 Captain James Garrison was born in Detroit, Michigan, and raised in nearby Commerce. He graduated with a BS in Arabic from the United States Military Academy at West Point, and was commissioned as a Second Lieutenant in the Infantry in 2006.
Jim served with 4th Battalion, 5th Special Forces Group (Airborne) from March 2012 through May 2015. He commanded detachments during operational deployments to the Middle East twice, including the initial deployment of a Special Forces Operational Detachment – Golf in 2014. Prior to joining the United States Army Special Forces, Captain Garrison served as a rifle and scout platoon leader with 1st Battalion, 504th Parachute Infantry Regiment, 82nd Airborne Division from 2007-2010, deploying twice to Iraq.
Captain Garrison is a graduate of the Special Forces Qualification Course, Ranger School, and Combat Diver Qualification Course as well as various other military schools. He speaks dialects of Arabic and Farsi.
Jim is married to Gail Garrison, an equine veterinarian. They have two children, Avery and Sienna.