Back to Downing Scholars Program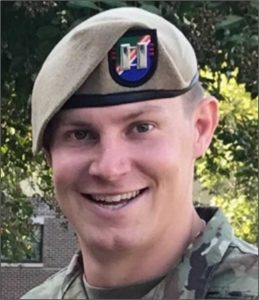 Captain Alex Gephart graduated from the United States Military Academy in 2010 and commissioned as an Infantry Officer.  Alex served as a Platoon Leader, Battalion Personnel Officer and Company Executive Officer at the 101stAirborne Division and 2d Ranger Battalion.
Following MCCC, he served as an Air Operations Officer and Company Commander at the 173rd Infantry Brigade Combat Team and 3d Ranger Battalion. Alex has deployed three times to Afghanistan and once to Iraq.
Alex is pursuing a Master in Public Affairs from Princeton University's School of Public and International Affairs. He is married to the former Maura McCall, and they have one daughter, Shannon.