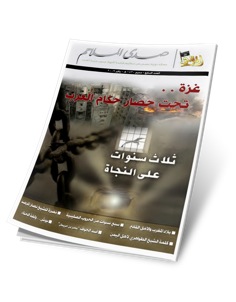 The image is an e-cover of the AQAP magazine Sada al-Malahim [echo of epic battles], issue 7, Muharram 1430 A.H. [January 2009 C.E.]. At the top, under the name Sada al-Malahim the caption reads: "majalla dawriyya yusdiruha tanzim al-qa`idat al-jihad fi janub jazirat al-`Arab" [a periodical published by Qa`idat al-Jihad (the jihad base) in the Southern Arabian Peninsula].  The logo in the top right corner – a golden calligraphic representation of the word "al-malahim"  with a black banner bearing the shahada (Islamic testimony of faith – There is no god but Allah and Muhammad His messenger) is the logo of the group's media wing.
The top caption in red reads: "Ghaza .. tahta hisar hukkam al-`arab" ("Gaza… under siege of Arab leaders"), and "thalath sanawat `ala al-naja" (three years since deliverance). The second caption references the escape of 23 individuals from a "high" security prison in Sana'a.  Many of these escapees would be crucial in the founding of AQAP including Nasir al-Wuhayshi (emir) and Said al-Shihri (deputy emir).
In the midst of the smoke and flames in the image appears a bird that is visible through a small window with bars. The world of birds in general is very important in the symbolic language of Islam. Pre-Islamic Arabs imagined soul birds fluttering around the grave of the deceased, and the bird continues to symbolize the flight of the soul beyond the confines of this world, including any prison or siege (represented by the window bars, barbwire and chain in the image).
Group Name
Sada al-Malahim (AQAP)
Group Type
Jihadist Group
Group Affiliation
AQ Affiliates / Associates
Dominant Colors
Gray, Red
Secondary Colors
Yellow, White
Isolated Phrases / Mottoes / Slogans
Ghaza .. tahta hisar hukkam al-`arab" 2) thalath sanawat `ala al-naja
Groups Region of Operation
Middle East, Global
Groups Country of Operation
Yemen
Weapons
Cold Weapons and Defensive Armor, Barbwire/ Chain Link Fence
Fire
Flames, Light Rays / Light, Burning Object, Smoke
FIre Analysis
Burning buildings.
Geopolitical Symbols
Symbol of party, movement or company, Slogan
Geopolitical Analysis
Al-Malahim logo (AQAP periodical)- golden colored word al-malahim with a black banner bearing the shahada and the seal of the Prophet.
Fauna
Dove / Default Bird
Topography
Man-made Structure / Landmark
Topography Analysis
Urban landscape