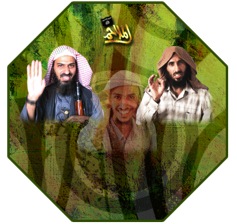 The caption reads: "al-aan mu'assasat al-malahim lil-intaj al-i'lami tuqaddim: ahfad Muhammad b. maslama, radiya Allah 'anhu" ("Al-Malahim now presents: descendants of Muhammad bin Maslama, may Allah be pleased with him"). The name Muhammad bin Maslama is a historical reference to one of the companions of the Prophet. According to prophetic tradition (hadith), in 624 A.D., Muhammad ibn Maslama volunteered, at the request of the Prophet, to kill Ka'b bin al-Ashraf, a chief of a Jewish tribe in al-Madina, the Banu Nadir, who had written poetry the Muslim community found offensive.
The image is from a video which targets members of the Saudi royal family, in particular, Prince Muhammad bin Nayif, the Minister of Interior, whose face appears in the background of the image, behind the central figure. The three dominant figures in the image are al-Qa'ida in the Arabian Peninsula leaders–Abu Sufyan al-Azdi, Abu Basir al-Wuhayshi and 'Abdallah Hasan 'Asiri–who attempted to assassinate Prince Nayif.
Group Name
al-Malahim Media
Group Type
Jihadist Group
Group Affiliation
AQ Affiliates / Associates
Secondary Colors
Yellow, Red
Isolated Phrases / Mottoes / Slogans
Ahfad Muhammad b. maslama, radiya Allah `anhu
Groups Region of Operation
Middle East, Global
Date Image Created Online
21/10/2009
Date Image Created Online Details
Posted on blog by lal.masjid in October 21, 2009
Weapons
Firearms, Automatic / Assault Rifle, AK47
Body Parts
Pointer Finger, Face / Bust
Geopolitical Symbols
Symbol of party, movement or company, Slogan, Currency
Geopolitical Analysis
al-Malahim logo - golden colored word al-malahim with a black banner bearing the shahada and the seal of the Prophet
People
Group Leader / Influential figure, Political Leader, Operational Leader, Operative / Warrior (=mujahid), Man / Men
People Analysis
Abu Basir Nasir al-Wuhayshi and Abu Sufyan al-Azdi (AQAP). Prince Muhammad b. Nayif (Saudi Minister of Interior).
Religious Textual References
Other Medieval Text
Religious Textual References Analysis
Blessing/prayer "radiya Allah `anhu" [may God be pleased with him]