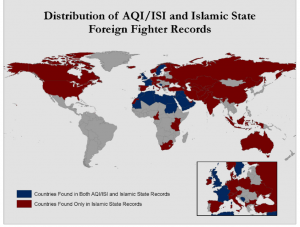 The Combating Terrorism Center has released its latest report on the Islamic State. "Then and Now: Comparing the Flow of Foreign Fighters to AQI and the Islamic State" looks at how the make-up, scale, and scope of the Iraq- and Syria-bound foreign fighter problem has evolved from 2006 (AQI) to 2014 (Islamic State). The report builds on a 2008 CTC report on the Sinjar records.
To read the new report, click here.
To read the 2008 report, click here.