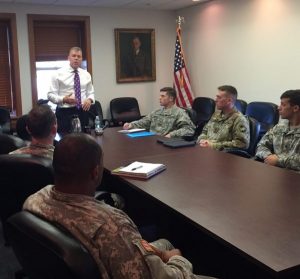 On 21 September, Richard Walton, former head of the counterterrorism command (SO15) at London Metropolitan Police, visited the Combating Terrorism Center and engaged with cadets in two sections of SS464, "Homeland Security and Defense." Walton headed SO15 between 2011 and 2016, to include during the Queen's Diamond Jubilee and London Olympic and Paralympic Games in 2012, the United Kingdom's largest peacetime policing challenge.
Walton is currently the director of Counter Terrorism Global Ltd, a senior associate fellow at the Royal United Services Institute (RUSI), and a counterterrorism consultant for CBS News. He was recently featured twice in the CTC Sentinel, including a June 2016 article on protecting Euro 2016 and the Rio Olympics.

Richard Walton, former head of counterterrorism at London Metropolitan Police, lectures to cadets in SS464.