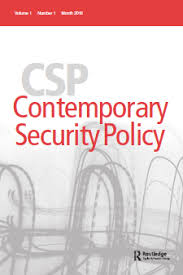 In May 2017, the journal Contemporary Security Policy published "Dangerous Work: Terrorism Against US Diplomats" an article authored by Dr. Daniel Milton.
Click here to learn more about the article, or read the abstract below.
The goal of diplomats is to represent their countries' interests through diplomacy, not arms. Because they are not military personnel, they may be perceived as at lower risk of being the target of terrorists. However, recent events have called this perception into question. Despite this danger, there has been little research on terrorist attacks against diplomats. Drawing on the terrorism studies literature, this article argues that diplomats are targeted more than non-diplomatic targets in countries where certain U.S. foreign policies are implemented. An empirical analysis of 471 attacks against U.S. diplomats from 1970 to 2011 reveals that while U.S. alliances and foreign aid increase the likelihood of attacks against diplomats, U.S. military intervention and civil war, on the other hand, increase the risk of terrorism against non-diplomatic targets. This finding is relevant because it shows terrorist attacks against diplomats result from certain types of foreign policy.