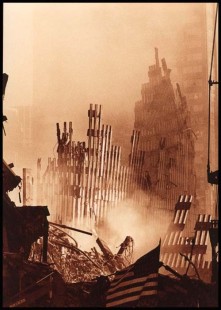 The historic counterterrorism mission on May 1st, 2011 inexorably changed the landscape of al-Qa`ida and its future.  The operation itself is a culmination of nearly thirteen years of efforts by the intelligence and counterterrorism communities beginning with the bombing of two U.S. embassies in East Africa in 1998. However, the implications from Usama bin Ladin's death remain unclear. To provide insight, the Combating Terrorism Center has released a Special Issue of the CTC Sentinel, which can be viewed here.
Additionally, the CTC's informed commentary on the impact of his death, seen below, is an important contribution to the present discourse.
---
9/11 Memorial Webcast, June 2011
"Exploring 9/11″
The CTC's Bill Braniff, Nelly Lahoud, and Don Rassler discuss the significance of the death of Usama bin Ladin as part of the National September 11th Museum and Memorial's webcast series, "Exploring 9/11."  This in depth discussion places the death of the al-Qa`ida amir in its larger historical and sociopolitical context, examining Bin Ladin's death as it relates to issues such as the Arab Spring, the U.S.- Pakistani relationship, al-Qa`ida's relationship with the Haqqani Network, and the future role of al-Qa`ida within the jihadist realm.
---
New York Times, May 2, 2011
"Bin Laden's Likely Heir Is Viewed as Organizer, Not as Inspiring Figure"
"The transition that the Middle East is going through at the moment will be a testing ground whether these ideas will survive, will come back with a vengeance or will cease to be relevant," said Nelly Lahoud, a senior associate at the Combating Terrorism Center at the United States Military Academy. "Will the new emerging regimes deliver something meaningful in the Muslim world?" The Qaeda narrative will lose adherents if they do, but could return powerfully if they do not, she said.
---
The Economist, May 5, 2011
"They got him – What the death of the movement's figurehead means for al-Qaeda, Pakistan, Afghanistan-and the West"
Alex Gallo, of West Point's Combating Terrorism Centre, says that core al-Qaeda has evolved a most effective and flexible approach, a bit like Michael Porter's theory of the value chain. Core al-Qaeda, he argues, has de-emphasised the resource- intensive part of violent activity-training, equipping and deploying fighters around the world-in favour of acting as a kind of consultancy, providing strategic direction, ideological coherence and financial advice. According to him, "al-Qaeda understands that, given the constrained context in which it operates today, it is able to provide more robust and enduring value to the global jihadist movement through its unique infrastructure and expertise in …marketing and services."
---
Times Herald-Record, May 3, 2011
"Islamic Extremism Lives On"
"There is a very real danger in the near term for retaliatory-style attacks from al-Qaida," said Don Rassler, an associate at West Point's Combating Terrorism Center. "Al-Qaida is resilient and we'd be fooling ourselves to think bin Laden's death is a lot more than it is." Al-Qaida's activity has slowed in recent years. It hasn't attacked the United States at home since Sept. 11 and more recently, it's struggled to release video messages to the media. Rassler thinks the group could strike to prove it is not a historical footnote. "I think, if there were attacks, they'd be driven by broader worries about their relevancy," he said. Rassler also noted that bin Laden's killing could help prevent retaliation. The key lies in computers and documents hidden in the compound where the bin Laden was killed. Experts believe they could be a heap of intelligence information. "Al-Qaida will continue, but the million-dollar question is, under what form and what strength?" Rassler said. "But for now, maybe the more important question is: What's in these computers and documents?"
---
NPR, May 2, 2011
"Al-Qaida's Resilience May Mean Its Survival"

Lt. Col. Reid Sawyer, the director of the Combating Terrorism Center at West Point, says the U.S. is already bracing for what will come next. "The attack may not be tomorrow, it may not be the next day, but it is almost certain there will be a retaliatory attack," he said. "So we need to maintain our vigilance against that and not let our guard down a week after the death has passed." Sawyer says it is still too early to tell what bin Laden's death is going to mean to the organization in the long run. "Al-Qaida has always been and will remain a very much decentralized phenomenon," said Sawyer. "It is an organization that has lived for 24 years and has gone through several mutations. The question now before us is what is this next mutation and what will it look like into the future?" Sawyer says if bin Laden had been killed in Afghanistan eight years ago in the caves of Tora Bora, al-Qaida might well have died with him. Now the organization is diversified enough it could weather bin Laden's death — and hardly miss a beat.
---
USA Today, May 3, 2011
"Al-Qaeda's effect weakens in Mideast"

Al-Qaeda's leadership has been scrambling to respond to the Arab revolts in an effort to stay relevant, said Nelly Lahoud, a professor at the West Point military academy. Statements from Ayman al-Zawahri bin Laden's No. 2, reflect a "combination of evolution and confusion" about the uprisings, Lahoud wrote in the CTC Sentinel, a journal produced by the Combating Terrorism Center at West Point. The remarks were made before the death of bin Laden. In one statement, Zawahri warned Egyptian protesters not to be fooled by U.S. claims of support for their cause. He also said the fruits of their revolution could be "squandered if they do not institute an Islamic government," according to Lahoud.
---
Associated Press, May 10, 2011
"Al-Qaida likely to elevate No. 2 or name no one"

"You almost have to start with the question of 'Can he be replaced?' said Lt. Col. Reid Sawyer, the director of the West Point, N.Y.,-based Countering Terrorism Center. If al-Qaida does pick a successor, Sawyer and other analysts said Ayman al-Zawahri, 59, is the most likely choice because he was bin Laden's longtime deputy and has far more experience than younger candidates.  The mourning period for bin Laden could delay the process. And in order to name a successor, al-Qaida leaders would likely have to meet in person, Sawyer said. That is something the militants may be reluctant to do while U.S. officials comb through the material Navy SEALs found in bin Laden's hideaway.
---
NPR, May 9, 2011
Midday with Dan Rodricks, Hour 1: "Impact of bin Laden's death"

Will al-Qaeda continue to inspire a new generation of young jihadists, the so-called orphans of Osama bin Laden? We'll get some perspectives on the post bin-Laden world — what his death means for the terrorist organization he led and what it means for the security of the United States and other western nations. We'll speak with Nelly Lahoud, associate professor with the Combating Terrorism Center at West Point and an expert on jihad. Also taking part in the conversation are Michael Greenberger, Michael Greenberger, director of the University of Maryland Center for Health and Homeland Security and Tahir Shad, director of International Studies at Washington College.
---
Correio Braziliense (Brazilian newspaper) May 3, 2011
"Attack, gunfire and death in 40 minutes"

"Undivided attention was crucial during the mission. Without concentrating on sources and add multiple lines of inquiry, the operation would not have occurred. The strategy of being patient and staying on track is what led to success," said Lt. Col. Reid L. Sawyer, Director of the Combating Terrorism Center at West Point.
Click here for article (Portuguese)
---
The Wall Street Journal, May 4, 2011
"U.S. Is on Alert for Hastened Plots"

Mr. Zawahiri's "recent missive indicates that he is struggling to accommodate jihadism to the emerging reality of the Middle East." said Nelly Lahoud, an expert on extremist Islam at West Point's Center for Combating Terrorism.
---
Foreign Affairs, May 6, 2011
"Springtime for Jihadis"

Osama bin Laden's death will fragment terrorist groups and destabilize their ranks. Yet al Qaeda and other jihadi groups could also use this moment as an opportunity to remake themselves, producing instability that may spur further violence against U.S. interests. By Alex Gallo and Scott Helfstein
---
Boston Globe, May 3, 2011
"Al Qaeda deputies waiting in wings"

Lieutenant Colonel Reid Sawyer, director of the Combating Terrorism Center, an independent think tank at West Point, said bin Laden functioned more like the chairman of a board than a field commander in recent years. "We know that he did not have a lot of operational control,'' Sawyer said. "He provided strategic guidance, but he was functioning from afar. It is far from clear what the impact of his death will be.''
---
Huffington Post, May 5, 2011
"Nelly Lahoud: Bin Laden Dies, But His Ideals Live On"

Please see a Huffington Post interview with CTC Senior Associate Nelly Lahoud that explores bin Laden's role in the broader jihadi movement.