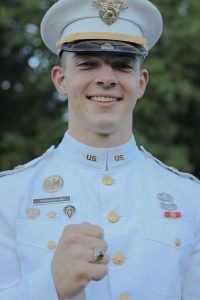 Jordan Lawson is a senior at West Point, from Christchurch, New Zealand. Jordan is majoring in Arabic and minoring in Terrorism Studies. He is the Co-Cadet in Charge of the Model Arab League and Young Life clubs. In his time at the academy, Jordan has traveled extensively, including a semester abroad in Oman. Currently, he is the Physical Development Officer for his company, B1. Jordan enjoys exercising, anything outdoors, country music, friends, and family.
What does the Terrorism Studies minor mean to you?
The Terrorism Studies minor is the group of classes I have most enjoyed at the academy. The teachers are brilliant and have genuine experience in the field. They are researching the same things we are learning and have a wealth of knowledge to share with cadets. When each lesson ends, I am disappointed that we cannot continue discussing whatever the topic is that day. The lessons are extremely relevant and have given me a solid base of knowledge on terrorism around the world and the United States' efforts to combat it. I enjoy the overlap between my major and minor and use skills from both in my studies.
What does the Combating Terrorism Center mean to you?
One of the most exciting things about the CTC, and the Terrorism Studies minor, is the incredible guests that give lectures or briefs to cadets. We get terrific access to real-world experts who renew my curiosity on the topic and remind me why I chose West Point. The Center has also been very helpful to me as I have conducted research, either working with me on CTC-specific research or supporting me with resources for research outside of the CTC. The Combating Terrorism Center puts its students first and has opened my eyes to opportunities that await me throughout my career.
What are your career and professional goals?
I branched Military Intelligence (MI) and will attend the MI Basic Officer Leader Course upon graduation. After the Army, I hope to continue working in the Middle East in some capacity, utilizing my intelligence and language skills. Perhaps I'll even come back and teach one day at West Point, something I would have never believed as a freshman!