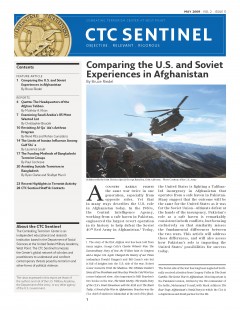 The recent mutiny within the paramilitary Bangladesh Rifles (BDR) border security force sparked concern about escalating instability in Bangladesh. The possibility that Jamaatul Mujahidin Bangladesh (JMB) [1] may have been involved in the rebellion heightened worries about the growing terrorism problem in Bangladesh. A series of events since the 2005 serial bombings point to a steady escalation in the terrorist campaign of not only JMB, but also Harkat-ul-Jihad-al-Islam Bangladesh (HuJI-B) [2].  Although dismissed by many as only locally-focused terrorist groups vulnerable to decapitation strategies and lacking transnational linkages and support networks, many in Bangladesh and the region have learned the hard way that both JMB and HuJI-B are formidable outfits that have taken advantage of the government's security weaknesses to establish firm roots in the country. Furthermore, they are attempting to employ their own "ink blot strategy" [3] by building their support base and cadre strength district by district. Their goal is to institute a strict interpretation of Islamic law in Bangladesh.
This article will examine the transnational linkages between Bangladesh's terrorist groups and more violent groups in Pakistan; speculate on whether these groups may move toward suicide attacks; and finally assess what steps the Bangladeshi government should take to undercut and weaken Islamist terrorist groups active in the country.
Transnational Linkages
The senior leadership of Bangladeshi terrorist outfits such as JMB and HuJI-B took an active part in the Afghan jihad against the Soviet Union [4]. It was during this time that they came into close contact with individuals who later assumed important leadership positions in militant groups across the South Asian region and beyond [5]. For around a decade, these individuals fought side by side against a common enemy driven by a common ideology. The relationships formed on the battlefields in Afghanistan did not fade following the Soviet withdrawal; in fact, HuJI-B cadres received military training in Afghanistan during the 1990s when the Taliban were in power [6]. In addition to JMB and HuJI-B, the senior leadership of the vast majority of Islamist terrorist groups in South Asia still include individuals who fought in the Afghan jihad [7]. Therefore, there is a possibility that Bangladeshi terrorist leaders will leverage the long-term relationships they have forged with their comrades in arms from South Asia and possibly the Middle East, and translate this into a strong collaborative operational relationship between their groups. Such linkages could have a dramatic impact on the modus operandi of Bangladesh's terrorist groups and encourage them to adopt the use of suicide bombing.
HuJI-B and JMB have undoubtedly been watching developments in Pakistan with much interest. The effective use of suicide bombing by several Pakistani groups, including Tehrik-i-Taliban Pakistan (TTP), have likely played a role in forcing Islamabad to call off several military operations and to even implement Shari`a law in Malakand. Furthermore, HuJI-B and JMB have latecomers advantage in that they have witnessed the successes and failures of previous groups in the use of suicide bombing and could avoid some potential pitfalls. Causing high civilian casualties and not adhering to local traditions can drain the oxygen out of a movement, an outcome that al-Qa`ida in Iraq (AQI) learned the hard way. For this reason, the overall security community is concerned that these outfits will begin to incorporate strategic suicide attacks into their repertoire since suicide bombers are generally able to penetrate more secure areas and carry out precise strikes that are more likely to hit their intended target and minimize "collateral damage."
Suicide Terrorism Concerns
In February 2009, several captured JMB militants were paraded in front of media cameras along with their seized weapons in the town of Tongi near the Bangladeshi capital of Dhaka. Mamunur Rashid, one of the arrested individuals and a full time member of JMB, picked up a grenade, pulled the pin and threw it in a small room full of journalists, security personnel, as well as his fellow comrades [8]. Thirteen people sustained injuries but no one was killed. The incident caused concern about suicidal tendencies that characterize other terrorist groups in South Asia.
The JMB also allegedly created the Shahid Nasrullah Arafat Brigade [9]. This specialized group within JMB reportedly received advance military training in high risk operations such as bomb making and suicide attacks [10]. Several JMB militants detained in the aftermath of the serial bomb blasts on August 17, 2005 confessed to their membership in the outfit, explaining that the squad had been created by combining members of JMB and its splinter organization Jagrata Muslim Janata Bangladesh (JMJB) [11], mainly for carrying out IED attacks.
Moreover, the various other Bangladeshi groups that have mutated from JMB, such as Allahr Dal [12], have carried out bomb attacks in the past [13].  It can be argued that while JMB or HuJI-B may not want to carry out a suicide attack using the name of their organization in order to protect their image, they may use smaller splinter organizations for this purpose. An example of this tactic can be seen in the attack on the Marriott Hotel in Islamabad in September 2008. Although investigations allege that TTP leader Baitullah Mehsud planned the operation [14], following the attack he denied any role, reportedly saying that his group "does not believe in killing so many locals" [15]. Instead, the attack was claimed by a previously unknown outfit called Fidayeen-e-Islam [16]. A similar tactic could be employed in Bangladesh.
Drivers of Suicide Attacks in Bangladesh
In order for a conflict to escalate to the point where suicide bombings are employed, there is usually multiple, consistent drivers. In the cases of JMB and HuJI-B, both groups have a serious grievance with the secular nature of the Bangladeshi state, especially its court system, and the moderate role that Islam plays in everyday life. These groups want to see a much more Islamic Bangladesh governed entirely by Shari`a law where parliament and other man-made governing mechanisms are nonexistent. For instance, HuJI-B's famous axiom is Amra Shobai Taleban, Bangla Hobe Afghan (We are all Afghans, Bangladesh will be Afghanistan) [17]. It is possible that Bangladeshi terrorist groups may decide that to begin the process of bringing about such a radical change, they must resort to more radical tactics.
Another driver could be the desire to escalate their campaign in the country; suicide terrorism could actually be viewed as part of a natural evolution of the aforementioned ink blot strategy. If key strategists have assessed that the use of suicide terrorism in other conflicts, namely Pakistan, has been successful, it may become a component of a strategy to elicit concessions from Dhaka. Such events would hardly be unprecedented in the region. As such, it is possible that initial uses of the tactic could be experimental in nature in order to gauge public and governmental reactions as well as operational effectiveness.
The critical component of a suicide attack is not the violent act itself, but the exploitation of it afterward. Although many groups, including those in Bangladesh, have their own forms of media, they still rely on mainstream media to communicate with the greater public and the audience that they ultimately aim to win over. Failure to maintain a consistent profile in the mass media often leads to irrelevance and eventual extinction. For example, JMB has recently received a disproportionate amount of media coverage compared to HuJI-B, as the former has been more active in Bangladesh. The use of suicide terrorism by HuJI-B could rapidly reverse this current trend [18]. It should be noted, however, that even though JMB is currently in the spotlight, available evidence suggests that HuJI-B and JMB are more collaborative than competitive at this point in time. Nonetheless, if these groups become more confident and, inevitably, ambitious, there is nothing to suggest that this preference for cooperation over confrontation will last.
Suicide attacks can be fatal for a terrorist group unless they can capture market share after its execution. The TTP has largely justified many of its suicide attacks on the grounds that they are a response to attacks by the Pakistani security forces and by U.S. unmanned aerial vehicles [19]. TTP also fights in Afghanistan against what many in Pakistan perceive as foreign occupiers with multiple objectives. Similarly, groups such as Lashkar-i-Tayyiba and Jaysh-i-Muhammad that carry out fidayin attacks (in which the death of the gunman is nearly guaranteed)—such as those witnessed in Mumbai in November 2008—draw much of their legitimacy from the Kashmir dispute and the claim that they are fighting against a hostile "Hindu India." JMB and HuJI-B, however, enjoy no source of legitimacy at present as they are not involved in a major way in any external conflict theater nor are they subject to a destructive military crackdown. Indiscriminate strafing and bombing, poorly planned military operations, and a complete lack of a counterinsurgency strategy helped establish the legitimacy of TTP;  the similar use of more indiscriminate tactics, such as aerial bombardment, has greatly bolstered the Afghan Taliban as well. In addition, Lashkar-i-Jhangvi, an initially Punjab-based Sunni extremist outfit, did not begin to use suicide bombings consistently until it relocated to the Federally Administered Tribal Areas (FATA) and faced the brunt of several military operations. Without these types of events taking place, it will be difficult for Bangladeshi terrorist groups to justify suicide bombings [20].
Dhaka's Response and Future Directions
Thus far, Dhaka has been wise in viewing terrorism through a police/law-and-order paradigm as opposed to a military-centric one like several of its neighbors. In the event that Bangladeshi terrorist groups escalate their activities, however, Dhaka may feel the temptation to resort to military action. That would likely increase the support base of HuJI-B and JMB, alienate potential local allies, and cause further escalation. By engaging in more indiscriminate military operations, Dhaka could potentially further alienate Bangladeshis in more far-flung, grossly underdeveloped regions who are already dissatisfied with the central government. This would increase the recruitment pool for terrorist groups while also undermining any future counterinsurgency efforts as strong ties with Dhaka could become a liability for local leaders. In turn, such actions could lead to further radicalization and a greater propensity for terrorist groups to incorporate suicide bombing into their repertoire. They would seek to justify this tactic by claiming that Dhaka escalated first and that they had no choice but to respond. Such a scenario is avoidable.
Recruitment and training hotspots, such as remote and impoverished areas in the northwest and south, need to be actively targeted with increased meaningful development work and information operations (IO) to weaken the recruitment efforts of these groups. Furthermore, the terrorist groups' failure to provide an effective governance or development plan needs to be emphasized in order to clearly communicate that economic conditions, though not ideal at present, would become much worse under a government headed by Islamist extremists. IO must utilize multiple sources because the medium of communication for Bangladeshis varies greatly.
In Dhaka and other urban areas, it is advisable to focus on the internet as part of the IO effort, especially when attempting to reach the target audience of 18-25-year-old males, the group most susceptible to the messages espoused by terrorist groups. In the countryside, however, a shift to radio and word-of-mouth is necessary as internet connectivity and literacy levels are lower. In regard to the word-of-mouth approach, the local leaders tasked with delivering the message must be carefully analyzed in order to avoid exacerbating the issue. Dhaka must also strive to be as invisible as possible in these efforts to maintain the credibility of local leaders that is largely hinged on the perception of independence. Nonetheless, this is not to say that discreet financial and logistical support for facilities such as radio stations is not in order.
The government should initially concentrate on high visibility development efforts, even though these projects are not always the most sustainable. Such projects help to establish positive momentum in order to build enough goodwill and patience to carry out the more long-term agriculture projects such as irrigation programs, farmer-to-market schemes, the development of new produce markets, and the provision of seeds. Also, light industry often helps to create long-term employment provided that it produces goods and services that are adequately intertwined with the development needs of the local area. These enterprises will initially require external assistance until enough management expertise and skilled labor is developed to make them viable on their own. Medium-profit enterprises tend to be labor intensive thus soliciting greater local participation and a stake in its future survival. This concept is often referred to as "sweat equity," and if combined with an effective IO campaign could put an irreparable dent in the recruitment efforts of HuJI-B and JMB as well as their ability to scale up their operations throughout the country.
Large-scale military operations, however, could lead to a major trust deficit between Dhaka and at-risk communities. This would inhibit any efforts to put a joint development-IO strategy in place. In addition, it could prompt at least experimentation with suicide terrorism in order to test public receptiveness. Bangladesh has traditionally been a moderate society, and while radical groups are actively trying to win support, the vast majority of Bangladeshis still abhor violence, especially when it uses religion as a justification. Therefore, strengthening and reinforcing the social resilience among Bangladesh's populace will perhaps be one of the best deterrents against the use of suicide terrorism.
Ryan Clarke is an Associate Research Fellow at the International Centre for Political Violence and Terrorism Research (ICPVTR) in Singapore and a Ph.D. candidate at the Centre of International Studies at the University of Cambridge. He has previously resided and conducted research in South Asia.
Shafqat Munir is a Research Analyst at the International Centre for Political Violence and Terrorism Research (ICPVTR) in Singapore. He is currently on secondment from the Bangladesh Institute of Peace and Security Studies (BIPSS), where he is a Research Analyst with the Bangladesh Centre for Terrorism Research (BCTR), a specialized center within BIPSS. He is the Assistant Editor of the BIPSS academic journal Peace and Security Review.
Notes
[1] Jamaatul Mujahidin Bangladesh (JMB) is one of the two major terrorist organizations operating in Bangladesh. Founded in 1998, the group unleashed a reign of terror in the northwest of the country in 2003-2004. JMB also carried out coordinated serial bomb blasts in August 2005.
[2] Harkat-ul-Jihad-al-Islam Bangladesh (HuJI-B) is an al-Qa`ida-affiliated terrorist organization operating in Bangladesh. HuJI-B was reportedly set up with direct assistance from al-Qa`ida and Usama bin Ladin. HuJI-B carried out a deadly attack on August 21, 2004 at a political rally of the Awami League (the current ruling party in Bangladesh) in which several people died and Sheikh Hasina, the incumbent prime minister of Bangladesh, was wounded. HuJI-B was declared a Foreign Terrorist Organization by the U.S. State Department in March 2008.
[3] An "ink blot strategy" means controlling a piece of terrain, stabilizing it and then gradually expanding it.
[4] Amitava Mukherjee, "Bangladesh: Anatomy of the BDR Mutiny,"  Mainstream 47:13 (2009). Bangla Bhai, the founder of JMJB, fought against the Soviets in Afghanistan, as did the original leader of JMB, Abdur Rahman. For details, see Julfikar Ali Manik and Shamim Ashraf, "Rahman had Training on Arms in Afghanistan," The Daily Star [Dhaka], March 6, 2006.
[5] Wilson John, "The Bengali Taleban," Terrorism Monitor 6:10 (2008).
[6] For more information, see the South Asia Terrorism Portal file on Harkat-ul-Jihad-al-Islam Bangladesh, located at www.satp.org.
[7] B. Raman, "Funds for BD Blasts Came from UK," South Asia Analysis Group, March 3, 2006.
[8] Kailash Sarkar, "Handcuffed JMB Man Blasts Grenade at Press Meet," The Daily Star [Dhaka], February 21, 2009.
[9] Reports about the brigade began to surface in late 2005. For more, see "Bomber Admits to Aug 17 Role," The Daily Star [Dhaka], October 5, 2005.
[10] John. For information on the suicide squads, see "MB Suicide Squads Mounted Attacks on Courts," The Independent [Dhaka], October 3, 2005.
[11] Jagrata Muslim Janata Bangladesh (JMJB) was a sister organization of JMB. Led by Siddiqul Islam (also known as Bangla Bhai), who was executed in 2007, it unleashed a reign of terror in Bagmara in Rajshahi district in northwest Bangladesh.
[12] In 2007, after the executions of the JMB leadership, reports started appearing about "Allahr Dal" (The Army of Allah). The group initially appeared to be operating in the south of Bangladesh. It is widely believed that JMB members regrouped and formed this outfit subsequent to the crackdown on their activities by the government.
[13] "Oct 3 blasts at courts planned by Abdur Rahman's brother," The Daily Star [Dhaka], October 9, 2005.
[14] Bill Roggio, "Al Qaeda-linked Suspects Emerge in Islamabad Marriott Attacks," The Long War Journal, September 25, 2008; Isambard Wilkinson, "Baitullah Mehsud: The 'Good Taliban' Who Became One of Pakistan's Most Wanted Men," Telegraph, March 31, 2009.
[15] "Taliban Denies Role in Hotel Attack," al-Jazira, September 22, 2008.
[16] Amir Mir, "Fidayeen-e-Islam is a Cover Up?" The News, September 24, 2008.
[17] For more information, see the South Asia Terrorism Portal file on Harkat-ul-Jihad-al-Islam Bangladesh, located at www.satp.org.
[18] This is most evident in the examples of Hamas and the Liberation Tigers of Tamil Eelam (LTTE). Both the LTTE and Hamas were able to distinguish themselves from the myriad of other terrorist groups that were operating in their respective conflict theaters through the use of suicide bombing. In the case of LTTE, the field was extremely saturated with rival Tamil groups, and suicide bombing played a crucial role in allowing the LTTE to rise in prominence. For more information, see Bruce Hoffman, Inside Terrorism (New York: Columbia University Press, 2006).
[19] Baitullah Mehsud justified the recent suicide attack on an Islamabad police station by claiming that it was in response to U.S. drone attacks on his territory. For more, see Barry Newhouse, "Pakistani Taliban Claim Responsibility in Lahore Police Attack," Voice of America, March 31, 2009.
[20] For example, the assassination of Benazir Bhutto by a suicide bomber dealt a blow to the image of TTP in Pakistan even though its involvement has not been confirmed. Further, the use of the tactic by al-Qa`ida in Iraq (AQI) played a role in alienating fellow Sunni insurgents that were once AQI's allies.