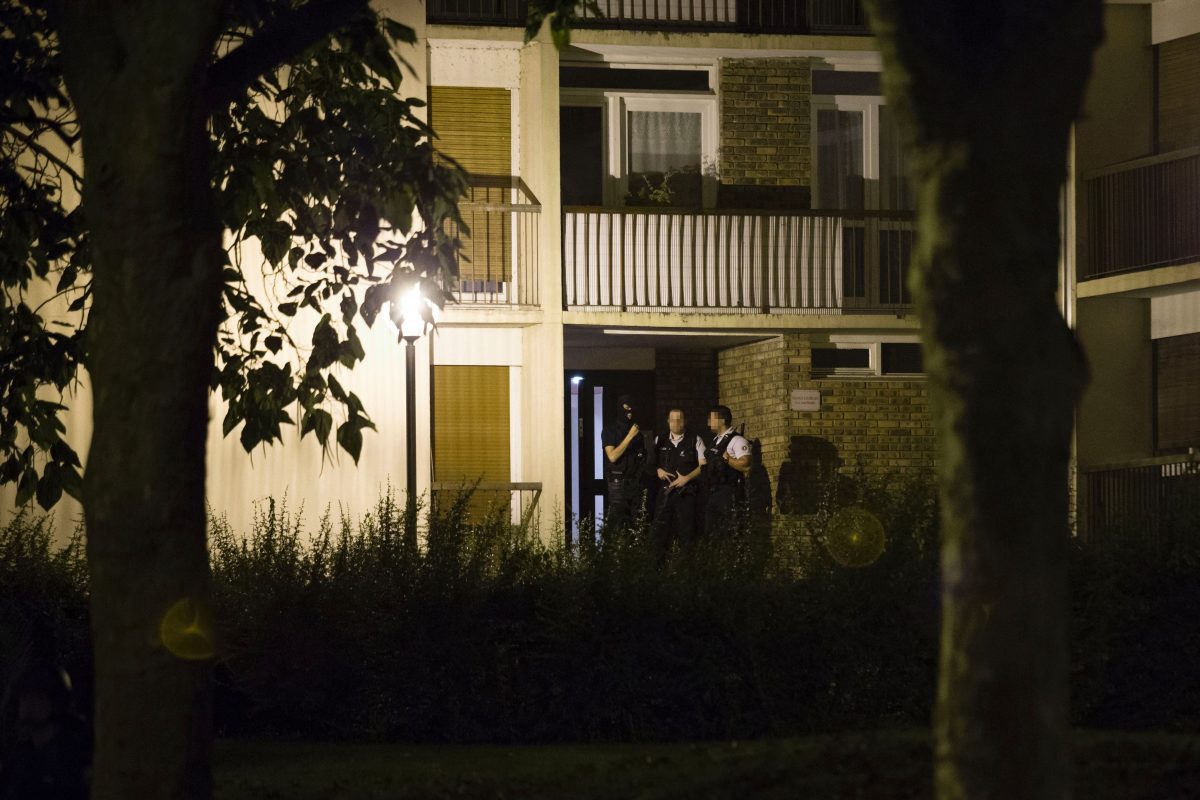 Abstract: The Islamic State has inspired dozens of women to attempt terrorist attacks in its name in Europe. One all-female cell allegedly planned several attacks in France over a matter of days in September 2016, including an attempt to blow up gas cylinders near Notre Dame Cathedral. The suspected plotters were largely radicalized online, and social media was integral to both their recruitment and plotting. One of the Islamic State's 'virtual entrepreneurs,' Rachid Kassim, helped guide their activities. Though the alleged plots failed, Kassim exploited the dedication shown by these women to shame males into attempting a subsequent wave of attacks.
The Islamic State has had great success in drawing European women into its ideological orbit, with multiple women plotting to commit attacks in Europe on behalf of the terrorist group. Between January 2014 and April 2018, women were involved in 33 separate plots in five separate countries—most frequently in France, but also Belgium, Denmark, Germany, and the United Kingdom.1 The first all-female terror cell in this period was disrupted in August 2014; three teenage girls who had connected via social media had discussed a suicide bombing in a synagogue in Lyon, France.2 The first female to successfully conduct an attack in this period was Safia S., a 15-year-old German Moroccan in contact with the Islamic State who was jailed for six years for stabbing a police officer in Hanover, Germany.3
This is not a phenomenon unique to the Islamic State, however. One high-profile 2010 example from the United Kingdom saw Roshonara Choudhry, a 21-year-old student, stab a British politician who had voted for the Iraq War. Choudhry was inspired by the teachings of the al-Qa`ida in the Arabian Peninsula ideologue, Anwar al-Awlaki.4
This article focuses on a female cell that allegedly planned a series of attacks across France in September 2016. It details the plots and the perpetrators' background, and it shows how despite their plans ultimate failing, they were weaponized by the Islamic State to instigate new plots in the West.
The Guiding Hand
Upon the declaration of a caliphate in June 2014, Abu Bakr al-Baghdadi began encouraging hijrah to Iraq and Syria. Al-Baghdadi proclaimed that, "[t]hose who can immigrate to the Islamic State should immigrate … Rush O Muslims to your state … The land is for the Muslims, all Muslims."5
According to the International Centre for Counter-Terrorism at The Hague, around 17 percent of the Europeans who traveled to Syria to join militant groups—between 667-730 individuals—were women.6 This included teenage girls, such as the schoolchildren from Bethnal Green in East London, who have possibly died there.7
However, as governments cracked down on travel and access to Syria became increasingly difficult, the Islamic State tweaked its messaging. Rather than encourage travel, Abu Mohammed al-Adnani, the Islamic State's external operations chief, stated in May 2016 that "the smallest act you do in their lands is more beloved to us than the biggest act done here; it is more effective for us and more harmful to them."8
Vital to facilitating these acts was Rachid Kassim, a French citizen who was one of the Islamic State's most prolific 'virtual entrepreneurs.'9 Before his death in early 2017,10 Kassim directed terrorist plots from the caliphate via social media (primarily through the encrypted messaging app Telegram) and was connected to over a dozen known plots in France.11
Among those he guided was an all-female cell consisting of four French women: Inès Madani, Sarah Hervouët, Ornella Gilligmann, and Amel Sakaou.
Cell Member #1: Inès Madani
Inès Madani was born in March 1997 in the suburbs of Paris. She had a poor education, leaving school without qualifications and struggling to find a job.12 Her father was on the French intelligence radar as a potential radical;13 while Madani began to grow more religious in 2013. She unsuccessfully attempted to travel to Syria on multiple occasions14 and was on Belgian intelligence services' radar for her role in trying to recruit and facilitate such travel for others.15
Madani's family described her as constantly on her phone, and she immersed herself in Islamic State ideology via the internet. Madani was prolific across social media, using Facebook, Periscope, Snapchat, Telegram, Twitter, Viber, and WhatsApp.16
Madani, who was based in Tremblay—a northeastern suburb of Paris—is suspected of involvement in planning attacks from at least 2015 onward.17 Shortly after the Islamic State's coordinated strikes in Paris that November, an undercover journalist who had infiltrated a terrorist cell for a television documentary received a letter outlining plans for some kind of future atrocity. The letter called for suicide bombings and mass shootings in nightclubs or cabarets in Paris, "perverted places that are frequently attended by the disgusting infidels."18 It had been passed to the journalist at a Saint-Denis train station by an 18-year-old female courier, and the letter gave instructions from "Abu Souleymane." While the journalist had not met Abu Souleymane in person, he was supposedly an Islamic State operative who had recently returned to France from Raqqa.
After a wave of counterterrorism arrests in the following days, Abu Souleymane made arrangements for the female courier to pass new instructions to the journalist posing as a jihadi. This note called for suicide bombings and asked for a list of ingredients to make suicide vests.19 At this stage, the journalist stopped his investigation, and Abu Souleymane's identity remained a mystery.
However, French authorities now think that Abu Souleymane was a fiction and that the instigator behind the plot and the set of instructions was actually the female courier—who they now believe was Inès Madani.20
Abu Souleymane was not the only virtual terrorist alter ego Madani is suspected to have created.21 She also posted under the name "Abu Omar." Madani used this identity to connect with another future member of the cell: Ornella Gilligmann.22
Cell Member #2: Ornella Gilligmann
Ornella Gilligmann, a 29-year-old French national, lived roughly two hours south of Paris in Châlette-sur-Loing. She had a conviction for an act of violence in her youth, and then converted to Islam from Christianity in 2009 after marrying a Muslim man. Gilligmann was radicalized online, listening to salafi sermons and reading about the Islamic State's activities in Syria.23
In September 2014, she took her three young children and flew with a friend to Istanbul in an ultimately unsuccessful attempt to cross into the newly formed caliphate. She was subsequently interviewed by the Direction Générale de la Sécurité Intérieure (DGSI), added to a security watch list, and placed under house arrest.24
In June 2016, Gilligmann met Abu Omar (i.e., Madani) on Periscope, the video streaming app. She fell in love with the online persona she believed to be Abu Omar, subsequently telling police that she was seduced by his "firmness and charisma." The French authorities monitoring their communications concluded that "Inès Madani is playing Ornella Gilligmann by drawing her into a virtual love affair." They noted that "the majority of dialogue concern[ed] sexual fantasies."25
Madani went to great lengths to maintain this fiction. They were in contact over 4,000 times in August 2016 alone. This online relationship would eventually cause the breakdown of Gilligmann's marriage. Gilligmann explained that, "[Abu Omar] made me believe that my husband did not deserve me, and began to insult him and to contradict him on everything, and especially on religion … A month later, between July and August 2016, I agreed to marry religiously with Abu Omar by phone."26
Gilligmann claims to have seen pictures of Abu Omar on Telegram and Periscope and to have spoken on the phone with him on multiple occasions.27 Madani, who admits to having deceived Gilligmann, says that there was a man beside her during these conversations. However, French investigators believe that this, too, is a lie. Madani found images online and created the character of Abu Omar and found a way of disguising her voice during phone conversations with Gilligmann (presumably even during their telephone wedding).28
With Gilligmann and Abu Omar now newly married, Madani used the influence that Abu Omar had over his new wife to allegedly persuade Gilligmann of the need for an attack in France, saying "he" (i.e. Abu Omar) was acting on the instructions from Rachid Kassim, who Madani then introduced to Gilligmann.29
At the end of August 2016, in preparation for the planned attack, French authorities believe that Abu Omar asked Gilligman to head to Paris and meet a female associate who went by the name of "Um Seyfullah." This, too, was another pseudonym used by Madani.
Gas Cylinder Plot: Paris
Madani's alleged plan was to store gas cylinders in a car, park it in a place popular with tourists, set them on fire, and cause an explosion. She reportedly discussed the plan with other radicalized females over social media, including a Belgian convert called Molly B., who was in contact with both Kassim and members of the Madani network.30
Gilligmann and Madani met in Paris (with Gilligmann unaware she was with Abu Omar), allegedly filmed a video pledging allegiance to al-Baghdadi, and then sent it to Kassim. On the night of September 3, 2016, French prosecutors contend that Madani placed several gas cylinders and bottles of diesel in a car she had stolen from her father and prepared to strike.31
However, it did not go according to plan. Madani did not have a driver's license and admits to "driving very badly," hitting the sidewalk multiple times. They then had to abandon their initial alleged target—the Eiffel Tower—because they were unable to find anywhere suitable to park.32 Instead, they drove on to Rue de la Bûcherie, near Notre Dame Cathedral, where they poured gas on a towel and, French authorities believe, attempted to set it on fire with a cigarette in order to cause the gas cylinders to explode.33 However, their efforts were disrupted after they thought they saw a police officer approaching. The explosion did not materialize, and the women fled.34 Gilligmann has since claimed that she had attempted to persuade Madani not to carry out this alleged plot and that she deliberately bought diesel gas precisely because she knew it would not explode.35
Cell Member # 3: Sarah Hervouët
Sarah Hervouët, a 23-year-old cleaner who lived in southwest France, had a troubled childhood. She was abandoned by her Moroccan father and began to self-harm as a teenager. Hervouët converted to Islam at the age of 21 (her mother was a non-practicing Catholic), quickly gravitating to the Islamic State's online propaganda. She was affected by images of Muslim children suffering and came to believe that French soldiers in Mali were raping them.36
In March 2015, soon after her conversion, Hervouët attempted to travel to Syria in order to marry a French citizen based there called Abu Saad, originally from Nîmes in southern France and known to have targeted several women for online recruitment.37 However, Hervouët was stopped at the Syria-Turkey border, and French authorities returned her to her mother. In an interview with the press at the time, Hervouët's mother commented that her daughter had suffered "psychological rape" at the hands of her online recruiters.38
Hervouët would be engaged to three different men in the months ahead, two of whom were killed by the police after committing terror attacks. The first, Larossi Abballa, stabbed a policeman and his partner to death in Magnanville in June 2016 in an attack inspired by the Islamic State. The second, Adel Kermiche, took part in the murder of a Catholic priest during Mass in Normandy in July 2016. Kermiche was in contact with Rachid Kassim prior to the attack. A third fiancé, Mohamed Lamine Aberouz, was also on the radar of French security services.39
Town Hall Plot: Cogolin
In late August and/or early September, Hervouët was in contact with Kassim on Telegram, where she posted under the name "Marie Antoinette."40 After Abu Mohammed al-Adnani had been killed in a U.S. missile strike near Al Bab in northern Syria on August 30, 2016, Kassim encouraged an attack in France in retaliation.41 Perhaps sensing a lack of will, Kassim's plan for Hervouët was for her to buy a toy gun and firecrackers, head to the local town hall in Cogolin, and brandish the fake firearm. It was Kassim's belief—in the wake of the recent attacks France had suffered, including in Nice the month prior—that the sense of panic would be enough for the police to shoot and kill Hervouët.42
Hervouët did as requested. She acquired a fake pistol, wrote a will and a letter explaining that she was seeking paradise, and recorded a video in which she pledged allegiance to al-Baghdadi. She titled the video "Operation Abu Mohammed al-Adnani."43
However, Hervouët could not go through with it. She later admitted, "I went to Cogolin Town Hall last week to see how I felt there, and I did not feel well. I went home and vomited. That's when I said I was sorry and I could not do it."44
With another plot unsuccessful, Kassim changed tack. At some stage between September 4 and September 7, he told Hervouët he was going to connect her to two associates who were about to launch another operation in Paris. One of these associates was Inès Madani, who was allegedly planning a new attack, hoping to make up for the recent failure of her alleged gas cylinders plot.45
Cell Member # 4: Amel Sakaou
In the wake of her unsuccessful bombing attempt on Rue de la Bûcherie near Notre Dame Cathedral in early September 2016, Gilligmann returned to her recently divorced husband and told him about her failed attack.46 They then took their children and began to drive to Marseille, but were arrested en route on September 6.47 Gilligmann's husband has since been released.48 It is not clear what prompted police to make the arrest.
Inès Madani, meanwhile, had retreated to the home of Amel Sakaou, another Kassim associate. A 39-year-old mother of four, Sakaou lived in Boussy-Saint-Antoine, 25 kilometers to Paris' southeast.49
Kassim told them to expect a visitor: Sarah Hervouët, who had taken a train north on the evening of September 7th.50 French prosecutors allege that Madani and Sakaou were planning to carry out a new attack the next day.51
Upon arrival, Madani and Sakaou treated Hervouët with hostility and suspicion. They strip-searched her and examined her phone, demanding an explanation as to why she had the phone numbers of two DGSI agents. (These security officials had given Hervouët their phone numbers after her failed trip to Syria.)52 Hervouët had brought the fake pistol with her that Kassim asked her to use in the town hall; Madani and Sakaou broke it apart, suspecting that there was a microphone inside. Hervouët's religious commitment was also tested, with the women forcing her to recite suras.53
Despite passing these tests, the women appeared unconvinced. Sakaou warned Hervouët that, in the forthcoming attack, she would have to act first "to prove to them that I am on their side."54
Potential Train Station Plot and Police Stabbing: Boussy-Saint-Antoine
What precisely that attack was remains unclear. With Sakaou receiving a telephone call from one of her daughters saying that the nearby Boussy-Saint-Antoine train station contained a heavy police presence, it appears as if this was one potential target.55 However, Hervouët says the other two women had also discussed a synagogue, and French officials believed an attack by all three women on Gare de Lyon in Paris could also have been "imminent."56 For her part, Madani has claimed that, "[w]e did not really have a project," while Hervouët suggested that the other women "often changed their minds."57
The three women left Sakaou's apartment on September 8. According to Hervouët, they decided to steal a car and targeted a white van parked nearby with a man inside. After a brief argument over whether he was Arab (and therefore whether he should be targeted), Sakaou gave Hervouët a knife and told her to act.58
Hervouët began stabbing the man. She would later tell French police that, "what I wanted was martyrdom … What I had to do was kill or hurt someone … and when I raised my hand to a police officer, he would shoot me." Yet she also explained that, "I hit towards the shoulder but did not aim at a particular area. I am not a sadist."59
To Hervouët's surprise, the driver in the van went to pull out a weapon. The police had installed a listening device outside Sakaou's building having received intelligence (from an unspecified source) that one of its inhabitants was planning a terrorist attack, and Hervouët had unwittingly stabbed an undercover officer monitoring the building.60 She fled, telling the other women that he was a member of the police.61
French authorities swooped. Hervouët and Sakaou were arrested while Madani was shot in the leg after attempting to charge the police.62 Found in her handbag was a pledge of allegiance to al-Baghdadi and a note vowing to "attack you on your territory to attack your spirits and terrorize you."63 While the police were aware of a potential threat emanating from the address they were monitoring, they were unaware at the time that Madani had been at the Boussy-Saint-Antoine residence and that they had just arrested the perpetrator behind the alleged gas cylinder plot of just days before.64
The Aftermath
Madani, Sakaou, Gilligmann, and Hervouët were charged with terrorism offenses in September 2016 and are all awaiting trial. Sakaou has continued 'the fight' in prison, having been convicted of assaulting and making death threats against her prison guards.65
As for Kassim, all the plots that he instigated had failed badly. However, he sought to leverage this failure by shaming male Islamic State supporters into a new wave of attacks. Shortly after the Madani cell was arrested, Kassim posted on Telegram that "the women, our sisters, went into action … Where are the men?" Kassim praised the women for stabbing the police, "like mothers in Palestine." He reiterated, "You have to understand that if these women went into action, it's because so few men are doing anything … why are you waiting so long to the point the woman [sic] are overtaking you in terms of honor? … what is your excuse?"66
Kassim's words resonated with three separate 15-year-old followers, all of whom were reportedly in contact with Kassim and seem to have been inspired by his admonishments. Between September 8 and September 14, 2016, French authorities arrested them all for planning three separate attacks.67
Undeterred, Kassim's plotting continued until he was killed in a U.S. missile strike near Mosul in February 2017.68 However, his connections to terrorist planning outlived him. Days after his death, another all-female French cell—this one containing girls aged between 14 and 18—was arrested. They had been discussing plans for an attack on French soil with Kassim.69 Then, in September 2017, Islamic State-inspired plotters in possession of explosives were arrested in Paris. They, too, had previously been in contact with Kassim.70
Conclusion
Much about the Madani network was unusual. An all-female cell is still rare,a and the extent of Madani's fraudulent activity is extraordinary. Her deception and then seduction of an older woman over the internet was a remarkably calculating act for a teenage girl to pull off. Hervouët having two fiancés commit successful terrorist attacks in two months is also unusual, at least outside the battlefield of the caliphate.
Kassim's actions were opportunistic, both in his exploitation of Abu Mohammed al-Adnani's death to inspire the all-female cell and then his exploitation of that cell's arrest to inspire a new wave of plots among his followers. However, Kassim's opportunism may have also ultimately hindered his plans. While his quickness of thought helped initiate multiple plots in a short space of time, none of them seems to have been meticulously planned and all, ultimately, failed.
However, much else about the plots is similar to those attempted in Europe in the past (from both a biographical and operational viewpoint). The presence of converts71 and the clear influence that the internet had on radicalizing the plotters is unsurprising. The use of various social media platforms for planning attacks, accessing extremist material, and connecting to likeminded jihadis is also a constant feature of the Islamic State's Western recruits.
The fact that those already on the domestic intelligence radar planned these plots is also common, as is how some of these terrorists came to be on the radar: a thwarted attempt to fly to Syria. Indeed, there have also been multiple examples of those prevented from traveling to the caliphate then plotting attacks at home instead.b This was the case with multiple members of the Madani network.
Despite Kassim's death and despite the failures of the Madani network, it is unlikely that the Islamic State will abandon either its 'virtual entrepreneur' approach or its willingness to use women in terrorist attacks in Europe. Indeed, it is possible that there will be even more female cells in the future, especially since the Islamic State is now actively encouraging female participation in military activities.72 In October 2017, in the face of territorial reverses in Syria and Iraq, the Islamic State made an explicit call for "female Muslims to fulfill their duties on all fronts in supporting the mujahedeen."73
Counterterrorism officials must, therefore, remain vigilant against both of these pressing threats.    CTC
Robin Simcox is the Margaret Thatcher Fellow at The Heritage Foundation, where he specializes in counterterrorism and national security policy.
Substantive Notes
[a] While they may be rare, all-female cells have also operated elsewhere in Europe. A mother and her two daughters were arrested in April 2017 for planning a series of attacks in the United Kingdom, which included killing civilians at the British Museum in London. See John Simpson and Katie Gibbons, "Mother and daughter in 'terror plot,'" Times, May 11, 2017, and Hayley Dixon, "Teenager in all female Isil terror plot planned to attack British Museum," Telegraph, May 10, 2018.
[b] Two among numerous examples are Aydan Sevigin, who planned a suicide attack in Sweden, and Nadir Syed, who planned an Islamic State-inspired beheading in the United Kingdom. Both had failed in their attempts to get to Syria. See "Teaching student jailed over Sweden terror plot," Local, June 2, 2016, and Jamie Grierson, "Man jailed for planning Isis-inspired beheading," Guardian, June 23, 2016.
Citations
[1] Unpublished data that expands upon "European Islamist Plots and Attacks Since 2014—and How the U.S. Can Help Prevent Them," Heritage Foundation Backgrounder 3236 (2017).
[2] See Madeline Grant, "Two Teenage Girls Arrested Over French Synagogue Suicide Bomb Plot," Newsweek, August 29, 2014, and "Depuis quatre ans, douze projets d'attentat ont impliqué des femmes," Le Monde, May 5, 2018.
[3] "16-year-old sentenced to six years after stabbing German police officer for IS," Deutsche Welle, January 19, 2017.
[4] Vikram Dodds, "Roshonara Choudhry: Police interview extracts," Guardian, November 3, 2010.
[5] Damien McElory, "Rome will be conquered next, says leader of 'Islamic State,'" Telegraph, July 1, 2014.
[6] "The Foreign Fighters Phenomenon in the European Union: Profiles, Threats and Policies," The International Centre for Counter-Terrorism – The Hague, April 2016.
[7] Robin de Peyer, "Families fear Bethnal Green schoolgirls who travelled to join Isis are now dead," Evening Standard, August 6, 2017.
[8] Thomas Joscelyn, "Islamic State says senior official killed in Aleppo province," FDD's Long War Journal, August 30, 2016.
[9] Alexander Meleagrou-Hitchens and Seamus Hughes, "The Threat to the United States from the Islamic State's Virtual Entrepreneurs," CTC Sentinel 10:3 (2017).
[10] "Mort dans une frappe de drone, le terroriste Rachid Kassim aurait été identifié," Le Figaro, February 15, 2017.
[11] Unpublished data that expands upon "European Islamist Plots and Attacks Since 2014—and How the U.S. Can Help Prevent Them."
[12] Leela Jacinto, "The young women behind France's 'terrorist commando' network," France 24, September 15, 2016.
[13] Angelique Chrisafis, "Women arrested in Paris had planned 'imminent' attack on Gare de Lyon, say officials," Guardian, September 9, 2016.
[14] "Foiled Paris attack 'was directed by IS,'" BBC, September 9, 2016.
[15] Henry Samuel, "Teenager who swore allegiance to Isil one of three women arrested for planning 'imminent attack' on Paris train station," Telegraph, September 9, 2016.
[16] Soren Seelow, "Ines Madani, la djihadiste qui se faisait passer pour un homme," Le Monde, November 7, 2016.
[17] "Bonbonnes de gaz à Paris. Inès Madani suspectée dans un autre dossier," Ouest France, February 3, 2017.
[18] "Soldiers of Allah," Canal +, July 11, 2016.
[19] Ibid.
[20] Seelow, "Ines Madani, la djihadiste qui se faisait passer pour un homme."
[21] Ibid.
[22] Ibid.
[23] Stéphane Sellami, "Voiture aux bonbonnes : Ornella Gilligmannn, mère de famille devenue terroriste," Le Parisien, September 12, 2016.
[24] Jacinto.
[25] Seelow, "Ines Madani, la djihadiste qui se faisait passer pour un homme."
[26] Ibid.
[27] Ibid.
[28] Jacinto; Seelow, "Ines Madani, la djihadiste qui se faisait passer pour un homme."
[29] Jacinto.
[30] "Tatoeages en piercings, maar Molly (24) uit Wevelgem hielp wel vrouwelijke terreurcel bij mislukte aanslag in Parijs," HLN, March 10, 2017; "Molly (24), de West-Vlaamse link met eerste vrouwelijke terreurcel van ISIS," Het Nieuwsblad, March 10, 2017.
[31] Seelow, "Ines Madani, la djihadiste qui se faisait passer pour un homme."
[32] Ibid.; Adam Sage, Bernard Lagan, and Bruno Waterfield, "Boy held over Paris plots amid terror on three continents," Times, September 12, 2016.
[33] Seelow, "Ines Madani, la djihadiste qui se faisait passer pour un homme."
[34] "Three women charged over foiled Paris terror plot," France 24, September 13, 2016.
[35] Sellami.
[36] Soren Seelow, "Terrorisme : Sarah Hervouët, 23 ans, aspirante au martyre," Le Monde, October 11, 2016.
[37] Ibid.
[38] "Une jeune Maximoise était en route pour la Syrie," Nice-Matin, March 31, 2015.
[39] Jacinto.
[40] Seelow, "Terrorisme : Sarah Hervouët, 23 ans, aspirante au martyre."
[41] "Statement by Pentagon Press Secretary Peter Cook on Precision Airstrike Targeting Abu Muhammad Al-Adnani," United States Department of Defense, August 30, 2016.
[42] Seelow, "Terrorisme : Sarah Hervouët, 23 ans, aspirante au martyre."
[43] Ibid.
[44] Ibid.
[45] Ibid.
[46] Sellami.
[47] Jacinto; Seelow, "Ines Madani, la djihadiste qui se faisait passer pour un homme."
[48] "France arrests 15-year-old boy for planning 'imminent' Paris attack: sources," Reuters, September 11, 2016; "Ornella, mère de famille mariée à un djihadiste par telephone," 7Sur7, September 12, 2016.
[49] Jacinto.
[50] Seelow, "Terrorisme : Sarah Hervouët, 23 ans, aspirante au martyre."
[51] Ibid.
[52] Ibid.
[53] Ibid.
[54] Ibid.
[55] Ibid.
[56] Chrisafis.
[57] Seelow, "Terrorisme : Sarah Hervouët, 23 ans, aspirante au martyre."
[58] Ibid.
[59] Ibid.
[60] Ibid.
[61] Ibid.
[62] Conor Gaffery, "Notre Dame Gas Plot: Three Women With Suspected Isis Links Under Investigation," Newsweek, September 13, 2016.
[63] Chrisafis.
[64] Seelow, "Terrorisme : Sarah Hervouët, 23 ans, aspirante au martyre."
[65] "Une terroriste présumée condamnée à huit mois ferme après avoir menacé de mort des gardiens de la prison de Saran," La République du Centre, April 4, 2018.
[66] Soren Seelow, "Derrière l'affaire de l'Essonne, l'importance du djihad des femmes," Le Monde, September 10, 2016; Kim Willsher, "Terror attacks being foiled 'every single day' in France, prime minister says," Los Angeles Times, September 12, 2016.
[67] "Did jihadist Rashid Kassim lure French youths to plot attacks?" BBC, September 15, 2016; "French counter-terrorism police arrest 3 teen boys in 1 week," Associated Press, September 14, 2016.
[68] David Chazan, "Top French Isil recruiter linked to Brussels attack 'killed in airstrike' in Mosul," Telegraph, February 10, 2017.
[69] "Terrorisme: Quatre adolescentes, soupçonnées de préparer un attentat, interpellées," 20 Minutes, March 1, 2017.
[70] "Prosecutor links suspect arrested last week near Paris to ISIS," Reuters, September 10, 2017.
[71] Robin Simcox and Emily Dyer, "The Role of Converts in Al-Qa`ida-Related Terrorism Offenses in the United States," CTC Sentinel 6:3 (2013).
[72] Charlie Winter and Devorah Margolin, "The Mujahidat Dilemma: Female Combatants and the Islamic State," CTC Sentinel 10:7 (2017).
[73] Lizzie Dearden, "Isis calls on women to fight and launch terror attacks for first time," Independent, October 6, 2017.