Back to Downing Scholars Program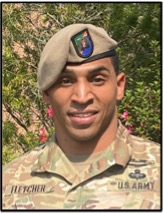 Captain George Fletcher graduated from the United States Military Academy and commissioned as an Infantry officer in 2012. In his first assignment at the 101st Airborne Division, he served as a Rifle Platoon Leader. George then served as a Platoon Leader, Executive Officer, and Assistant Operations Officer in the 3rd Ranger Battalion.
Following the Maneuver Captain's Career Course, George was assigned to the 82nd Airborne Division where he served as the 1st Brigade Chief of Operations and Rifle Company Commander. George then served in 1st Ranger Battalion as the Battalion S1 and the Alpha Company Commander. George deployed eight times to both Iraq and Afghanistan.
His military education includes the Infantry Officer Basic Course, Ranger School, Airborne School, Air Assault School, Jumpmaster School, and the Maneuver Captain's Career Course. Additionally, he received the Ralph Puckett Leadership Award in 2017.
George is pursuing both a Master in Public Policy (MPP) and a Master of Science (MSc) in Public Policy Research at Oxford University.